Keeping one step ahead of technology trends in your small business
How can SMBs level the tech playing field and compete with some of the bigger players? Rene Millman takes a look...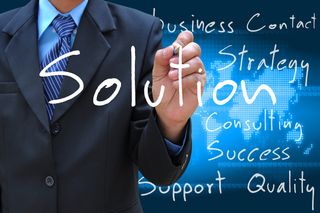 Keeping on top of technology trends is a challenge for many enterprises, and especially so in small businesses where experience and budgets are often more limited.
But staying ahead of the curve means staying ahead of the competition. While turnover may be small for SMBs, overall they account for 99.9 per cent of all private sector businesses in the UK (nearly 4.8 million businesses), 59.1 per cent of private sector employment and 48.8 per cent of private sector turnover, according to figures from the Federation of Small Businesses.
In the UK, SMBs employed 14.1 million people and had a combined turnover of 1.5 trillion. But keeping ahead of the latest trends for the sake of it isn't something that small businesses with limited budgets can readily do.
Businesses have to look at what is pertinent to their needs. "You have to look at what is going to help you achieve a goal," says Laurie McCabe, a partner at small business focused analyst firm SMB Group.
"Whether that's attracting more customers or retaining customers more effectively. Then you look at the solution, you don't go for the bright shiny object."
What then are the trends that will help small businesses stay ahead of the competition? For Leigh Ashton, who runs London-based The Sales Consultancy, a small business providing sales and marketing training and coaching, keeping up with trends means using social media and a network of business partners to maintain awareness of technologies useful to move business goals forward.
"You have to start with a business outcome. You have to know what you want to do with your business and then look at the technology that will help achieve that outcome," she says.
"There is no point in investing in technology without knowing if it will help you." Ashton says that she gets a lot of feedback about technology from social media network, finding out what trends are breaking. If she hears of something that will benefit her business the next step it run ideas past others.
"Usually if I hear of a technology that looks like it will help me, I get in touch with people I know through my business. They acts a sounding board to see if a technology is good for my business to adopt," according to Ashton. She says that it helps to have a set of trusted advisors. Trusted advisors are usually people she has done business with or are in the same industry as her. This acts as a filter for ideas and helps whittle down which technology she will then implement in her business.
A similar sentiment is echoed by the people that small businesses use as their IT department. Carlton Brailey, managing director of Granite Consulting, a London-based IT services firm focused on small businesses, says that before introducing any new technology to a small business, it pays to know what the business needs first.
"It's important that a trend is more than just a fad," he says. "It's the outcome rather than the technology that small businesses concentrate on."
Brailey says that there is a process by which small businesses adopt new technologies. Firstly, there has to be a definable lifecycle. "Small businesses don't want to use a solution that will be obsolete shortly after they start using it. It has to have at least a three-year lifecycle," according to Brailey. He says that new technology is used if there are proven working examples out in the market. It also helps if a trusted brand is behind the tech.
The onus is firmly on the tech guys to be up to date with what's out there. "It's imperative. We have to interpret what's out there and what is sustainable in the long term. Clients want to see the benefit of the technology before they will commit to it," he says.
Any technology implemented in a small business has to prove itself very quickly, Brailey suggests. "[Small business] clients expect to see a set of measurable results more quickly than you would in a larger enterprise," he adds.
So what trends should small businesses keep tabs on this year. McCabe sees mobile "exploding" even more than it has done over the past few years.
"I even see a point where there will be DIY mobile applications for small businesses, he says. "This will allow small businesses to create without any coding expertise, mobile apps right from Quickbooks, Sage or other whatever solutions you use from the back-end."
Not only are mobile apps important but also the hardware that runs them. Forrester Research has reported that businesses and governments will this year spend almost 20 per cent more on Apple iPads than last year, and Android tablets by 44 per cent; and Gartner comments that the acquisition of tablets will reduce global spend on devices by $40 billion this year due to their lower price point.
Stuart Collingwood, president of Europe, the Middlea East and Africa (EMEA) at cloud-based desktop provider Nivio says that SMBs will need to be able to adapt to employees bringing their own devices (BYOD) to work. "Not least as a way to attract younger staff for whom such access is so important," he says.
"SMBs also need affordable ways to enable their staff to work wherever they need and to be able to access files, apps and services on the go."
David McLeman, managing director of Google Apps reseller Ancoris says that businesses will start to make greater use of cloud-based collaboration tools to get work done.
"Many businesses introduced a range of communication and presence tools - such as browser-based chat and video-conferencing or enterprise social as by-product of moving to cloud computing for email and document collaboration," he says. McLeman adds that this upcoming trend will see younger staff - who typically prefer to use social computing tools in their personal lives - drive wider adoption of social computing within small businesses by making these tools their primary means to collaborate with colleagues.
his is a point echoed by Andrew Millard, senior marketing director at Citrix. He says that rather being viewed simply as a means of enabling out-of-office working, "many businesses are now starting to recognise collaboration tools for their strategic potential namely the ability to enable business users to engage with customers, colleagues and third-party partners in a convenient and cost-effective way."
Whatever trends appear in the next 12 months, the ones that will be adopted by small businesses won't necessarily be the most cutting edge. Indeed, they will be the ones that bring real business benefits while keeping costs low or offer convenience at a price that suits a smaller budget.
Get the ITPro. daily newsletter
Receive our latest news, industry updates, featured resources and more. Sign up today to receive our FREE report on AI cyber crime & security - newly updated for 2023.
Rene Millman is a freelance writer and broadcaster who covers cybersecurity, AI, IoT, and the cloud. He also works as a contributing analyst at GigaOm and has previously worked as an analyst for Gartner covering the infrastructure market. He has made numerous television appearances to give his views and expertise on technology trends and companies that affect and shape our lives. You can follow Rene Millman on Twitter.