UK insurer Beazley adopts a digital transformation doctrine
Cloud and virtualisation tech helps give Beazley increased business agility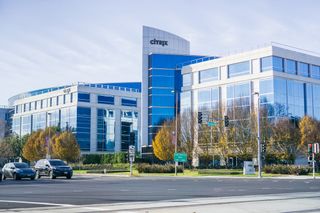 Specialist insurers Beazley have been using Citrix products for a number of years, celebrating the culmination of a journey that has led them to be among the finalists at Citrix's Innovation Awards this year.
The winner, WAGA, was crowned by CEO David Henshall during the keynote address in the Anaheim Convention Centre, California, this week - but simply featuring represents another big step in Beazley's journey to streamline its business.
"At the moment we're undertaking a huge activity-based working programme change," said Dale Steggles, Beazley's architect and leader of end-user technologies. "That's changing the physical location, people, soft skills, as well as technology - trying to provide a huge mobility to the workforce globally."
Citrix has underpinned a lot of that activity, according to Steggles, with the use of its products XenDesktop and XenApp, for instance, but also the likes of ShareFile and SecureMail.
Founded in 1986, Beazley grew out of its London offices to expand in the United States in 2005 - and has subsequently opened offices in Paris, Munich, and a host of other locations including the Middle East.
Speaking with Cloud Pro, Steggles was joined by Mark Moerdyk, Beazley's head of IT infrastructure and engineering, who outlined how his team made several strong strategic decisions in the way they expanded.
"One of them was saying actually that we didn't want to decentralise our infrastructure, and so we opted for Citrix to actually build out our US offices and enable our business across the US, while managing to consolidate our infrastructure into two data centres," he explained.
On the day-to-day benefits the business has accrued, particularly in the recent history, Moerdyk added: "It's the enablement of the business that's been the most important element.
"We were actually reimagining and redesigning our physical office spaces to actually support the way people want to work, we take feedback from our users, and they're consistently saying they don't have the right environments to do their jobs, so we've actually embarked on a programme where we're changing all of that."
He noted an increased sense of mobility, driving gains in productive, includes hot-desking and remote working, leading to a "10 to 20% productivity gain just by enabling a different way of working".
Steggles continued to outline how, technically-speaking, Beazley has managed to transform its infrastructure outlay that has laid the foundations for the firm's greater mobility.
"We've been able to centralise 1,800 endpoints - that used to be 1,800 physical devices inside the perimeter - these are laptop and desktop devices, so we've changed that into where 80% of our users are hosting a shared desktop; managing one image, one workflow, one deployment mechanism - across four data centres globally.
"Previously, whether it's product updates, whether it's patching it's patching, all that environment we had to touch on in end-points, now we just touch it once.
"Update a master image, and its done for 80% of your organisation. It's then really helped us focus on business drive - around innovation rather than just keeping the lights on."
The challenges, meanwhile, for Beazley, have historically risen in maintaining collaboration between different productivity apps and services, and reducing layers of complexity that have been created over years of developing IT infrastructure.
"Today we have four or five applications you'd need to deploy to a mobile device to be productive - reducing that down to one - that is a huge leap forward," said Steggles, pinning his hopes on Citrix's Workspace App materialising.
"One space, one environment; I'd go there to get any activities - the share, collaborate, connect with content, I think it's a really good place to be."
But the linchpin of Citrix's role in Beazley's outlay has been the way in which it gives smaller organisations access to an equivalence of the sort of expensive infrastructure that has only conventionally been available to larger enterprises.
"For us it's about taking that challenge and working with our partners to drive efficiencies where we can and try push the business - whether for example it's standing up an office in Barcelona over a VPN - over an internet connection - because the business wants to try to incubate it, wants to see whether its viable to put an office together in Barcelona with minimal investment.
"Previously, we've been unable to do that without the use of massive infrastructure outlay, now we just ship a device, give an access key to the user, and they login from anywhere in Barcelona."
This is a point echoed by Citrix's Sridhar Mullapudi, vice president of product management for Workspace services. Speaking to Cloud Pro, Mallapudi said one of the key benefits for businesses of its technology, for SMBs in particular, was on the infrastructure side.
"For SMBs what cloud usually does is it brings the economics and time to value enterprises used to have. So before, enterprises used to have a lot of budget, so they could actually implement these large IT projects and infrastructure investments which SMBs can't do," said Mallapudi.
"With cloud-based solutions, like what you've seen today, Workspace, and things like that, it just makes it easier for SMBs to consume and get the same power that was probably historically reserved for enterprises but now is available through cloud."
Stay up to date with the latest news and analysis from the world of cloud computing with our twice-weekly newsletter
Keumars Afifi-Sabet is the Features Editor for ITPro, CloudPro and ChannelPro. He oversees the commissioning and publication of in-depth and long-form features across all three sites, including opinion articles and case studies. He also occasionally contributes his thoughts to the IT Pro Podcast, and writes content for the Business Briefing. Keumars joined IT Pro as a staff writer in April 2018. He specialises in the public sector but writes across a breadth of core topics including cyber security and cloud computing.
Thank you for signing up to Cloud Pro. You will receive a verification email shortly.
There was a problem. Please refresh the page and try again.