Business processes made easy by the cloud
Time consuming business processes can be cut down with cloud computing, freeing up space to focus on a firm's true IP.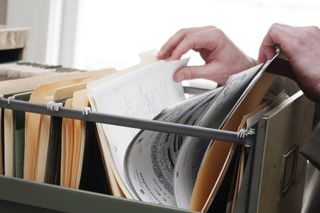 (Image credit: Shutterstock)
Hands up who remembers timesharing computers in universities? Or value-added networks (VANs) and electronic data interchange (EDI) in business trading networks? Or Prudential salespeople armed with Psion palmtop computers?
Many proponents of cloud computing act as though they've just discovered the kind of cloud-type business processes that organisations have, in fact, been tackling with various degrees of success for many years. These advocates also maintain that cloud is a technology-driven new wave which, whilst bringing new business opportunities, is mainly about scaling up infrastructure in data centres – with the obvious advantages of access to latest technology, elimination of in-house servers and so on.
But the technology itself, whilst obviously vital, is really a sideshow to realising the business transformation efforts that enlightened organisations have been striving for over the last 20 years or so.
As Walter Adamson, an Australian-based consultant, commented: "Clouds are about ecosystems, about large collections of interacting services including partners and third parties, about inter-cloud communication and sharing of information through such semantic frameworks as social graphs."
This, he adds, is clearly business transformational, whereas "computing services that are delivered as a utility from a remote data centre" are not. The pioneers in VANS/EDI methods – which are now migrating into modern cloud systems in offerings from SAP and its partners, for example – were able to set up basic trading data exchange networks. However, the cloud transformation now is integrating in real-time the procurement, catalogue, invoicing and other systems across possibly overlapping and much wider business communities.
Likewise, companies struggled for a long time with mobile and remote access to sales and marketing systems, as enterprise integration was often very difficult and expensive. Now, the transformation brought about by cloud ecosystems, such as the Salesforce community, is enabling far more than a mobile quotation system with data a rep had to download using a modem before he or she set out for the day.
Clearly, there are many individuals and companies, especially small firms, which have happily taken to one of the world's most complete cloud experiences, Amazon Web Services (AWS). This is enabling many to move from a static website to a fully-fledged online global shop, with everything from database management to micropayment handling.
Amazon is also a frontrunner in the enterprise private cloud, with major software vendors – including Oracle and SAP – now on its infrastructure offering.
But is that offering enterprise agility beyond the IT side? A recent BusinessWeek article entitled 'The cloud: battle of the tech titans' looked at Amazon vs the rest and focused pretty much on the scale argument, with users renting server time to analyse sales data, for example. It did not note that time to market is a major pull.
The city of Miami, for example, has quickly built a service that monitors non-emergency calls. "Local residents can go to a website that pulls up a map of the city and place pins in every spot tied to a complaint. Before the cloud, the city would have needed three months to develop a concept, buy new computing systems (including extras in case of a hurricane), get a team to install all the necessary software, and then build the service." Such systems are unlikely to be built in the 'conventional' way in these cash-strapped days.
A example of good use of a private cloud – this time on Google Apps – is by food chain EAT. It is improving business processes by using Google Talk for instant messages between stores when one run outs of a popular sandwich, for instance. Other tricks it is using include Google Forms, for head office to survey shop managers to capture issues and ideas, and integration with Android phones, for managers to access documents and order stocks on the move, as well as overseeing a number of restaurants whilst based at one.
The received wisdom about such enterprise cloud applications is that vendors are approaching department heads, not IT departments, to make headway – although much enterprise software of any type has been sold this way since the dot-com crash. It certainly makes sense in one of the hardest functions to crack, the sales force, which has long put up resistance to clunky CRM systems foisted on them.
But just because Salesforce's CRM (customer relationship management) system is software-as-a-service does not mean it circumvents the adoption problems that CRM has suffered from – company incentives and good management tend to fix that.
In many companies still, there is a black hole of forecasting and pipeline data on sales, and it doesn't help that most major companies – certainly in the FTSE 100 – are led by CEOs with little understanding of what it means to run a sales force. It's an area tailor-made for the cloud to make a substantial change to the way businesses are run, as so much knowledge is in silos – around departments and in the heads of individual sales people – and not shared.
Phil Codd, chief marketing officer for northern Europe at software testing firm SQS, chose Salesforce.com to solve a major sales reporting problem. In the past, reporting was on an individual country basis with a complex mix of spreadsheets, emails and word of mouth which placed a lot of pressure on accurate and timely sales forecasting.
Codd took advantage of Salesforce.com's 30 day free trial of its Sales Cloud 2, then worked with consultancy SaasPoint to implement it in just 40 working days. The company now has a central repository of sales pipeline throughout the region in real-time.
It's hard to underestimate what this can do for a company. Larry Ellison, the colourful boss of Oracle and now a cloud convert, famously cracked the whip a few years ago when he realised he had no 'dashboard' to see what his business units were doing in a timely fashion round the world. Trying to build an in-house system to do this is obviously counter-productive in time and money.
Where Salesforce.com scores is in its brilliant decision to create the AppExchange platform where users can integrate and use many more functions, from an 800 long list, and that's apart from Salesforce's own extras.
Another function that is benefiting from cloud 'agility' is logistics, where provider Deltion is gaining a good deal of success for its CarrierNet platform. Managing director Denis O'Sullivan, himself a logistics expert brought in to run this UK firm a year ago, says logisticians have been 'crying out' for a long time for real-time visibility across the supply chain to iron out customer service problems, which he says Cadbury (now part of Kraft) is doing with CarrierNet – a cloud system.
Keith Newton, customer logistics director at Cadbury, said: "The implementation has enabled us to move from a series of unlinked systems to a web based interfaced solution that has totally eliminated a number of areas of failure. It links all internal logistics and planning teams at Cadbury, all tier one third party logistics service providers, all second tier hauliers subcontracted to them, and customers via alerts, SMS and emails."
"It is no coincidence that since implementation we have recorded a number of '100 percent customer service days', which is a significant achievement for a large FMCG company such as Cadbury."
O'Sullivan added large retailers were also in the market for his system – which again would be prohibitive now to try and build in-house – and also mentioned a client called Rigid Plastic Containers (RPC) which uses CarrierNet to check warehouse stock and production schedules before processing transport orders. If there is no warehouse stock, the system checks if the ordered items will be produced in time for despatch. If there is a potential problem, an immediate alarm is raised and the problem managed with the customer.
Logistics examples are significant because they often involve the ecosystems that promote more business transformation across partners – adding real-time bidding systems to take on jobs, for example. An ecosystem also becomes apparent within companies as they use cloud systems for human resources.
In some cases, it is certain cloud technology creates a new business agility opportunity. In others, it's enabling better a known need. Donald Rumsfeld had a good take on this…
A few more examples:
Human resources (HR) systems are not obvious winners for the cloud, but vendors such as SuccessFactors are proving properly managing the entire workforce in terms of skills, knowledge and structure can have a big impact on business performance. European firms such as construction supplier Hilti are big users.
The public sector has much to gain from the cloud – in the NHS, County Durham and Darlington Foundation Trust, a consortium of 10 organisations, is using Wax Digital's web3 procurement system. It makes it easier for staff across the consortium to select goods and services for purchase and place orders quickly and simply, enabling streamlined financial control and authorisation, along with an accelerated supply process to nearly always 'next day'.
Project management is a shoo-in for the cloud, as Vodafone is discovering with the Projectplace web-based communication systems. "Finally we have a central system for storing files, working on them and retrieving them, always in real-time. Any project member can access it, and most importantly, the latest version is always available," said Alexander Gottschlich, global programme manager at Vodafone.
The Green House, a small Northampton-based business specialising in environmental services, manages around 500,000 scheduled collections a year through its recycling division alone. In the past, all of these transactions would have been carried out manually. Issues were typically sorted out over the telephone with multiple calls routinely taking place between the company, its suppliers and clients. This was a time-consuming, resource-intensive and expensive process. Today, the company manages all of these collections through Salesforce's Service Cloud, into which it has integrated a large number of workflows and approval procedures.
Stay up to date with the latest news and analysis from the world of cloud computing with our twice-weekly newsletter