How to turn big data into a competitive advantage
The increasing pace of change means five-year strategies are no longer viable for business leaders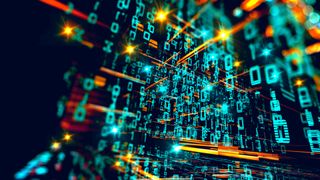 Companies are drowning in data. Researcher IDC predicts that the global datasphere the summation of information created, captured, or replicated will grow from 33 Zettabytes (ZB) in 2018 to 175 ZB by 2025.
Enterprises are increasingly responsible for the bulk of this data collection. IDC says 60% of all data will be created in the enterprise by 2025, up from 30% in 2015.
To make the most of the information they collect, organisations must create a strategic response. So, what's the best way to turn big data into business insight in the digital age?
Describing your data
Matt Harris, head of IT at F1 racing team Mercedes-AMG Petronas Motorsport, says employees looking to make the most of the information their firm holds must ensure data is described correctly. That principle might sound straightforward, but Harris says evidence often suggests otherwise.
"Some people get that concept straight away; others don't," he says. "Description of the data is absolutely critical. You need to describe the data and the situation in which that information was taken. Otherwise, if you try to apply analytics or some form of machine-learning techniques, you won't be able to work out which differences really matter and make a difference to race performance."
Harris gives an example from his own industry. Each car produces 0.5 TB of data during the average race weekend, with a further 5 to 10 TB of data produced per week at the team's headquarters in Brackley, UK. With the margin of victory being measured in thousandths of a second, rapid processing can have a huge, race-changing impact.
"We have data from a car going around a track in real time. We also have the same data for other years. But the context behind that data changes the car is different, the weather's different, the tyres are different, and the track might have been resurfaced," says Harris.
"What you're left with is two sets of data where the context is very different. So, how do you work out whether your iteration of the car is better than the previous version? They key is the description of the data it's critical to success."
Ditching the five-year strategy
Alan Talbot, CIO of Air Malta, also recognises providing information to the right people at the right time can have a huge impact on business performance. "When you're in competition, it's like you're either in love or in war anything works," he says.
The bad news, says Talbot, is that there isn't necessarily a guaranteed strategy for success. He suggests changes in the digital environment are so fast that anything strategic has to become tactical at some point. "You cannot have a five-year strategy anymore," says Talbot.
He says what might have been fashionable two years ago is often no longer in vogue. What is always certain, however, is that information is power and whatever piece of information you can put your hands on, even if you're not going to work with it immediately, can give you a competitive advantage, says Talbot.
"There are risks to that, of course you can end up with information overload," he says. "But the point should be that once you need data, you can find it when you've stored it. You need data stewardship in the organisation you need a data champion and data sponsors as part of the strategic team that leads the business."
Getting teams to talk about data
As director of digital transformation and communication at Parkinson's UK, Julie Dodd overseas both IT and marketing functions. This combined role makes it easier for her to ensure a strong working relationship between professionals across the organisation and she is using technology and big data to boost decision-making processes.
Dodd has implemented cloud-based data warehousing technology from Snowflake Computing. Parkinson's UK is using the Snowflake platform to create a single version of the truth and to sponsor joined up, data-led working across the charity. The integrated approach pushes insight to the right people at the right time.
"Creating a joined-up approach to data is truly a revelation for us," says Dodd. "There's very few conversations now that I'm in whether that's strategy or making serious business decisions where we're not talking about data. It has become a core part of the organisational vernacular."
Alex von Schirmeister, chief digital, technology and innovation officer at RS Components, also believes information needs to be a key part of the business conversation. Data is critical when IT leaders need to talk about digital transformation and educate people about the power of technology, says von Schirmeister.
"It helps to do be able to sit down with someone and say that because of tracking and analytics you know how many customers visited, how many put something in their basket or how many left your site, for example. Data talks I believe in the power of data," says von Schirmeister.
Gaining a competitive advantage
That view resonates with Amit Apte, global director of digital integration at Mars, who is using his experience to help the company make the most of its information. Apte, who was previously CTO at consumer giant Reckitt Benckiser Group, says the work his integration team at Mars is doing at the moment is not too different from any other large business but the organisation is already focusing on future plans.
"We're focused on analytics, big data and business intelligence," he says. "We've started a movement where my peers in data and analytics are building platforms to look at data and to create knowledge that we didn't have before."
In the last year, for example, Apte and his colleagues have launched 50 to 55 machine-learning projects. That initiative was backed by empowering associates within the company to go out and learn machine learning on their own. It was a self-taught approach to big data that has been pushed from the very top of the business.
"Our global chief digital officer at Mars, Sandeep Dadlani, set a challenge to employees to teach themselves as much about machine learning as they could in one hour and to then use that knowledge to tackle something in the business," explains Apte. "That's the reality if you start thinking about big data and emerging technology now, you can create a competitive advantage."
Get the ITPro. daily newsletter
Receive our latest news, industry updates, featured resources and more. Sign up today to receive our FREE report on AI cyber crime & security - newly updated for 2023.