The Swedish startups innovating the digital healthcare industry
A round-up of the best on show at Digital Health Days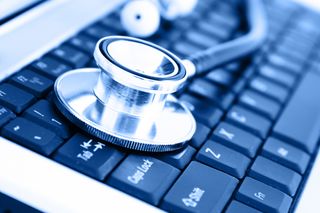 While industries such as banking and the media are already using technology to modernise business practices and bring value directly to consumers, the health industry is lagging way behind.
But this hasn't gone unnoticed by Sweden's tech startup scene, who have been busy working on a number of innovations to help revolutionise the future of the health industry.
How do we know? We flew to Stockholm last week, and got face-to-face with many of them at Digital Health Days, a two-day conference looking at the ways in which technology can help us improve our health, for professionals in hospitals and at home.
Thanks to these guys, who are helping contribute to the rise of digital health, or the MedTech' industry, we may finally get the health revolution we've been looking for.
Here are some of our favourites
Mimerse
Mimerse is a team that has developed a VR software solution using virtual reality and therapy techniques to solve people's phobias, from snakes and spiders to rats.
Using gamified psychological treatment tools, Mimerse said it is "solving the world's mental health problem one app at a time" by bringing long-known therapy techniques to the masses via VR.
"Our first public demo 'Itsy' is exposure therapy for arachnophobia packaged as a game, with a virtual therapist helping the users conquer their fear in a few hours," the firm said.
"Itsy was developed in collaboration with the Swedish government, clinical researchers at Stockholm University and our partner Samsung."
Unlike many of the VR gaming apps on the Gear VR app store right now, Itsy is focused on treating arachnophobia without involvement from a real-world therapist. And because the majority of phobia sufferers don't receive professional treatment, mass market games like Itsy could offer immense value for individuals globally.
Ayo
Ayo has a lighting solution that looks a little bit like Google Glass, but with a much more helpful purpose, especially for those who suffer from sleep deprivation or jet lag.
It's a wearable gadget that fits just like a pair of glasses and aims to actively improves your sleep, increase your energy levels and minimise jet lag. The gadget slips on over your ears and a frame that can emit light rests just above your eyes. It pairs with the Ayo Light app which allows you to regulate and optimise important hormone releases in your body naturally and control it with your smartphone.
Ayo's CEO, Aleksandar Dimitrov, told us that by using AYO you will be able to set up your "biological alarm" so your body is fully charged and ready when you wake up. This works by optimising and adjusting your melatonin onset and offset, you will "experience newfound energy"; waking up more refreshed, naturally, without an alarm. This works in the same way for Jet Lag, too, Dimitrov said.
For example, for each journey you take, AYO can provide you with an easy-to-use schedule and light treatment to adjust your internal time to the new time zone, giving you an easy transition without sleepless nights, dozing off during the day and other jet lag symptoms.
Gamebus
While Gamebus doesn't sound like something that could improve your health directly, it can. It arrives in the form of an app that provides supports for physical, social and cognitive wellbeing.
The key idea is to let people play the different games they enjoy as an individual in such a way that they are part of an integrated social interaction. It allows friends and family to combine social interaction with playing games, setting goals and challenging each other for a healthier lifestyle. For example, the elderly are able to play their favorite brain training game such as Sudoku while joining forces with their younger peers that go out for a physical activity, like running. They earn points then based on their relative effort levels.
Users of the app can also encourage one other in order to achieve team goals, which favours their health directly. However, the GameBus team stressed that the app is about fun, and not about obliged and forced supervision.
The team are hoping it will generate rich, integrated data, related to cognitive, physical, and social activities, with what the founders are calling "big commercial and scientific potential".
It's free and available on the app store now for those wanting to get involved.
Hand in Scan
Hand in Scan offers an innovative device for providing immediate quality-assured feedback regarding hand hygiene.
It has been designed to help people learn the technique for proper hand hygiene by objectively determining the effectiveness of one's hand washing technique.
With plans for it to be used in hospitals and surgery operating rooms, all those using the device are automatically identified individually via the images it takes of their hands. It then gives repeatable and immediate measurement of hand washing quality, based on the UV traces of the solution.
Qinematic software
Qinematic software is a fast and affordable 3D body scan technology that automatically measures posture, balance and movement control, gives instant personalised feedback and creates an electronic report providing you with knowledge about yourself.
Aifloo
The guys behind Aifloo are developing an e-health system based on artificial intelligence, which increases the safety and independence for elderly people and those with chronic illnesses by detecting and analysing behaviours and alerting of any dangers, notifying relatives or care providers.
Get the ITPro. daily newsletter
Receive our latest news, industry updates, featured resources and more. Sign up today to receive our FREE report on AI cyber crime & security - newly updated for 2023.