Trumped up Huawei threat helps nobody
Crying wolf with cybersecurity is a dangerous game, warns Barry Collins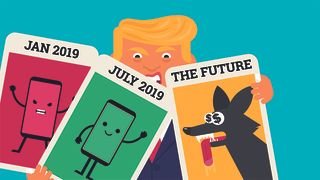 Well, that was quite the comeback from Huawei.
A month ago, it was the mad, bad Chinese mobile firm that posed an enormous threat to national security on both sides of the Atlantic so bad that Google was told it couldn't put Android on Huawei handsets, and Microsoft couldn't put Windows on Huawei laptops.
Now, as part of President Trump's trade deal with China, Huawei is back in the fold. Great job, guys.
Putting Huawei on the naughty step to get a better trade deal from China is far from the worst of the US president's recent (checks wording with lawyers) misdemeanours. A much-criticised attitude towards women, alleged attempts to obstruct investigations into his conduct, playing diplomatic poker with dictators all that other stuff is probably of greater concern. But don't think for a second that Trump's Huawei hokey-cokey won't have huge implications.
First, let's look back at what the president said about Huawei. As recently as late May, Trump described the company as "very dangerous" because of its alleged close links to the Chinese government and its potential to eavesdrop on mobile communications. Your local fibre broadband cabinet is stuffed full of Huawei equipment; mobile phone masts are made by Huawei; you might even have a Huawei phone in your pocket.
If Beijing ordered Huawei to tap communications, would it be in a position to refuse? No, said the president, which is why he issued a thinly veiled executive order that essentially banned any US company from dealing with a foreign firm that "poses an undue risk of catastrophic effects on the security or resiliency of [the] United States".
And he wasn't alone. When our own government continued to insist that the security threat posed by Huawei was manageable, half the Tory backbenchers broke out in uproar. Jacob Rees-Mogg accused the government of "jumping into bed with the Chinese company Huawei against the advice of the US and Australians" and risking the "defence of the realm". Tom Tugendhat, who sounds like a Tolkien character but is actually chair of the Foreign Affairs Select Committee, said the UK would be "nesting a dragon" if it continued to permit Huawei a licence to operate in this country. What do they say now that the US has U-turned?
The biggest problem with the US government pretending Huawei posed a security threat, just to scratch an extra few % off trade tariffs, is that it makes the current administration impossible to trust on cybersecurity threat warnings. It's hard enough to convince companies and individuals to take cybersecurity seriously as it is, which is why ransomware is still able to take out entire NHS trusts and gullible folk are still swindled out of their life savings by phishing scams.
The next time the US Cybersecurity and Infrastructure Security Agency (CISA) warns of a critical threat to security or urges people to download a patch for their phone or laptops, will anyone listen? Or will they wonder if it's just another ruse by the President who cried wolf? You know who to blame if it's the latter.
Get the ITPro. daily newsletter
Receive our latest news, industry updates, featured resources and more. Sign up today to receive our FREE report on AI cyber crime & security - newly updated for 2023.
Barry Collins is an experienced IT journalist who specialises in Windows, Mac, broadband and more. He's a former editor of PC Pro magazine, and has contributed to many national newspapers, magazines and websites in a career that has spanned over 20 years.
Today, he's a contributor to Forbes.com, a columnist for PC Pro and ComputerActive, and is the co-editor of BigTechQuestion.com, a site dedicated to helping solve people's tech problems. You may have seen Barry as a tech pundit on television and radio, including BBC Newsnight, the Chris Evans Show and ITN News at Ten.
You can follow Barry on Twitter at @BazzaCollins, or email him at barry@mediabc.co.uk
Get the ITPro. daily newsletter
Receive our latest news, industry updates, featured resources and more. Sign up today to receive our FREE report on AI cyber crime & security - newly updated for 2023.
Thank you for signing up to ITPro.. You will receive a verification email shortly.
There was a problem. Please refresh the page and try again.