How to use LinkedIn for business (and the benefits)
We explain how to improve your company and individual profiles on LinkedIn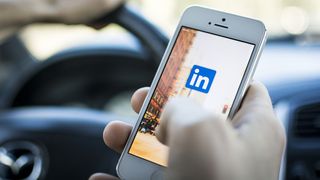 Once upon a time, businesses were found in something called the Yellow Pages' and people printed out CVs and sent them to potential employers through the post. Now, in our digitised world, both can be done online, at the same time via social networking site LinkedIn.
The service is owned by Facebook and although it's a social media platform of sorts, it functions differently to its parent company. It's not the kind of social network where you amass a collection of acquaintances from school and long forgotten nights out - LinkedIn connections are for furthering careers and attracting talent. It's a place for professional photos and suits, rather than the half-naked selfies and bleary-eyed drunk snaps on Instagram.
LinkedIn is essentially a digital expression of your CV. Your profile should represent how you wish to appear to employers, with up to date career information and ambitions permanently listed. It can form an important tool for people looking to expand their business contacts, promote their services, and potentially secure more customers and clients.
It may seem like another avenue where people can reach you - another inbox to be filled with spam - but it is a platform that supports some 500 million people. That wealth of career and business opportunities simply can't be ignored.
What are LinkedIn company pages?
Every business should have a company page to not only post great, engaging and of course, targeted content, but to also give employees a page to link their profile too.
LinkedIn company pages are also a great place to advertise for current job openings at your firm - with so many skilled people using LinkedIn to find their next opportunity, it's the perfect place to recruit.
Anyone liking your company page will see your posts on their timeline. They can share, like and comment on those posts, which will also appear on your company's page itself.
Other users can also tag your company page into their own posts, meaning their followers could visit your page and even follow it, if they find it useful and relevant.
How to manage a LinkedIn company page
A company page is always visible, whether users have a LinkedIn account or not, so it's vital to keep it updated with new content.
Because LinkedIn is a more professional network than the likes of Facebook, the content you post should be more professional too. Think about who is likely to be visiting your page - those looking for business opportunities with your company or those looking for job opportunities.
Therefore, it's a good idea to post company news, blog posts that may promote thought leadership and pictures or comments reflecting your company culture.
The benefits of LinkedIn to build your personal profile
LinkedIn is probably the most effective social tool for making new business contacts as well as leveraging your company profile. This is because it's been built specifically to focus on business, rather than personal relationships. That means no cat pictures or family photos, however.
It's a place to advertise your career achievements, promote your skills and talk up your potential. Essentially it's like having a digital you that is permanently interview ready (provided you've got all your information right) and always available for review. Which can be a real benefit in today's globalised society. Job's become available around the world any hour, day or night, and your LinkedIn page and the network of professionals attached to it can link you to any job, even while you sleep.
Types of LinkedIn profile to consider
You can choose whether to have a free LinkedIn account or a paid, premium account. Free accounts offer limited searches and don't allow you to message people you aren't connected with, while premium accounts allow for more detailed searches, messaging credits and the ability to see who's viewed your profile.
There are two premium accounts available - Premium Business (39.99 if you pay for a year upfront) and Executive (59.99 if you pay for a year upfront). The differences are that with the cheaper subscription, you only get 12 InMail messages, while with the more expensive plan, you get 30 a month.
InMail messages mean you can message anyone on LinkedIn, whether you know them or not. With the free version, you are not allowed to message people you don't know.
Recruiters can also sign up for a more targeted account that allows them to find the right talent to fill roles. A recruiter account allows for a more detailed search, InMail management, profile management (with project folders), job slot management, collaboration and productivity features, and administrative functionality for managing user accounts.
How to set up your LinkedIn account
Whether you've set up a free or premium, personal or recruiter profile, you'll need to make sure it has the most up-to-date information about you and the positions you've held, with a description and the skills you used in each position.
This will not only tell people about you and your experience, but if you are using LinkedIn to find your next job, you want as much detail on there as you can to show people you're the right fit for their vacancy. Even if you're not actively looking for a job, having as much information on your personal profile as possible (including a photo) will help you build your network and be attractive to recruiters.
Make sure you link your profile to your company page too, not only to confirm where you work, but also to try and drive traffic to your company page.
When you first set up your LinkedIn account, you'll be asked whether you want to connect your email account and import your existing contacts. You can also do this at any other time if you want to quickly boost your connections. Anyone not already on LinkedIn will also be invited to join.
You can also ask colleagues, ex-colleagues and people you've worked with (clients, for example) to write you a recommendation that will show on your profile for all to see.
LinkedIn top tips
To grow your network, you do have to put some effort in, but you will reap the benefits. Even if you spend 15 minutes a day adding people you know to your profile, you can quickly grow your connections.
Try and post yourself or comment on other people's posts daily. Whether you share content you've found outside of LinkedIn or within LinkedIn, make sure it's relevant to your industry to get the highest levels of engagement.
Also, make use of LinkedIn Pulse, where you'll find - and can post - longer form blogs' to position yourself as an industry thought leader.
Make your profile as interesting and engaging as possible. Don't be plain and boring, just listing your positions and skills. Be imaginative and make your profile stand out from the rest.
Also, recommend others and they will hopefully recommend you back.
Get involved in industry-related groups. Like Facebook, there are thousands of groups to join on LinkedIn. Not only will you learn a lot and find content to share, you can also actively contribute and use them to grow your personal network.
Get the ITPro. daily newsletter
Receive our latest news, industry updates, featured resources and more. Sign up today to receive our FREE report on AI cyber crime & security - newly updated for 2023.
Bobby Hellard is ITPro's Reviews Editor and has worked on CloudPro and ChannelPro since 2018. In his time at ITPro, Bobby has covered stories for all the major technology companies, such as Apple, Microsoft, Amazon and Facebook, and regularly attends industry-leading events such as AWS Re:Invent and Google Cloud Next.
Bobby mainly covers hardware reviews, but you will also recognise him as the face of many of our video reviews of laptops and smartphones.