Email: Dead or alive?
With the rise of social networks and other communications, we explore whether email's existence is under threat.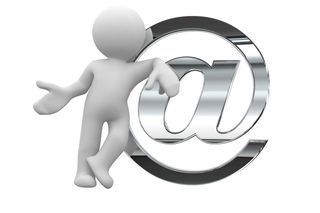 When Ray Tomlinson sent the first email containing the now ubiquitous @ sign, the art of communication changed irrevocably.
Sending a message was made simpler, quicker and cheaper. Now, on average, more than 10 billion emails are sent every day.
Yet there are claims email is a dying breed. As younger generations grow up with social networking, micro-blogging and instant messaging, some believe email is on its last legs and may even be something of an anachronism in just a decade.
Is this conceivable? In light of the significant numbers of messages flying between inboxes, how can email, a relatively short-lived communication, possibly be heading towards its funeral?
Death: Part I
Email as we know it is under threat from the range of communications tools that are emerging, one of them being social networks.
It was just earlier this year that a Facebook executive suggested email is probably going to be gone soon.
While the irony that you need an email address to sign up to Facebook was not lost on many, even analysts have signalled social services are going to knock email usage.
Gartner recently claimed a fifth of businesses will use social networks as their central method of workplace communications by 2014.
In certain circles, there is a feeling that email has some serious limitations and other communication methods such as social networks offer greater ease of use and less clutter.
Goetz Boue, director at business consulting and technology services company Concentra, told IT PRO it may be time for businesses to look at alternatives to email and his firm has seen "a lot of interest" in social media.
"I think email is disruptive I think other tools provide better ways of communicating with colleagues," he said.
Email is costly as well, Boue suggested, as businesses are forced into investing in supporting services with backup and archiving solutions.
"Email comes at a huge cost, so if you find mechanisms to reduce that then all the better," he said. "There's reducing costs and then there's also improving efficiencies [and] improving the value people get from things."
Furthermore, there is little email clients can do to improve their services to make enough of a splash and become significantly more attractive, Boue said.
Usage levels will "definitely" decline, according to Boue, and he has seen this trend already appear in his own organisation.
A daily dose of IT news, reviews, features and insights, straight to your inbox!
A daily dose of IT news, reviews, features and insights, straight to your inbox!
Thank you for signing up to ITPro. You will receive a verification email shortly.
There was a problem. Please refresh the page and try again.