The apps are coming to get you!
Inside the Enterprise: A combination of BYOD and legacy software is bringing firms' applications strategy to breaking point, a consultancy argues.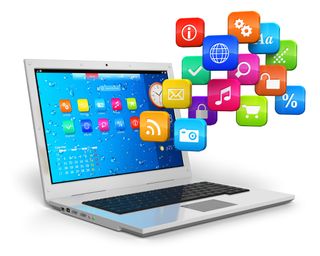 A mix of legacy software, and staff bringing their own applications to work, is putting companies' software strategies under severe strain, according to a consultancy firm.
Avanade, the IT integrator part-owned by Accenture and Microsoft, believes that companies are creating their own "application strategy Hell", as they struggle to manage the pressures of employees to bring in unauthorised personal applications, and to update or replace legacy software.
Research by the firm suggests that two key developments have come together to create an application crisis: the upcoming end of support for Microsoft's Windows XP, in 2014, and the trend for individual employees to bring personal devices to work.
Those devices, mostly tablets and smartphones, are increasingly coming in to the business with personal apps too. These, rather than being selected and provisioned by corporate IT, are being bought from app stores by staff, or downloaded over the web.
The risk of malware infection, data loss, or simply the use of apps that are inconsistent or ineffective is all too real.
Avanade argues that the two trends are creating inefficiencies in business processes, and in turn, a loss of profits and of customer satisfaction. As many as 52 per cent of companies surveyed by the firm did not yet have a strategy in place to deal with Windows XP going out of support, and 91 per cent said that employees bringing their own apps posed a risk.
According to Nicholas Merriman, chief architect, at Avanade, organisations are better-placed to deal with legacy applications than they are with app proliferation (or Bring Your Own App), but for too many businesses, the enterprise software strategy remains, at best, disjointed.
"Legacy is a known issue in many organisations today," he says. "They have assessed the landscape and understand the issues, the potential impact and the mechanisms to mitigate. However BYOD, apps and SaaS, are relatively new and so the risk is, comparatively, not as well understood."
The increasing ease with which individuals, or departmental managers and project teams, can buy apps either from app stores or the cloud. Firms buy SaaS or cloud-based applications, as a way of bypassing slow or unresponsive internal IT. Frustration with current business applications is at least one reason, says Merriman.
"In our experience is this is due to two things. One is lack of agility; the other is the lack of apparent priority within IT due to competing business demands. In the past if IT couldn't deliver then the business had to wait or spin off their own IT function, which is a costly and risky approach. Now businesses don't need to wait: they can simply, with a credit card spin up services without involving IT at all," he says.
The answer, though, is not to ban people from downloading apps or using the cloud: even if it were practical, that would cause as many problems as it solves. Instead, IT needs to be quicker at identifying legacy applications, gaps in capability, or simply areas where a business application no longer works in the way the business needs. "The trick," Merriman says, "is to make the assessment process quick , and develop a model for remediation or replacement."
After all, no-one really wants to pay for business IT on their credit cards, do they?
Stephen Pritchard is a contributing editor at IT Pro.
A daily dose of IT news, reviews, features and insights, straight to your inbox!
A daily dose of IT news, reviews, features and insights, straight to your inbox!
Thank you for signing up to ITPro. You will receive a verification email shortly.
There was a problem. Please refresh the page and try again.