Hyperoptic to build gigabit fibre network for Glasgow
FTTP brings gigabit speeds to residential and business customers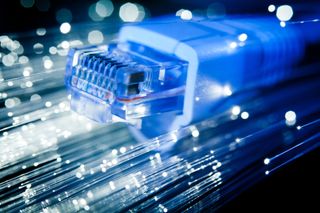 Gigabit fibre provider Hyperoptic is to roll out a new broadband network in Glasgow that will bring fibre-to-the-premise (FTTP) connectivity with speeds of 1Gbps to the city.
The firm has already deployed gigabit networks in parts of London, Manchester, Liverpool, Leeds, Bristol, Cardiff and Reading. Most of this is being funded by a 50 million investment from Quantum Strategic Partners.
Hyperoptics managing director Dana Tobak said the decision to bring the network to Glasgow had been made easier following the No vote in last week's Scottish independence referendum.
"Now that Scotland has confirmed that it will be staying within the UK, it is the perfect time to announce that Glasgow will be the next hyper-city," said Tobak. "We look forward to bringing gigabit broadband, the fastest consumer broadband speeds in the UK, to Scotland."
As with its network roll out in other cities, Hyperoptic will prioritise connections to premises that registered an interest in the service.
Last week, Hyperoptic started to connect business and residential premises in Cardiff to its gigabit broadband network. Among the first to be connected to gigabit fibre were residents in Hayes Apartments, located above the St David's shopping centre.
"We are always looking for businesses that will add to the competitiveness and growth of Cardiff," said Ken Poole, head of economic development at the city of Cardiff.
"Hyperoptic will be investing 4million in broadband infrastructure in Cardiff over the next five years supporting our local economy as well as providing a service that is miles ahead of the competition. I strongly advise residents to get behind it. The more demand we can demonstrate, the faster the rollout will be."
A daily dose of IT news, reviews, features and insights, straight to your inbox!
Rene Millman is a freelance writer and broadcaster who covers cybersecurity, AI, IoT, and the cloud. He also works as a contributing analyst at GigaOm and has previously worked as an analyst for Gartner covering the infrastructure market. He has made numerous television appearances to give his views and expertise on technology trends and companies that affect and shape our lives. You can follow Rene Millman on Twitter.
A daily dose of IT news, reviews, features and insights, straight to your inbox!
Thank you for signing up to ITPro. You will receive a verification email shortly.
There was a problem. Please refresh the page and try again.