Organise your life with Trello
Swamped with projects and plans? This free service could be perfect for getting your tasks in order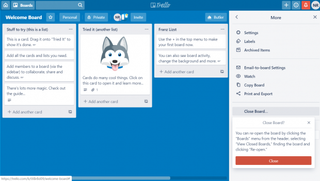 (Image credit: Trello)
To do, doing and done: that's Trello in a nutshell. The tool is based on Kanban, a project-management and development method named after the Japanese word for "billboard".
That's a fair description of what Trello looks like: just as a community noticeboard will be covered in notices of events, jobs and announcements, so a Trello board holds lots of small "cards". Each one usually details a single task, with your various cards grouped into lists to help keep everything organised.
Here's a practical example of how Kanban works. When editors on our sister site Expert Reviews want to cover a product or news story, they create a Trello card and place it in a list entitled "Ideas". Once the feature has been commissioned, the card is dragged onto the "Writing" list. When the copy is received, the card is moved into the "Editing" list, after which it will go into the "Publishing" list and so on.
What makes Trello so powerful is that there's no requirement to follow a particular workflow. You can create as many lists as you like and structure your Trello board to suit your needs. That flexibility has helped Trello gain more than 50 million users, including large organisations from Adobe to UNICEF – as well as individuals seeking to stay on top of their personal projects. If you haven't yet considered Trello, it's time you did. Here's how it can help you to organise your life.
Creating your account
Getting started with Trello doesn't have to cost a penny: you can create a free account here. You'll see that there are also Personal, Business and Enterprise plans at various prices, but for individuals and small businesses the free service may be all you need. It offers an unlimited number of personal boards, cards and lists, and allows you to attach files of up to 10MB to your cards. It also lets you create up to ten team boards, which can be shared between users.
Being signed up to the free service doesn't limit your ability to connect to other boards, either. If you use Trello both at work and home, your login gives you convenient central access to all of the boards to which you've been granted access – including both paid-for and private ones.
Setting up a personal board is easy. Once you've logged in, you just need to click the plus icon at the top of the interface and give your new board a name when prompted. Your board will immediately appear. If, later on, you want to remove a board from your account, you must first close it (by selecting Show Menu | More… | Close Board…). You can then delete it by clicking the menu button on your Trello dashboard, followed by More | Delete Board….
New boards appear empty, with a prompt to create your first list. Enter a title for this and then move on to create as many additional lists as you need. When you've finished, click the "X" to close the new list dialog. Don't worry if you're not sure at first exactly how to structure your board as you can always reorganise things later. You can reorder lists by simply grabbing their headers and dragging them around, and you can add extra lists via the "Add another list" button that appears at the right end of your board.
Now you've got at least one list, it's time to populate it with some cards. You can do this by clicking the three dots at the top of a list and selecting "Add Card…" – or you can click the "Add a card" link at the bottom. Once you've named a card, you can click into it to give a more detailed description, add notes, attach a file or link and so on. One particularly useful feature is the ability to set deadlines and reminders for individual cards: to do this, click "Due Date" from the "Add to card" menu. Once you've got several cards in a list, you can drag them into any order you like, and drag them between lists as needed.
You can also create new cards by email, which can be convenient if you quickly want to add an item to your board while you're out and about. To make use of this feature, you'll need your board's unique email address: to find this, click More and pick "Email-to-board Settings". Copy the address shown and save it in your contacts for convenient access later on. Note that this address is unique to you, so if other people have access to the board, they will need to use their own address.
You can now create a card by simply sending or forwarding any email to this address; the contents will be added to a new card, along with any attachments up to an overall limit of 10MB. You can set which list emailed cards are added to by clicking List under "Your emailed cards appear in…" and picking from the menu. If you want more control over Trello via email, plugins are available for G Suite and Outlook, which allow you to customise new cards from within your email client.
When a card reaches the end of its workflow, you can archive it from the main dialog menu that opens when you click on it, or from the context menu that opens when you right-click. Archiving a card removes it from the board, but it won't actually be deleted unless you click the Delete button that appears on archived cards. You can review, restore or purge archived cards from the list that appears when you click Show Menu | Archived Items.
Use Trello Power-Ups
There are plenty more clever things you can do with Trello, courtesy of the plugins it calls "Power-Ups". If you're on the free plan, you can add a single Power-Up to your boards, while paid users can enable as many as they like.
As an example, if you use Slack to communicate with your colleagues, activating the Slack Power-Up allows you to click and drag Slack content directly onto a card. Other supported platforms include Dropbox, Google Drive, OneDrive and Mailchimp. In fact, just about any popular business tool will happily integrate.
Integrations can also work in the other direction. Every Trello board has a calendar, which records the due dates applied to your cards. You can incorporate these into Outlook or Google Calendar using the Calendar Power-Up: to enable it, point your browser here and click Add Power-Up.
Once it's enabled, return to your board and click on the gear icon, followed by Calendar Settings. Click "Enable sync" and copy the calendar address from the iCalendar Feed box. In Outlook, you can now open your calendar, click Open Calendar in the Home tab, click From Internet… on the menu that appears and paste in the address you copied. Events from your Trello calendar will now appear alongside those already in your Outlook calendar. You can hide them by unticking the Trello calendar in the sidebar's My Calendars section.
Google Calendar users, meanwhile, simply need to click the three dots beside "Add calendar" in the sidebar, then paste the copied calendar address into the URL box and click to save their settings.
Save time with Trello templates
We've mentioned that Trello can be adapted for any type of workflow, but if someone else has already developed a board that serves your needs, there's no need to reinvent the wheel. Click here and you'll find a broad selection of ready-to-use boards for jobs such as managing a marketing calendar, planning a trip, generating ideas in the early stages of a project and propagating a corporate overview.
Note that, although a template may be free to integrate, it might rely on Power-Ups. The Learn A Language template for example – created by the CEO of Duolingo – uses the Google Drive and Calendar Power-Ups, while the Etsy Order Fulfillment template uses the Dropbox, Custom Fields and Automate.io Power-Ups. As we've noted, free users can only use a single Power-Up so you may need to create your own workaround, or subscribe to a paid plan to take full advantage of Trello's potential.
Automating Trello
A lot of what you do in Trello will be repetitive – and we don't just mean dragging cards from one column to another. For example, it's likely that you will have weekly or monthly maintenance tasks to perform, and when you create cards of a certain type you might want to give them all default due dates. However, rather than laboriously doing this for every single card, you can apply automation using Trello's Butler Power-Up.
Simply put, Butler works on the principle of triggers and actions, as its developer Oscar Triscon explains: "Imagine having an assistant that can be instructed to react to your actions on the board. You tell him: 'When I move a card to the Done list, please mark the due date complete in a card, add a green label and post a comment saying '@board I got this'.' Then, every time you move a card to Done, those actions are performed on the card – as if by magic. You can set up rules just like that one using Butler, which is built into every Trello board. Importantly, you don't need to know any computer programming: the rules are entered in plain English."
There's plenty more you can do with Butler: it lets you add buttons to cards and boards, create schedules and manipulate due dates. So you can, for example, configure it to create a series of standard cards at the start of each day or week, or add a button to your dashboard that organises all of your tasks by deadline.
It's worth keeping in mind that free account users only have access to basic Butler actions, such as setting due dates, creating checklists and moving cards automatically. Paid subscribers get the full feature set, but Personal users can run only 200 commands per month performing up to 2,000 operations, while those on the Business and Enterprise plans get much higher limits.
Connect Trello to other apps
If Trello's built-in automation doesn't do quite what you want, you can use the IFTTT automation platform to expand its capabilities using third-party tools such as Evernote, Pocket and the Google Assistant. Get started by heading to and clicking Connect. Read what rights you'll be granting IFTTT and, if you're happy with them, click "Log in", followed by Allow.
You'll also need to connect the third-party services you want to integrate with Trello, assuming you haven't already done so. To do this, click in the search box at the top of the screen, enter the name of the service you want to use – we'll use the Google Assistant for this example – click Services and again click Connect to log in to your account.
Once you've connected both Google Assistant and Trello to IFTTT, you can then use the former to control the latter. Go here and click Connect and then customise the commands you can speak to your Google Assistant to create a new Trello card (see screenshot opposite). The "$" in the preset commands represents a spoken variable, which will be used as the title of the card you create. So, if you said "Okay Google, add tax return to the Trello list", the card would be titled "tax return". Scroll further down the screen, choose which board and list you want new cards to appear in, then click Save.
Convert Post-it notes to Trello boards
If you're currently relying on a forest of Post-it notes for your project management needs, the transition to Trello shouldn't be too difficult – after all, a Trello board already looks like a wall covered in notes. What's more, 3M (the firm behind the ubiquitous yellow stickers) has built a handy feature into its free Post-it app for Android and iOS that lets you capture and digitise up to 200 notes at a time using your phone or tablet's camera and export them directly to Trello. Download it here.
It's also possible to send captured content to PowerPoint, Excel and Dropbox, or export it as PDF. You can scan things other than Post-it notes, too – but the app is optimised for square content so rectangular notes will be squashed.
Get the ITPro. daily newsletter
Receive our latest news, industry updates, featured resources and more. Sign up today to receive our FREE report on AI cyber crime & security - newly updated for 2023.
Nik Rawlinson is a journalist with over 20 years of experience writing for and editing some of the UK's biggest technology magazines. He spent seven years as editor of MacUser magazine and has written for titles as diverse as Good Housekeeping, Men's Fitness, and PC Pro.
Over the years Nik has written numerous reviews and guides for ITPro, particularly on Linux distros, Windows, and other operating systems. His expertise also includes best practices for cloud apps, communications systems, and migrating between software and services.