Carving a pathway into tech for veterans
UK-based not-for-profit TechVets is trying to open a meaningful post-military career for veterans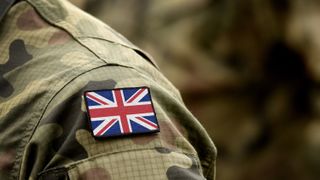 (Image credit: Shutterstock)
This article originally appeared in Issue 8 of IT Pro 20/20, available here. To sign up to receive each new issue in your inbox, click here.
After serving 12 years in the British Army as an officer in the Intelligence Corps, Alex (who has asked to be known only by his first name), began searching for a career in cyber security.
In theory, he should have been snapped up straight away. He'd learnt computer programming at the age of six, had an academic degree in computing and engineering management, considerable practice in risk management, and experience in structured programme management. What's more, he'd spent the majority of his military career conducting intelligence analysis in various guises in support of military planning and operations all over the world.
In practice, however, Alex found job specifications demanded stringent experience and certification requirements that he could not meet. He had numerous applications rejected without even reaching an interview stage. As a result, he ended up taking up manual labour roles in order to provide some form of income.
Alex isn't alone in his experience. While much progress has been made in improving the unemployment rates of veterans the world over, recent research from LinkedIn has found that the issue of underemployment has become a strong barrier to a meaningful post-service career for a large proportion of veterans. In fact, in the US, veterans are 70% more likely to take a step back in seniority and 36% less likely to make a seniority jump when moving into the civilian workforce.
Chasing unicorns
It's a challenge that James Murphy, an ex-soldier and former cyber threat intelligence lead for the UK government, has become incredibly familiar with. "There's a growing issue of what is often referred to as 'unicorn chasing'," he explains. "Hiring managers and recruiters are seeking mythological candidates to fulfil their open roles. For example, I recently saw a vacancy for a junior analyst, but the job description stated that the candidate must have at least five years' experience, as well as Certified Information Systems Security Professional (CISSP) qualifications – something that only more senior candidates are likely to have. While this has an impact on all job seekers, for veterans it is a particular problem. Military service leavers are perceived as a relatively unknown entity and, in concert with their inability to translate their unique military experience, are seen as a higher risk for hiring managers."
In a bid to help solve these issues, Murphy joined TechVets, a UK not-for-profit set up to provide veterans with a pathway into cyber security and wider technology careers. After spending two years supporting the organisation's co-founders and assisting with operational delivery, Murphy assumed the position of CEO.
"Our mission is to build a bridge for veterans and service leavers into cyber security and technology careers. These areas require greater diversity of thought to solve the many complex challenges that teams face on a daily basis. The technology sector is not yet capitalising on the veteran talent pool and we are the disruptor that will work in partnership with others to make that happen," Murphy says.
Building bridges
TechVets is doing this in a number of key ways. Since its founding in 2018, it has built an online community of over 5,000 people, consisting of both technology professionals and veterans. Here, members can ask questions and quickly understand the most suitable routes into cyber security or technology for them. "They will find out what opportunities there are in their location, how long it takes to train, what certifications and training is industry recognised – the list goes on," Murphy explains. "Beyond professional assistance, the community is also fantastic for day-to-day support. Members may be struggling with their new working from home routine, they may have a mental block during studying, or perhaps they are finding the significant changes in their new non-military life overwhelming. You would be amazed at just how many will be able to put their virtual hand up and let others know that they have been in that same position and offer reassurance that there is always a way forward."
In addition to this, TechVets offers its members CV support, as well as free training through partnerships with a number of industry-recognised organisations. "We offer the TechVets Veteran Digital Cyber Academy, powered by Immersive Labs, as well as the Fortinet Network Security Academy through our partnership with Fortinet," explains Murphy. "We also partner with Splunk as part of the amazing SplunkWork+ programme, Cybrary and more. This provides a fantastic opportunity for veterans to get hands-on technical training and to hone skills that are in demand at leading companies around the world."
Building on success
Murphy's ultimate goal is to give veterans and service leavers access to cyber security and technology careers. At the same time, he wants to help the technology sector capitalise on veterans' unique skills and experience by helping de-risk veterans and service leavers to hiring managers, while also enabling them to get the skills and qualifications they need to keep pace with the civilian workforce.
"There are numerous ways in which we will achieve this, the first being to help industry focus on skills, aptitude, passion and motivation rather than obsess about certifications," he said. "We also continue to work with leading industry companies so we are enabling our members to complete industry-recognised training to help with a common professional language. We also want to keep expanding and developing our community to enhance the networking opportunities for members to help them build their own networks, thus improving their professional profile and branding."
The success of TechVets so far has been admirable. "We've created an online community of 5,445 members across 12 active regional chapters throughout the UK," Murphy explains. "Despite the economic impact the pandemic has had on recruitment, we have supported 22 of our members into new roles, and have facilitated over 80 Fortinet certifications in the last three months."
However, as a non-profit, Murphy is quick to recognise that TechVets will always be pushing the limits of what can be achieved with limited funding. "In fact, for the first 18 months we survived without any funding whatsoever. This means I rely on using volunteers, whose time I do not own, to support me in delivery. Thankfully, we have taken volunteers from our community and I am very fortunate to have an exceptionally talented and very experienced volunteer team."
Changing lives for the better
It's the support of this dedicated team that helped Alex to move out of manual work and secure a role as a cyber security manager at a Big Four consulting firm.
"I was introduced to TechVets by an enthusiastic veteran who had used the organisation himself to find employment," Alex explains. "The online community, which enabled direct contact with people who were seeking veterans, was the most valuable for me – although the wider material was very supportive in positioning myself with potential employers. TechVets' community is a positive way of engaging with people across the cyber industry and military community to share information that can otherwise seem impenetrable."
Many of those who have had similar success to Alex and have gone on to forge rewarding careers in cybersecurity and technology, now volunteer for the TechVets network, giving back to the community that supported them. For this, Murphy is eternally grateful. "The passion and dedication my volunteers show is the key to how we have achieved so much in such a short time," he says.
Get the ITPro. daily newsletter
Receive our latest news, industry updates, featured resources and more. Sign up today to receive our FREE report on AI cyber crime & security - newly updated for 2023.