Meet the company that wants to be the Airbnb of printing
Henrik Müller-Hansen says that the print industry is still stuck in the dark ages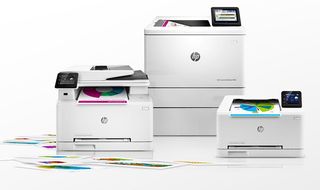 Transportation, property rental and shopping have all been disrupted by on-demand services like Amazon, Uber and Airbnb, allowing customers to tailor their transaction for their individual needs. Now the same treatment is coming to a key business resource: digital printing.
Enter Gelato, a company that wants to become the Airbnb of the print industry. Founded in 2007 by CEO Henrik Müller-Hansen, Gelato is a global print cloud that allows professional printing firms to network their equipment together. The aim is to connect their customers with the nearest printer to their documents' destination, cutting down on both the cost and time associated with print distribution.
We may not think of printing as particularly important in an age of digital signage, cloud storage and instantly shareable PDFs, but according to figures from music industry body IFPI and print industry market intelligence firm SmitherPira, the digital print industry is growing at around the same rate as the global recorded music industry. In the 10 years since he founded Gelato, Müller-Hansen claims he has seen the total size of the industry almost double, increasing in value by roughly $10 billion per year.
Despite this massive reliance on printing, Müller-Hansen believes that the industry is stuck in the past. "The problem is that not since Gutenberg has real change happened in the print industry," he told Cloud Pro. "We are speaking to global companies who actually admit that the way they order print has not changed in the last decade, while all the other ways of buying services and products have."
As a result, he said, the global printing industry suffers from major inefficiency problems, starting with distribution. When multinational customers order print materials such as promotional resources or corporate stationary, they will often have everything printed at the nearest commercial print house to their head office, and then shipped out to regional branches where it's needed. As well as being environmentally unsound, Müller-Hansen explained, this also costs significant amounts of both money and time.
Customers are often over-ordering print matter, too - a PwC study commissioned by Gelato estimated that up to 25 per cent of all printed matter goes unused. Not only that, but while office printing is closely monitored and administrated, commercial printing has little oversight and is often split across different departments and budgets.
There are inefficiencies on the print house's side as well as the customer's, though. In his book on the state of the current market, the CEO of HP reseller Visutech wrote that the European print industry has five times more output capacity than demand, suggesting that for the majority of the time, printers are simply sitting idle.
Printing locally to an order's destination has several benefits. For example, the company's normal shipping time for print batches is 48 hours, whereas traditional ordering can often take 10 working days or longer. In addition, Müller-Hansen told Cloud Pro that, on average, moving to the Gelato network decreased the time a printer takes to process each document by 90 per cent.
Gelato also has integrations with major cloud software platforms and creation tools, including plugins for programs such as Adobe Creative Cloud Photoshop, Illustrator and InDesign, allowing users to order print jobs without even leaving the software. As you would expect from a modern service, Gelato is available through both a web portal and a mobile app.
Gelato's platform can also integrate with Dropbox and Google Drive, allowing customers to print directly from cloud storage. Companies can invite unlimited employees to their Gelato account, who can then use the service to order their own print materials independently. They can order exactly as much as they need, and even make alterations from within Gelato's app.
Gelato has also received support from HP and Xerox, which have helped it bring more print houses onto its network. For hardware manufacturers, Müller-Hansen said, the arrangement is mutually beneficial, as it helps legacy print firms move to a more connected model.
"Gelato ... offers Xerox and HP an efficient way of moving the printers that own HP and Xerox machines into the new world of printing, which has a lot more to do with logistics, billing, distribution than it does with the actual printing," Müller-Hansen said.
This is the crux of Gelato's offering. In the same way that the kings of the sharing economy, Uber and Airbn, own no vehicles or property, Gelato owns no printers. Instead, it simply connects customers to those that do.
Müller-Hansen compared the model to iTunes. "Many music companies - just like many printers - thought that building some kind of web store or front-end solution was not particularly difficult. But as they embarked on that journey, they found themselves in intersections that were very, very difficult to navigate."
"In reality, iTunes and Gelato, they really have nothing to do with music or printing. What Gelato has done is, we've organised the whole flow of activity, such as billing, storing of your files, distribution of the printed materials, customer service, and so forth."
This, Müller-Hansen told us, allows Gelato to plug a sizeable gap in the skillset of digital print companies. Traditional print houses have limited experience with building software platforms or distribution infrastructure, he said, while Gelato's team have no printing experience. What they do have is experience from companies such as Skype, eBay, Tele2, Paypal and others, meaning building those kind of networks and platforms is something of a specialty.
Gelato is currently printing in 16 countries, and can reach 1.2 billion people in more than 40 countries. However, Müller-Hansen said that the network is always growing, and that Gelato's aim is to increase the number of countries it prints in by 10, and to expand the number of countries it delivers to by 50 per cent.
Stay up to date with the latest news and analysis from the world of cloud computing with our twice-weekly newsletter
Adam Shepherd has been a technology journalist since 2015, covering everything from cloud storage and security, to smartphones and servers. Over the course of his career, he's seen the spread of 5G, the growing ubiquity of wireless devices, and the start of the connected revolution. He's also been to more trade shows and technology conferences than he cares to count.
As reviews and community editor, he's responsible for leading IT Pro's wide-ranging product coverage, and is an avid follower of the latest hardware innovations. He's never happier than when tinkering with complex network configurations, or exploring a new Linux distro.
In addition to managing the IT Pro Panel and working with the community of IT leaders that make it up, he co-hosts the IT Pro Podcast, where you can hear him ranting about his love of strange gadgets, his disdain for Windows Mobile, and everything in between.
You can find Adam tweeting about enterprise technology (or more often bad jokes) @AdamShepherUK, or you can email him at adam.shepherd@futurenet.com.
Thank you for signing up to Cloud Pro. You will receive a verification email shortly.
There was a problem. Please refresh the page and try again.