Advertisement Feature
How to get your remote working strategy right
If you've been rushed into remote working, now is the time to think about a strategy that sets you up with a strong long-term platform for the future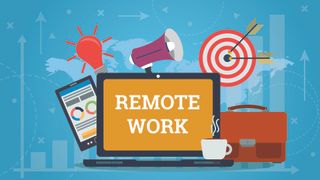 Where businesses once felt inclined to take a slow and steady approach to remote working, the COVID-19 crisis has massively accelerated take-up. A recent Gartner survey found that nearly 50% of organisations now have over 80% of their employees working remotely, while a further 15% have over 61% doing the same. That's reflected in a huge demand for new tech related to home working, with UK distributors seeing overall sales jump nearly 10% in the four weeks ending 22nd March, with webcam sales up 127%, headset and microphone sales up 76% and sales of business and consumer notebooks up 55% and 44% respectively.
For many businesses, this has meant meeting the challenges of remote working head-on – with one foot glued to the accelerator pedal and the brakes not working. There will have been steep learning curves to climb and some harsh lessons learnt along the way, with ongoing challenges for security, management and end-user productivity. Yet what's being put in place now may become a big part of the new normal. A separate Gartner survey has found that, with economic turmoil on the horizon, 74% of businesses may move at least 5% of their workforce to permanent remote positions. Nearly a quarter of businesses may move at least a fifth of their permanent staff.
This means it's critical that firms think about replacing today's somewhat ad-hoc remote working solutions with a coherent strategy; one that maximises the flexibility and business continuity benefits of remote working, while mitigating the challenges and risks.
The challenges of remote working
It's not hard to see where the benefits lie – even five years ago, it would have seemed unlikely that businesses would be able to function during this pandemic in the way that they have. Against all odds, work is still getting done, and the potential for future cost savings and a better work/life balance are just as clear.
That said, it's also not hard to see the challenges. Some businesses and workers are struggling with connectivity and with the reliability of business apps and services running outside the estate or on consumer devices. Networks haven't been optimised for these new workloads, either, meaning reliability isn't always great. Getting applications installed on remote desktop and laptop PCs isn't a simple process, while monitoring, managing and updating is more awkward still. And when workers find themselves struggling with official methods, they start looking for workarounds in the cloud. That means even more shadow IT.
Perhaps most seriously, risks of cyber-crime and data leakage keep on growing. Consumer hardware and software can be difficult to securely lock-down at home, while external USB drives, emailed files and unsecured home network infrastructure can all cause IT nightmares. Just when businesses were finding it hard enough to control and secure their own estates, remote working ups the ante.
These concerns are serious, and they're likely to grow more serious as today's slightly ad-hoc remote working plans evolve into tomorrow's strategies. Yet with a little rethinking and effective use of virtualisation and the cloud, it's very possible to develop a solution that works better for the right now, while also giving you a stronger platform for remote working in the long-term.
Parallels Remote Application Server (RAS) enables remote working
As a leading virtual desktop infrastructure (VDI) solution, Parallels RAS allows employees to work remotely and securely access their files and applications on any device, anytime.
With Parallels RAS, businesses can deploy and manage virtual desktops and applications in a variety of environments, including Microsoft Remote Desktop Services (RDS), VDI, and remote PC. You can even mix and match different operating systems and technologies to suit your business needs.
Firms can quickly and easily deploy their business-critical applications either to on-premise servers or instances running in the cloud. It's hypervisor agnostic, working with Hyper-V, VMWare ESXi, Nutanix Acropolis and Scale Computing HC-3, along with Microsoft Azure, Amazon Web Services and Google Cloud.
To make working remotely even easier, employees can seamlessly access their work applications from their device of choice, including tablets and smartphones. Parallels RAS allows the use of native gestures, so your employees can swipe, drag, tap to click, and zoom-in on Windows applications on mobile devices, and even multi-task between different applications.
There's little or no configuration needed, with a fast login and hassle-free printing - employees can simply print to their printers at home without having to install any drivers. It feels as natural and intuitive as working in the office.
Employees get what they need to be productive, but it's the benefits to the business that really count. The key thing is control. Firms don't have to worry about applications or data being stored on potentially insecure PCs and laptops running on less than hardened networks, because the applications and the data still reside in-house. There's built-in monitoring and reporting, with policies based on specific users, Active Directory groups or end-user devices, and it's possible to predefine and restrict levels of access, ensuring that data stays safe. And with support for multi-factor authentication and FIPS 140-2 encryption, enterprise-grade security comes as part of the package.
What's more, Parallels RAS is comparatively easy to manage. There's a single unified, centralised management console, with simplified application deployment, a configuration wizard and traffic light indicators for the health of all components. You can remotely configure the clients, and Parallels RAS also integrates with Microsoft APP-V and remote desktop technologies, so that admins can publish packaged applications and cut down on their conflict management tasks. IT teams can even automate tiresome and repetitive tasks using the REST API and PowerShell commandlets.
The upshot? It almost doesn't matter what device workers have at home or on what network; they get smooth, reliable access to their business applications, while the company maintains security and full control. Plus, because Parallels RAS is optimised to run on even low bandwidth mobile networks, you won't see performance crushed by unpredictable network speeds.
And the great thing about this is that it's all scalable. Applications can be deployed on-premise but then scaled out to hybrid or public cloud, with auto-provisioning and auto-scaling to ensure that, as demand grows and wanes, Parallels RAS can scale upwards and downwards to meet it. Firms can start building a secure, reliable remote working strategy right now, then use it as a platform for the future so that, whatever lies ahead, they're prepared
Parallels has created a special FAST TRACK package to enable firms to deploy Parallels RAS rapidly, on-premise and/or in the cloud, during the COVID-19 crisis. To find out more visit parallels.com.
Get the ITPro. daily newsletter
Receive our latest news, industry updates, featured resources and more. Sign up today to receive our FREE report on AI cyber crime & security - newly updated for 2023.
ITPro is a global business technology website providing the latest news, analysis, and business insight for IT decision-makers. Whether it's cyber security, cloud computing, IT infrastructure, or business strategy, we aim to equip leaders with the data they need to make informed IT investments.
For regular updates delivered to your inbox and social feeds, be sure to sign up to our daily newsletter and follow on us LinkedIn and Twitter.
Get the ITPro. daily newsletter
Receive our latest news, industry updates, featured resources and more. Sign up today to receive our FREE report on AI cyber crime & security - newly updated for 2023.
Thank you for signing up to ITPro.. You will receive a verification email shortly.
There was a problem. Please refresh the page and try again.