Advertisement Feature
Your business deserves better than consumer cloud storage
If you want the business benefits of cloud storage, you need a business-grade plan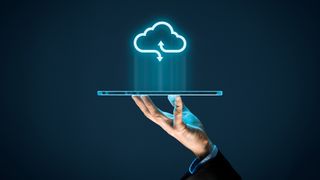 Cloud storage isn't exactly new technology; consumers have been able to sign up to cloud-based storage services for more than a decade, and the practise of storing data such as photos and documents in the cloud is now all but universal. Businesses, on the other hand, have been slower to come around to the idea. Small businesses, in particular, proved to be initially skeptical about whether cloud storage could offer anything that their trusty old NAS or external hard drive couldn't.
Most have now jumped on board the cloud bandwagon however, thanks to the numerous benefits that cloud storage brings, such as remote access to files from anywhere in the world, easy sharing with clients and colleagues and the added reliability of hosting your data on resilient hardware with a much lower risk of failure. According to a recent report from security firm McAfee, the average organisation uses almost 2,000 unique cloud services.
Unfortunately, while most small business decision-makers have recognised the value of cloud storage in principle, many have yet to take advantage of the full capabilities of the technology. This is because a great many companies are still using free, consumer cloud storage accounts, which have been retrofitted into their business environment.
While even consumer-grade cloud storage is better than no cloud storage at all, this approach is like trying to fit a square peg into a round hole, and SMBs that use it are robbing themselves of the full range of business advantages that can be offered by cloud storage plans that have been designed specifically for businesses.
Security, for example, is a major benefit; with a business account from pCloud, you can set granular permissions for files and folders, allowing you to control who has access to what. For instance, you can give finance and HR professionals access to sensitive documents like balance sheets and employee payroll information whilst ensuring unauthorised members of staff can't view them, and support for two-factor authentication means that even if staff fall victim to a phishing attack, the sensitive folders they have access rights to remain safe.
You can also share folders with third parties without giving them editing rights, meaning that when you share folders for a project with a client, they can access their contents but cannot change or delete them. For the extra-cautious, pCloud also offers an additional add-on, pCloud Crypto.
In addition to the AES 256-bit and 4096-bit RSA encryption pCloud uses as standard, pCloud Crypto offers client-side encryption, meaning only you have access to the private keys which can unlock your files. The company offered a $100,000 reward for anyone who could crack it over the course of six months, and it remained unbroken.
When sharing folders externally, pCloud can also help present a strong and professional image of your business via branded links, which let you add your brand's logo and description. These allow you to customise the information attached to folders, so that when customers and suppliers access them, they'll be greeted with a main image, a title and a short description of the folder's contents, rather than just a context-free mass of data.
Even if a client or member of staff does accidentally alter a folder or file, pCloud Business keeps a detailed log of all activity, letting you roll back to a previous version of your file. These logs also help administrators to track down any unauthorised changes to files and trace them back to the member of staff that made them.
Naturally, space-saving is a key component of any cloud package and the company's desktop application, pCloud Drive, allows you to access all of your cloud-stored files via your normal desktop file explorer, without them taking up room on your hard drive.
pCloud's enterprise packages enable increased collaboration within the business, too. When staff share folders and documents with each other via pCloud Business, they can comment on them directly from within the application, allowing them to share ideas and information quickly, easily and without having to jump between email or third-party chat apps.
It's highly scalable, too, and well-suited to dynamic and fast-growing businesses. As your headcount and storage needs increase, pCloud makes it easy to increase the capacity of your storage plan, ensuring you're only paying for as much storage as you need, without having to invest in any hardware.
All of these features sound good in isolation, but what really accelerates digital transformation within a business is when all of these elements come together. Your staff have instant access to all the documents they need to get their work done (and none of the ones they don't) with the ability to collaborate instantly on those documents.
Not only does that mean they waste less time in their email inbox, thus getting on with doing their jobs faster, but their decisions and actions are better-informed because they've had a chance to get feedback from colleagues and key stakeholders. Once projects are completed, clients and suppliers have instant, secure access to key files, shortening the time-to-value and making sure you're closing deals as quickly as possible.
Without being shackled to a desk, your employees can also spend more time doing what you pay them to do, whether that's meeting clients, generating sales or attending events and shows. The ability to access, manage and edit their files from any device, anywhere in the world means that they can be as productive as they are in the office even if they're visiting a supplier on the other side of the world.
While pCloud offers a number of solutions for individual users - such as an industry-first lifetime plan that offers 2TB of storage as well as advanced features like branded links for a one-time fee of just 320 - organisations that want a solution that doesn't just meet their storage needs but genuinely accelerates their business, should look to the company's business offerings.
Using consumer cloud plans in a business context is like wearing shoes that are a size too small; it might be cheaper, and it might technically meet the criteria for what you need - but it won't be a comfortable fit and in the long run, it'll cause you more pain than it's worth. If you want your cloud storage to fuel business growth, then you need to invest in business-grade support and features.
Get the ITPro. daily newsletter
Receive our latest news, industry updates, featured resources and more. Sign up today to receive our FREE report on AI cyber crime & security - newly updated for 2023.
ITPro is a global business technology website providing the latest news, analysis, and business insight for IT decision-makers. Whether it's cyber security, cloud computing, IT infrastructure, or business strategy, we aim to equip leaders with the data they need to make informed IT investments.
For regular updates delivered to your inbox and social feeds, be sure to sign up to our daily newsletter and follow on us LinkedIn and Twitter.