How UKFast became a British cloud giant
The web hosting firm's staff may literally be on a downward spiral, but a husband and wife team have built a booming business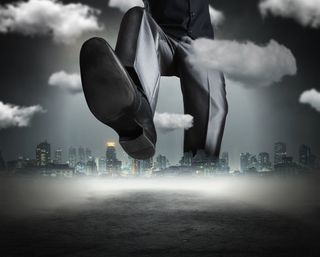 Anyone who's spent any length of time working in a big office would love to invoice the company for all the life they've lost waiting for the lifts. That's not a problem that afflicts employees at hosting company UKFast: if they want to get from the top floor down to reception, they just chuck themselves down the company's recently installed helter-skelter.
A 60ft drop down a massive slide isn't the only unusual benefit of working at the Manchester-based firm. The company has a purpose-built gym, sleeping pods and a crèche at its headquarters, with plans to open kennels for employees' best friends next year. New employees don't spend a week being PowerPointed to death in a training room, but get to spend three days climbing Snowdon to find out if they've got what it takes to become a UKFast "Superstar". And when founders Lawrence and Gail Jones dropped Easter eggs into the office this year, they didn't come wrapped in foil paper, but in an incubator – they were actual eggs with chicks about to hatch on the day we spoke.
What drives the company to go to these extraordinary lengths for its 350 staff? We met Lawrence Jones MBE to find out.
KEY FACTS
UKFast claims to be the UK's largest privately owned hosting provider.
It offers both cloud and dedicated hosting from its campus in Manchester.
STAFF: 350
FORMED: 1999
HEADQUARTERS: Birley Fields, Manchester
WEBSITE: www.ukfast.co.uk
Accidental host
Lawrence Jones certainly didn't set out in life to become one of the UK's leading web hosts. He claims he only got into the sector because others were doing the job so poorly.
After selling a business that rented grand pianos to hotels, Lawrence and Gail registered the domain gallery.com, with the intention of allowing artists to upload their creations and sell them online. They soon realised the idea was ahead of its time, however, with pre-broadband Britain not yet ready for such a service.
"I'm a great believer in 'there's no bad decisions in business'," explained Jones, "because all of my bad decisions have actually led to some pretty good openings and that was one of them."
Having attempted to launch his site, Jones was appalled at the service he got from the web host. "After zero help from one of these big American companies, who clearly demonstrated they had no interest whatsoever other than taking my money... I put the phone down and said to Gail: 'this is our opportunity'. The internet's going to expand massively and Britain needs a hosting provider who actually cares about small business."
Within weeks, the company had bought its first server and was starting to take orders, but if UKFast was placing an emphasis on customer service, the larger hosts that Jones was buying bandwidth from didn't reciprocate.
Quite the opposite in fact. "They used to switch us off on a Friday... because we were trying to win customers from the same [market], we were both advertising in the same magazines. There was just such unprofessionalism at that time in the industry."
From that moment on, Jones said he was focused on creating "the best customer service imaginable". The company offers 24/7/365 tech support, there are no automated 'press 1 for support' type messages, and UKFast promises to pick up the phone "within three rings". Jones also imposes strict rules on the number of support staff devoted to each customer. "On every [support] pod we've got four technical people and three service managers," said Jones. "And you're only allowed a certain number of customers on each pod and a certain amount of revenue on each pod. If there are too many customers or too much revenue, they go on to the next one and we continue to build. That means we guarantee a level of customer service that everyone is happy with now, and in the future when we have 10,000 or 100,000 staff."
Keeping up morale
Jones is not only focused on keeping customers happy, he's intent on keeping staff morale at peak levels, too. Hence the helter-skelter, free fruit and cinema-style auditorium that's built into the company's HQ. And even though sceptics may wonder whether perks such as on-site gyms and steam rooms are simply incentives to stop staff leaving the building, Jones insists he's more likely to be found telling staff to go home at 6pm than encouraging them to work late into the night – apart from those manning the out-of-hours support lines, of course.
Are the unusual perks a PR stunt, a bid to bring a little of the Google stardust to Manchester? (As an aside, all the gym balls, pool and table-tennis tables we've ever seen inside a Google campus have always been immaculate – as if they've never been used once the press tour was over.)
Jones says the company has always put an emphasis on fun since its inception, its first employee being hired more on the strength of their personality than their CV. "We thought, we've only got a small office, let's recruit someone who seems fun," Jones said. "It was a good move and we kept that philosophy. The only times we've ever really broken that is when we've tried to over-expand and brought people in because they have the right skills, not the right type of personality to fit into our team. We've always fallen over at that point."
Although the novelty of hurtling down a massive slide or the free yoga classes might wear off eventually, Jones insists the more frivolous-looking benefits actually help the business too. "Every year we put up a huge beach in the car park, with an ice-cream van, various different hot dog stalls and that kind of thing," he said. "Some people when they see it, they go: 'why on earth do you bother?' But I've got people who had their first job interview on that beach. They've sat there thinking 'this place is crazy, but I want to work there'."
That certainly appears to be true.
The company has appeared regularly in The Sunday Times Best Small Companies to Work For list, among a host of other workplace awards. And the customers seem more than happy, too. The company was awarded the Best Cloud Managed Service Provider at the recent UK Cloud Awards 2017, hosted by PC Pro's parent company, with the judges declaring that "the company won based on its exemplary commitment to outstanding customer service". With UKFast also buying the building next door, both staff and customer numbers look likely to grow, too.
Husband and wife team
While it's not unusual to find husband and wife teams running small businesses, it is once you get to a firm the size of UKFast. However, both of the Joneses are directors of UKFast, as well as DDOSX, a company that aims to "reduce the risk of distributed denial-of-service (DDoS) attacks for clients". The couple also own hotels in Snowdonia and Verbier in Switzerland, which are among the venues used for UKFast staff training.
With four children to look after, how do they manage to both live and work together? "We use psychometric profiles to find our strengths and our weaknesses," said Jones. "What we've learned is my profile is a leadership profile, which is a sales profile. And I have some great strengths, but I also have some big weaknesses."
"The sales profile is backed up beautifully, almost like a yin and yang, with what we call a practitioner – someone who's more compliant, very organised and very structured," Jones added. "Gail is that practitioner and I'm that leadership profile, together we are so much stronger than we are separate."
There's another trait his wife appears to be blessed with: tolerance. In a UKFast video made to celebrate his MBE for services to the digital industry, Jones admits he's "going to be this intense and this annoying for the rest of his life".
"We never fall out," Lawrence told PC Pro. "I can count on one hand the times we've fallen out. That's not to do with me, that's to do with her patience. She's an extraordinary character. Very calming, very giving, and I'm very lucky to have her as a business partner and a wife."
Gail also appears to take on the lion's share of the parenting, which may explain why – perhaps unfairly – only one half of this business partnership has letters after their name. "I know that Gail is a much better mum than I could ever be, looking after the kids, and she really takes ownership of that area," explained Lawrence, although he's keen to stress her involvement with the business too, also taking ownership of certain areas to do with the finances of UKFast. "We've both found our natural paths."
This article first appeared in PC Pro. Since writing, Gail Jones has become managing director, while Lawrence Jones remains CEO.
Stay up to date with the latest news and analysis from the world of cloud computing with our twice-weekly newsletter
Barry Collins is an experienced IT journalist who specialises in Windows, Mac, broadband and more. He's a former editor of PC Pro magazine, and has contributed to many national newspapers, magazines and websites in a career that has spanned over 20 years.
Today, he's a contributor to Forbes.com, a columnist for PC Pro and ComputerActive, and is the co-editor of BigTechQuestion.com, a site dedicated to helping solve people's tech problems. You may have seen Barry as a tech pundit on television and radio, including BBC Newsnight, the Chris Evans Show and ITN News at Ten.
You can follow Barry on Twitter at @BazzaCollins, or email him at barry@mediabc.co.uk
Thank you for signing up to Cloud Pro. You will receive a verification email shortly.
There was a problem. Please refresh the page and try again.