Will the cloud cost me my job?
Cloud offers many benefits, but is one of the downsides the fact your role might become redundant? Mark Samuels takes a look...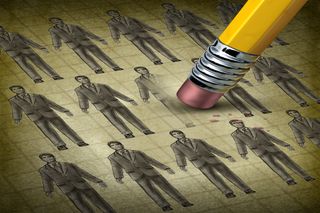 Moving to the cloud produces many benefits for IT professionals and the businesses they serve. Technology purchased on-demand can be scaled up or down to meet business requirements, providing new ways of managing resources and increasing flexibility. But does this sense of adaptability have a downside for technology staff?
If business technology is easier to manage, some IT professionals could find that their traditional focus on infrastructure management is redundant. One thing is for certain: the continued digital transformation means more change is on the cards for technology staff as increasing numbers of IT leaders pursue a transition to the cloud.
One such executive is Omid Shiraji, CIO at Working Links, a specialist organisation that helps the long-term unemployed get back into work. Shiraji is building a new customer management platform on Salesforce and his organisation is using cloud and mobile technology to change how it engages with customers.
As he moves more towards the cloud, Shiraji believes he concentrates less on what he believes might be perceived as traditional IT-style thinking. He believes the power of the cloud offers a direction for the future – it allows engaged IT leaders to break business capabilities into components and to delivery benefits through the cloud.
"That approach will change technology departments because, in many cases, there simply won't be a need for traditional IT skills," says Shiraji. "We won't need as many people for basic operations and the people we do need will be the cream, and will be the best people for focusing on our core organisational objective – getting people back into work."
IT professionals must think about their future careers now
Shiraji says the on-going transition to the cloud means the IT staff that he and other CIOs need will have to understand core business aims, be generalists, think in terms of mobile first and use their capabilities to change the way an organisation operates. There is still some way to go in terms of that transition. However, IT professionals must start thinking of their future careers now.
"By and large, most IT organisations are still operationally focused," says Shiraji. "My IT team in five years won't be doing that – they'll increasingly be brokers of solutions to business challenges. If your job is just IT, you'll lose your position in an enterprise. But there is an opportunity to work for the suppliers of cloud-based services."
Stephen Hand, former CIO and independent expert at Consult 360, is another expert who believes the digital transformation has led to fundamental change in the role of the IT professional. For some of these technology workers, the increased use of cloud and automation means their roles really are under threat, either immediately or in the near future.
"You can't reassure people that simply manage in-house resources that their jobs are not under threat," says Hand, referring to one CIO he knows who is looking to significantly reduce his internal IT team. The people under threat are those who simply manage infrastructure.
"That's a trend – and there's no reassurance about job security for the people who simply manage IT infrastructure," says Hand. "It's not rocket science. If you're sitting there with a critical mass of IT infrastructure, what you actually need are people who are skilled in managing data."
Hand, however, says all hope is not lost and the onus will be on CIOs to make the most of their in-house skills base. "IT people are capable, so take a different approach," he says. "If you're got loads of infrastructure people, you'll need a new strategy for IT skills and that might involve re-training your employed staff."
Hand suggests infrastructure-focused IT workers who cannot rely on the support of a patient CIO will need a new tack. "It's up to the industry – if you're an IT professional today, it's unlikely that you're going to work in one area for your entire career," he says.
"There's no such thing as a job for life in IT. Infrastructure-focused technology professionals have one of two choices. They can either focus on re-training or they can work for a cloud provider, who will be the employers that will need infrastructure specialists to run the technology for businesses that buy services."
View the change in technology provision as an opportunity
One such cloud provider is Workday and the firm's CTO Annrai O'Toole says the traditional IT organisation still has a role to play, but that part will be very different in the future. "In the past, the technology team would have been involved in customising and hosting apps," says O'Toole.
"In a move to the cloud, that role has gone – many of the traditional concerns of the IT organisation have been passed to the provider. In the cloud, many of your day-to-day operational problems are the responsibility of the vendor."
For CIOs concerned by the move on-demand, O'Toole believes the cloud offers an efficient way to make use of scare resources, including human labour. "As companies move to the cloud, lots of executives start thinking on-demand is right," he says.
"I think cloud providers are on the right side of history, in terms of the economics of what we do and the value we provide. A big business could have as many as 80 different HR systems running across a global operation."
For CIOs, business leaders and the people that work in technology departments on a daily basis, the move to the cloud represents a huge change in the way IT is provisioned and managed. But that change does not have to be viewed in a negative context. Digital advisor and former group CIO of Jardine Lloyd Thomson Ian Cohen says that the change actually presents an opportunity for IT professionals.
"You won't lose your job because you do or don't go to the cloud – you'll lose your job if you don't understand the implications, benefits and options. The best CIO's seek to learn more, try more and engage more. Don't get comfortable. You have to refresh your areas of expertise quicker because the pace of change is accelerating and the relevance of skills will diminish equally quickly," he says.
"If you're the guy that just sits there and can't – or won't – expand your horizons and knowledge, then you'll be the person that loses their job. The successful IT professional of the future will be more concerned with the 'how' than the 'what'. As an IT professional, you will help your business colleagues reach their outcomes by understanding the options available – you'll be a chef that helps mix the right ingredients to create the perfect dish."
Stay up to date with the latest news and analysis from the world of cloud computing with our twice-weekly newsletter
Thank you for signing up to Cloud Pro. You will receive a verification email shortly.
There was a problem. Please refresh the page and try again.