Dell calls time on the age-old on-prem vs cloud rivalry
The tech giant champions multi-cloud at one of the best conferences out there, unless you're immunosuppressed, that is – our Dell Technologies World 2022 view from the airport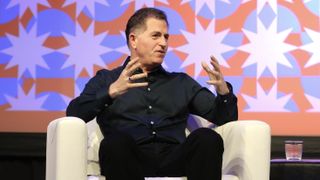 (Image credit: Getty Images)
Based on the number of tech events taking place there every year, Las Vegas has long been considered the industry's Mecca, with many a coworker sharing stories filled to the brim with nostalgia and intrigue. Dell Technologies World, which this year made its triumphant return to the the city of sin, has always been a particular highlight, and was driven by the twin themes of data and multi-cloud.
Having opened the conference with his annual keynote address, founder and CEO Michael Dell called for the end of the on-prem vs cloud rivalry, instead declaring the future as multi-cloud. Day one announcements largely reflected this, with Dell unveiling a multi-cloud collaboration with Snowflake Data Cloud alongside new data protection offerings for Microsoft Azure and Amazon Web Services (AWS), as well as updates to its flagship Apex portfolio.
The presentation, delivered by Dell's co-chief operating officer Chuck Whitten, was informative as well as entertaining – an adjective rarely thrown around many spec-heavy tech events, yet the buzz factor has become almost synonymous with Dell Technologies World. After all, there isn't much of a tougher act to follow than Michael Dell when trying to retain the attention of thousands of jet lagged attendees. Every exec who graced the stage, nevertheless, did just that, with perfect diction, memorised details and even, at times, comic timing. After a prolonged absence, it's good to see tech conferences get back into the swing of things.
Day two belonged to Dell's product management VP, Caitlin Gordon, who unveiled a slew of updates to the tech giant's storage solutions portfolio, which includes the PowerStore and PowerMax offerings. Equipped with the new Dell Latitude 9330 2-in-1 laptop, Gordon demonstrated some of the best hardware and software features the tech giant has to offer, such as an innovative touchpad with video conferencing controls, the shoulder surfer-tackling Intelligent Privacy tool, and its CyberSense ransomware detection platform. Although Dell Technologies World 2022 was centred around cloud computing and storage, the tech giant also made it clear why it's still considered the reigning king of Windows laptop manufacturing.
RELATED RESOURCE
Reinvention starts with cloud migration of your data infrastructure
Explore why the most efficient way forward is data-driven
Lacking, however, were face masks and social distancing measures, which would've been desperately welcomed in the queues to the main stage hall. With Nevada's requirement for people to wear masks defunct as of February, COVID-19 cases in Clark County (home to Las Vegas) surged by almost a quarter between the last week of April and the first week of May. Although it's unlikely to be a direct consequence of the event, given the incubation period, the uptick was nonetheless a symbolic reminder the industry hasn't navigated the choppy waters just yet; we're but one nasty mutation away from a return to virtual events.
Although organisers scattered numerous signs throughout the venue urging sick people to stay away, I personally witnessed one attendee cough every minute or so for almost four hours. Unfortunately, he was met with nothing more than a few raised eyebrows and was allowed to further contaminate the dining table of the press room (yes – the table at which we were supposed to eat our meals) for the entirety of the day. I know the world, including the tech industry, would love nothing more than to finally put COVID-19 behind us, but if I test positive and I'm forced to miss the haircut appointment I've been patiently waiting for since mid-April, I might just go ahead and publish the coughing attendee's identity out of sheer vengeance.
Despite this mishap, Dell Technologies World 2022, with its engaging programme and slew of new announcements, can still be considered one of the best tech conferences out there – unless you're immunosuppressed, that is.
Stay up to date with the latest news and analysis from the world of cloud computing with our twice-weekly newsletter
Having only graduated from City University in 2019, Sabina has already demonstrated her abilities as a keen writer and effective journalist. Currently a content writer for Drapers, Sabina spent a number of years writing for ITPro, specialising in networking and telecommunications, as well as charting the efforts of technology companies to improve their inclusion and diversity strategies, a topic close to her heart.
Sabina has also held a number of editorial roles at Harper's Bazaar, Cube Collective, and HighClouds.