Oracle hits back at "meritless" GDPR lawsuit
The Privacy Collective is accusing Oracle and Salesforce of collecting and sharing cookie tracking data without consent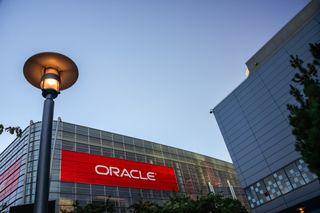 (Image credit: Shutterstock)
A class-action lawsuit has accused Oracle and Salesforce of breaching GDPR rules with the way they process and share personal data through third-party cookies.
Non-profit organisation The Privacy Collective has filled the lawsuit accusing the two tech firms of misusing consumers personal data through 'Bluekai' and 'Krux', which are cookies used for dynamic ad pricing services.
Oracle's EVP and general counsel Dorian Daley hit back at The Privacy Collective with a strong statement that called the lawsuit "meritless action based on deliberate misrepresentations of the facts".
"As Oracle previously informed the Privacy Collective, Oracle has no direct role in the real-time bidding process (RTB), has a minimal data footprint in the EU, and has a comprehensive GDPR compliance program," Daley said in a statement.
"Despite Oracle's fulsome explanation, the Privacy Collective has decided to pursue its shake-down through litigation filed in bad faith. Oracle will vigorously defend against these baseless claims."
The lawsuit has been filed in Amsterdam, with a similar claim to be filed at the High Court of London later in August. The Privacy Collective said the Dutch case is the biggest-ever class action in the country that concerns the GDPR and could cost Oracle and Salesforce up to €10 billion.
Under the GDPR, consent for processing personal data must be informed, specific and freely given. The "Bluekai' and 'Krux', cookies are hosted on a number of websites, such as Comparethemarket, Dropbox and Ikea. The Privacy Collective is accusing Salesforce and Oracle of sharing cookie data from harmful ads with hundreds of other companies via a real-time bidding process, without the proper consent or knowledge of the user.
"Everyone who has ever used the internet is at risk from this technology. It may be largely hidden but it is far from harmless," said Dr Rebecca Rumbul, class representative and a claimant on the suit in England. "If data collected from internet use is not adequately controlled, it can used to facilitate highly targeted marketing that may expose vulnerable minors to unsuitable content, fuel unhealthy habits such as online gambling or prey on other addictions."
A daily dose of IT news, reviews, features and insights, straight to your inbox!
Bobby Hellard is IT Pro's reviews editor and has worked on Cloud Pro and Channel Pro since 2018.
In his time at IT Pro, Bobby has covered stories for all the major technology companies, such as Apple, Microsoft, Amazon and Facebook, and regularly attends industry-leading events such as AWS Re:Invent and Google Cloud Next.
Bobby mainly covers hardware reviews, but you will also recognise him as the face of many of our video reviews of laptops and smartphones.
He has been a journalist for ten years, originally covering sports, before moving into business technology with IT Pro. He has bylines in The Independent, Vice and The Business Briefing.
Contact him at bobby.hellard@futurenet.com or find him on Twitter: @bobbyhellard
A daily dose of IT news, reviews, features and insights, straight to your inbox!
Thank you for signing up to ITPro. You will receive a verification email shortly.
There was a problem. Please refresh the page and try again.