HBO hack leaks details of upcoming Game of Thrones episodes
HBO confirms the hack saying it 'resulted in the compromise of proprietary information'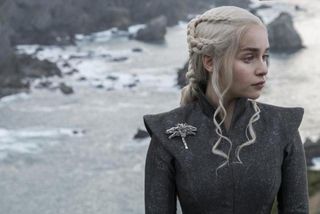 The chiefs at HBO may be feeling a sense of deja vu this morning after episodes of Ballers, Room 104, and what appears to be the script for an upcoming Game of Thrones episode leaked online.
In a statement to Entertainment Weekly, HBO confirmed it had been hacked, saying it had "recently experienced a cyber incident, which resulted in the compromise of proprietary information", and that the network was working with law enforcement and outside cyber security firms to investigate the breach. "Data protection is a top priority at HBO, and we take seriously our responsibility to protect the data we hold," the statement continued.
In total, it is believed 1.5 terabytes of data was taken, but the method of attack is not yet known. It came to light when an anonymous email was sent to reporters on Sunday which read: "The greatest leak of cyber space era is happening. What's its name? Oh I forget to tell. Its HBO and Game of Thrones......!!!!!! Enjoy it & spread the words. Whoever spreads well, we will have an interview with him. HBO is falling."
HBO chairman and CEO Richard Plepler is said to have emailed staff hours later saying: "The problem before us is unfortunately all too familiar in the world we now find ourselves a part of. As has been the case with any challenge we have ever faced, I have absolutely no doubt that we will navigate our way through this successfully."
This is not the first time HBO, or a major Hollywood network, has been hit this way. In 2015, the first four episodes of Game of Thrones series 5 leaked online. In April, season 5 of Netflix's Orange Is the New Black was targeted. Both pale into insignificance when compared to the 100TB stolen during the 2014 Sony hack.
Game of Thrones is one of HBO and Sky Atlantic's flagship shows and, last month, the premiere of season seven became the most pirated show of the year. According to Torrent Freak, more than 130,000 people were actively sharing the episode online via torrents and the first set of video files emerged within minutes of the official broadcast starting.
A quick scour online reveals that the most popular torrent from uploading group "ettv" had more than 345,000 "seeders" (people who are actively sharing the show) and 95,000 "leechers" (people pulling files from seeders and sharing them at the same time) the day after the broadcast. Like every year, it's expected for this number to grow into the millions.
Piracy of any show is a crime, but the trouble HBO faces is the impossibility of actually catching any of those downloading Game of Thrones illegally. Even if HBO has possession of IP addresses used to download a variety of different Game of Thrones torrents, it doesn't actually know who those people are. To do so it would have to go through the courts to find out - something that's never happened before.
It's also worth remembering that many people who download from torrents also use VPNs, leading many tracking services to incorrect IP addresses.
That didn't stop HBO issuing a stern warning to the pirates. In a statement following the new series premiere, HBO said it had the IP addresses of those uploading, downloading and sharing pirated episodes of Game of Thrones, and that they will be dealt with imminently.
"We have information leading us to believe that the IP address xx.xxx.xxx.xx was used to download or share Game of Thrones without authorisation," HBO's DMCA notification reads. "HBO owns the copyright or exclusive rights to Game of Thrones, and the unauthorized download or distribution constitutes copyright infringement. Downloading unauthorised or unknown content is also a security risk for computers, devices, and networks."
In reality, it's likely that HBO just wants to make casual opportunists think twice before downloading Game of Thrones again. Coming after Game of Thrones fans with court cases wouldn't be good for business or brand image - even if these people aren't paying for it in the first place.
It's not just torrenting that HBO has to tackle, as illegal streaming sites have also seen a huge boost in viewing figures around Game of Thrones. One such site explained to Torrent Freak that the season premier was generating around 20,000 views per hour on its site - not a number to be sniffed at.
Despite those high streaming numbers, broadcasters remain focused on taking down torrents first.
Last year HBO tried to crack down on pirates by teaming up with IP Echelon to pull illegal content from the internet. It's unclear how successful that's been but, seeing as India had copies of Game of Thrones season seven episode one online before HBO's official Indian broadcast partner Hostar could air, it suggests there's a long way to go to stop these files ending up in the wrong hands to start with.
Stemming the tide of piracy also isn't easy when your servers all go offline once the show goes live on your catch-up service. Foxtel's services died in Australia, as did Hostar's in India, and HBO's own servers also collapsed in a handful of other countries. Thankfully Sky Atlantic in the UK seemed to be able to manage the influx of viewers without much issue.
Picture courtesy of Alphr
Get the ITPro. daily newsletter
Receive our latest news, industry updates, featured resources and more. Sign up today to receive our FREE report on AI cyber crime & security - newly updated for 2023.
Vaughn Highfield is a seasoned freelance writer with more than 10 years experience in content strategy and technology journalism.
Vaughn is a self-described 'wordsmith and UX wizard', covering topics spanning cyber security, cryptocurrency, financial technology, and skills development.
From 2015 to 2018, he served as a senior staff writer at Alphr before assuming the role of associate editor. In his role as associate editor, Vaughn was responsible for a range of duties, including the publication's long-term content strategy, events coverage, editorial commissions, and curation of the Alphr newsletter.
Prior to this, Vaughn held in-house roles at PCPro and Terrapinn Digital in addition to freelance marketing and content strategy activities with The Gamers Hub and Magdala Media.