Tata claims first fibre 'network ring' around the world
The telecoms firm offers more customer uptime with its fibre optic network circling the entire globe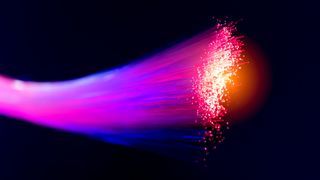 (Image credit: Shutterstock)
Tata Communications today confirmed the completion of its network ring around the globe.
The company claimed it was the first fully owned fibre network to circle the world, allowing traffic to travel east or west, circumventing any failures and allowing for more uptime.
The announcement was made at Tata's Global Media and Analyst Summit being held in Dubai this week, as the final piece of the network puzzle was just completed in the Middle East.
"Today is really a landmark for us," said Vinod Kumar, the firm's chief executive (CEO) during his keynote speech at the summit.
"We wanted to be the first one to build a ring around the world... connecting the major markets, but also connecting the emerging and established markets."
The network itself cost $800 million and runs across the Atlantic to connect the US and Europe, through Egypt and into the Middle East, then onwards through Asia and back round to the US.
The only continent not to be touched by the ring is Latin America, which Kumar called "unfortunate." However, even though Tata doesn't plan to build a network in the region alone, it has plans to partner with local companies to get its network out there "in the coming years."
"The network ring is not some cobbled up string," added Kumar. "We will put an extra nine on the uptime of your service with this."
"The ring per se is not a product. It just enhances the overall portfolio of products [thanks to] the overall ownership on the ring."
Stay up to date with the latest news and analysis from the world of cloud computing with our twice-weekly newsletter
Jennifer Scott is a former freelance journalist and currently political reporter for Sky News. She has a varied writing history, having started her career at Dennis Publishing, working in various roles across its business technology titles, including ITPro. Jennifer has specialised in a number of areas over the years and has produced a wealth of content for ITPro, focusing largely on data storage, networking, cloud computing, and telecommunications.
Most recently Jennifer has turned her skills to the political sphere and broadcast journalism, where she has worked for the BBC as a political reporter, before moving to Sky News.
Thank you for signing up to Cloud Pro. You will receive a verification email shortly.
There was a problem. Please refresh the page and try again.