Microsoft's Hub Keyboard lands on iOS
Hub Keyboard helps users avoid toggling between apps when sending emails and text messages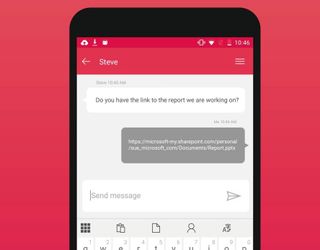 iPhone users can boost their mobile productivity thanks to Microsoft's Hub Keyboard, which helps users complete tasks faster by toggling between apps and creating a central hub for all media.
The free app was initially released on Android back in February.
Microsoft's Hub keyboard integrates OneDrive and lets you search directly from the keyboard, similar to the iPhone's built-in Spotlight search. Plus, the app can translate messages and search the texts of documents.
Steve Won, a Senior Designer at Microsoft, noted in a Microsoft blog post how the integration of advanced features along with basic messaging functions will help users get basic tasks done more quickly.
"Personally I don't like switching between apps to do different things on my smartphone," Won said. "But all these different apps on a smartphone, they have to conform to rules of a keyboard and that got me thinking about the project as an interesting idea I wanted to explore more."
Windows Phone sales have continued to struggle, with sales dropping 49% year-to-year, as reported by BGR.
However, Microsoft's willingness to develop apps for competing platforms shows the company isn't so foolish as to let its software wither on Windows Phone, but is willing to look for mobile success in apps if it can't win with hardware or platforms.
Download Microsoft's Hub Keyboard app for iOS here, or for Android.
A daily dose of IT news, reviews, features and insights, straight to your inbox!
A daily dose of IT news, reviews, features and insights, straight to your inbox!
Thank you for signing up to ITPro. You will receive a verification email shortly.
There was a problem. Please refresh the page and try again.