Intel unveils new 'Joule' Internet of Things developer kit
But analysts say that it may be too expensive to take off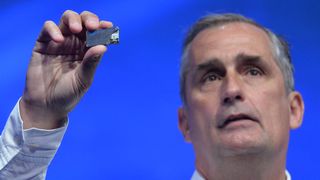 Intel has unveiled a new compute module for makers and developers looking to explore the Internet of Things.
Announced at Intel Developers Forum 2016, the Intel Joule kit is a small form factor device with support for Intel's RealSense cameras.
Specifically designed for embedded systems and IoT tasks, the Intel Joule comes in two different variants - the Intel Joule 550x and the Intel Joule 570x. The 570x has a more sophisticated configuration, while the 550x is available at a more affordable price point.
The company is aiming at encouraging aspiring makers, hobby developers and established enterprises to explore the IoT space, but analysts have said that the modules may be prohibitively expensive.
"The more powerful system (the 570x) comes in at $379," Quocirca analyst Clive Longbottom pointed out; "that's one hell of a lot of money to spend for a concept IoT device."
He suggested that the Raspberry Pi is a far more sensible choice for anyone wanting to get involved with IoT applications, adding "I don't see Joule spawning millions of IoT devices in the market".
Although Intel has partnered with Microsoft and GE to show off the potential uses for Joule and is selling the modules through its reseller partners, Longbottom does not think that the device will sell particularly large amounts.
"At the moment, I would take this as being a pure developer play, much in the same vein as the kits that TI used to sell/give away from mobile device software developers," he said. "For Intel, it is a means of pushing the use of Intel chips in more devices - no matter what size they are."
A daily dose of IT news, reviews, features and insights, straight to your inbox!
Adam Shepherd has been a technology journalist since 2015, covering everything from cloud storage and security, to smartphones and servers. Over the course of his career, he's seen the spread of 5G, the growing ubiquity of wireless devices, and the start of the connected revolution. He's also been to more trade shows and technology conferences than he cares to count.
As reviews and community editor, he's responsible for leading IT Pro's wide-ranging product coverage, and is an avid follower of the latest hardware innovations. He's never happier than when tinkering with complex network configurations, or exploring a new Linux distro.
In addition to managing the IT Pro Panel and working with the community of IT leaders that make it up, he co-hosts the IT Pro Podcast, where you can hear him ranting about his love of strange gadgets, his disdain for Windows Mobile, and everything in between.
You can find Adam tweeting about enterprise technology (or more often bad jokes) @AdamShepherUK, or you can email him at adam.shepherd@futurenet.com.
A daily dose of IT news, reviews, features and insights, straight to your inbox!
Thank you for signing up to ITPro. You will receive a verification email shortly.
There was a problem. Please refresh the page and try again.