Ofcom tweaks broadband rules to "supercharge" fibre
Regulator wants to speed up fibre rollout while encouraging broadband competition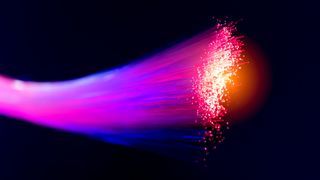 (Image credit: Shutterstock)
Ofcom believes tweaks to regulation will supercharge broadband across the UK — but we'll have to wait a year before the plans are approved.
The UK's existing regulations on the management of broadband infrastructure is set to expire in April 2021, so the telecoms regulator is hoping to update the system to improve the speed of fibre rollouts and drive investment in rural areas, long seen as not receiving the same attention as more lucrative urban markets.
The changes include four major proposals. The first will see wholesale fibre prices set low enough to encourage competition from new networks, and capping increases to inflation. Second, Ofcom will ensure access to affordable broadband by capping wholesale prices on copper.
Third, it aims to support rural investment, in particular in regions where BT's infrastructure company Openreach runs the only network; that will be partially achieved by allowing Openreach to recover costs across a wider group of customers, such as charging extra to copper customers to fund fibre. Fourth, Ofcom will help to close the copper network as fibre comes online, so Openreach doesn't need to run two parallel, competing networks.
The latter point, designed to encourage broadband users to switch from slower but cheaper copper to faster and often more expensive fibre, will be achieved by Ofcom removing its pricing regulation on Openreach's copper products once fibre is installed, instead shifting price controls and wholesale access guarantees to fibre. Another key change proposed by Ofcom is regulating differently depending on the market — if there's plenty of competition, Ofcom won't regulate Openreach's products, but if not enough alternative networks exist, Openreach will continue to be required to provide wholesale access to its infrastructure at a set price.
Alongside those wider changes, Ofcom is revising its Quality of Service standards, to improve the speed at which repairs and installations are carried out.
"These plans will help fuel a full-fibre future for the whole country," said Jonathan Oxley, Ofcom's interim chief executive. "We're removing the remaining roadblocks to investment and supporting competition, so companies can build the networks that will drive the UK into the digital fast lane."
"Full-fibre broadband is much faster and more reliable," Oxley added. "It's vital that people and businesses everywhere – whether in rural areas, smaller towns or cities – can enjoy these benefits. So we're making sure companies have the right incentives to accelerate full fibre to every part of the UK."
A spokesperson for Openreach welcomed the regulatory changes. "Today's proposals appear to be a big step in the right direction to give clarity and investment certainty," an Openreach spokesperson told IT Pro. "We'll consider the range of proposals carefully and will continue to work with Ofcom and industry on getting the conditions right to help achieve the government's ambition of rolling out gigabit capable broadband across the UK as soon as possible."
Tristia Harrison, CEO of rival ISP TalkTalk, warned in a statement that competition and investment must be encouraged. "Ofcom must avoid raising wholesale prices too early and only do so when competition has been established," Harrison said. "This is the best way to encourage investment from new entrants, support retail competition and protect consumers from higher charges before they have access to faster, more reliable services."
The consultation will accept comments until 1 April 2020, with Ofcom responding early next year ahead of the new regulations starting in April 2021.
Get the ITPro. daily newsletter
Receive our latest news, industry updates, featured resources and more. Sign up today to receive our FREE report on AI cyber crime & security - newly updated for 2023.