Podcast transcript: Building a smart factory
Read the full transcript for this episode of the IT Pro Podcast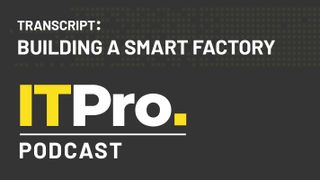 This automatically-generated transcript is taken from the IT Pro Podcast episode 'Building a smart factory'. To listen to the full episode, click here. We apologise for any errors.
Adam Shepherd
Hi, I'm Adam Shepherd.
Hugh Armitage
And I'm Hugh Armitage.
Adam
And you're listening to the IT Pro Podcast, where this week we're talking about using digital technology to make manufacturing smarter.
Hugh
When it comes to technologies like AI, IoT, and 5G, manufacturing has been one of the most promising use cases with so called smart factories predicted to revolutionise the way goods are created.
Adam
With potential benefits including more reliable production lines, high quality products and faster delivery times, it's easy to see the appeal of smart factories. Multinational manufacturer, Apollo Tyres is currently in the middle of carrying out its own smart factory project. And we're joined this week by Hizmy Hassen, Apollo Tyres Chief Digital Officer, to discuss how the project's going, the technologies that have enabled it, and how it supports the company's future development. Hizmy, thanks for joining us today.
Hizmy Hassen
Thank you Hugh. Thank you, Adam. Pleasure to be here.
Hugh
So Hizmy, before we get started, why don't you give the listeners a bit of background on Apollo tyres and your role at the company.
Hizmy
So thank you, yes, Apollo Tyres is India's largest tyre manufacturer. We have manufacturing in India, as well as in Europe. So we have a big presence, not just India, but outside; our home markets is in Europe, where we sell our main brand in Europe is called Vredestein and the main brand in India that we sell is called Apollo. We're also starting to now really break into the US market where we've launched a range of products in the US market, as well as in other emerging markets, both in Asia Pacific and also in Latin America. So it's, it's it's a company that's been growing fast, we manufacture tires, that goes into pretty much all of the main end use categories, whether that is in passenger cars, to trucks, commercial vehicles, off road vehicles as well as industrial vehicles. And I'm the Chief Digital Officer. So I'm responsible within Apollo for all of our digital initiatives, as well as all of the IT infrastructure and the IT resources that are used within the group, across the group.
Adam
So Apollo is currently in the middle of a factory modernization initiative. Can you talk us through the size and the scale of the factory operations that Apollo is aiming to digitise?
Hizmy
So tyre manufacturing is very capital intensive. And it's has a lot of machines that we've actually invested in automation. So we've got highly automated machines that are used in the manufacturing process. And quite modern. So most of these machines have got sensors, there's a lot of data that we can, that we're collecting through PLCs. So what that has done is is enabled us to really start to look at using data to take this manufacturing to the next level. So automation will provide certain levels of efficiency and productivity, we're very confident that data is the next frontier in terms of taking our levels of manufacturing efficiency, output, customer service, and even quality consistency using data. Because the machines, as I said, has a lot of sensors, it tells us how it's performing. It gives us a real health check of not just performance, but also the efficiency levels. And so our objective is to use the data and modern technologies like AI, machine learning to really extract more output from these machines. I mean, being capital intensive, one of our key financial targets is to achieve best in class return on capital employed. And that's really all about sweating assets, our manufacturing assets.
Hugh
Hizmy, how far along are you are in this process of sort of starting to make use of the data?
Hizmy
So we have made good progress in the last 10 to 12 months, we partnered, we set up partnership with Amazon Web Services as a cloud partner. And what we've done working with various partners is we've created what we call an IoT in the box. We wanted to come up with a target architecture, both for cloud computing and how we will use the data in the cloud, but also how we will stream data from these machines in a secure environment. So we've called it an IoT in the box and we've now been able to install that pretty much across all of our major factories around the world, the seven factories around the world. And within that, we're starting to now install that in the key highly capital intensive, the bottleneck capacities. So we're streaming the data. The other thing we've done is in London we've set up a digital innovation hub. We're partnering with Glasgow Universities to bring in capability and resources, data scientists to work on this data. So the Innovation Hub is launched. So we're using this data now to solve very specific business problems, manufacturing problems. So for us, the factory of the future is a collection of addressing these issues that collectively will drive a very different ways of manufacturing and extracting value out of these machines or these manufacturing machines.
Adam
So you've mentioned things like cloud computing, IoT sensors, data analysis, are there any other technologies that you're planning to use in order to achieve this transformation?
Hizmy
So IoT is, obviously to extract the data. As I said, we're using Amazon's cloud services and cloud computing to work with the data. But the main technologies we will use then to solve problems, to identify the root cause and solve problems that drive, let's say, manufacturing efficiency improvement, is things both machine learning. So we're using a lot of machine learning techniques, and machine learning models, we also started to use artificial intelligence. So one of the big problems statement is that pretty much particularly commercial vehicle tires, we do 100% check for any defects as a as the final check. And this is done using x-ray machines. So one of the solutions we're working on is to use AI, to teach an AI algorithm, an AI model on all the various potential defects and to automate or to automate that defect detection, not just automate it, but make it a lot more accurate. And therefore, that'll certainly deliver greater consistency of quality and much higher quality products for our customers. So that's an example of, let's say, using artificial intelligence. As I said, we're using machine learning a lot as well. And finally, we will look at technologies like robotic process automation, particularly around the back office functions that we run in the factory.
Hugh
Are any of the insights that you get through the data - do you find any of them to be counterintuitive or, or surprising? And sort of trying to get your head around how to adopt them in a way that doesn't seem like it should work, but the data is telling you will.
Hizmy
Yeah, definitely. I mean, we get in some of our machines, there are more than 150 sensors. And before we will put able to put these IoT technologies in place, managers or, you know, manufacturing operatives will largely focus on what they know, and the data that they've been extracting at large at an aggregate level. So this analysis is throwing up some really interesting insights that hasn't been, you know, hasn't been seen before. And those insights are really looking at getting us to look at problems in a very different way, right? The root cause; so we have hypotheses of why we, for example, have inefficiencies in some parts of our manufacturing. But when we look at the data, and we look at testing those hypotheses, we come across areas of opportunities that we haven't in the past. So I wouldn't say counter intuitive, but more around, you know, greater insights. And bringing this data together, end to end, gives us more opportunity to really address the root cause.
Adam
Can you share any of the early benefits that you've seen from this project?
Hizmy
So definitely, what we're seeing, and we'll continue to push this through is, there's, in a manufacturing process, there's a lot of idle time that happens, you know, waiting for components, waiting for an operator to come and press a machine, press a button or make setting changes. So we're starting to identify those, what we call non productive time. And we're then coming up with solutions through either through automation or through workflow changes, or through labour allocation changes to minimise those non productive time. So that's a big benefit we're seeing. So and we're seeing, as I said, that resulting increase in manufacturing anywhere between five to 15%. And that's not a surprise for us, because that's what manufacturing industry expects, with IoT technologies and AI and machine learning. But that's a big benefit gain. The other thing that we've been able to do is so rather than; the approach we've taken is rather than digitise, modernise, or let's call it digitise an entire single factory, we're taking manufacturing processes. And we're digitising that across all the factories. And we are blending that, we're coming up with a common metadata standard that's allowing us to compare and contrast between factories in that process. And that benchmark is throwing up some really interesting insights.
Adam
So how many factories are you rolling this process out across?
Hizmy
Across seven factories.
Adam
Seven. Okay.
Hizmy
So as I said, that benchmark is really throwing up other opportunities of why is factory X, for the same tyre compound, for example, using cycle time A, when you compare with exactly the same machine, same compound, we're having a different cycle time. And now those additional insights have been used by our engineering department, by R&D departments to really analyse, understand and make appropriate changes.
Adam
Predictive maintenance is also something that we've heard brought up a lot as a use case, particularly for smart factories; is that something that you're exploring as well?
Hizmy
That is something we will explore, we haven't gone into that as yet. For us, the low hanging fruit initially is this non productive time, eliminating that - and the other one, as I said, is, through benchmarking, bringing the lower performing units to at least the best practice level within the group. And then our idea is to start looking at the next, the next phase and predictable, predictive maintenance will certainly be one of those.
Hugh
Are there any particular roadblocks or challenges you've had to contend with?
Hizmy
The biggest challenge is more the human angle, the change management, and I'm sure you've heard this before, as well. The technology piece is very straightforward. It's relatively easy. And a lot of these IoT technologies, have actually matured quite well now. So it's relatively you know, it's, it is plug and play. So we've been able to get our cloud setup, the IoT technologies in place, data streaming within a handful of months.
Adam
Oh wow.
Hizmy
The big the big challenge, then, is to get the business to really understand the power of this data, and to be a lot more ambitious and bold in the types of problems that you want to solve and how you solve it. So we're not looking for 1%, 2%. You know, in tyre manufacturing, given it's so capital intensive, traditionally, we'd be very happy with a 2% improvement. But what we're saying is, look, what data is throwing up, and what these technologies allow you to do is you should aim for a 15% improvement. So it's that mindset change, which is the biggest opportunity, and where I spend most of my time, and less of the time worrying about the technology piece.
Hugh
And how have you been engaging with stakeholders to get them to understand the potential of this technology?
Hizmy
In several different ways. So we've we've got - and even our group CEO is involved. So we've we've picked up some really specific areas of manufacturing. And we've given ourselves some bold targets. And through that targets, we're helping the various factories, deconstruct that high level target into specific targets and specific areas to solve problems. So there are various work streams that are happening and regular interactions between the digital innovation centre, between advanced engineering, R&D and the manufacturing, and the plant teams. That's one way, treating it as a as a project. The other way we're trying to do is Amazon is themselves helping us with training sessions, with seminars. And you know, we also think that we got to just keep training the managers, to keep showing them the art of the possible, what's really possible with data and with these technologies, because they are eventually the ones who will come up with the problem statement. And they're the ones going to really implement the solutions that we develop.
Adam
So you mentioned at the start of the show that Apollo is quite keen on sweating the assets in terms of the actual manufacturing hardware. I wonder if you can tell us a little bit about how the investment works in this kind of project. Did you find that you were having to invest, you know, in sensors and kind of edge computing equipment to facilitate this process? Or was most of the investment on the software and kind of cloud infrastructure side?
Hizmy
It's a mixture of many areas. I don't think anything really stands out. So fortunately, we didn't have to invest in sensors. As I said, most of the machines have the sensors. They come with controllers, machine controllers, and PLC. So it's not that difficult for us to extract the data. So what we did have to invest in is, obviously, edge computing technologies, whether that's the hardware as well as the software. So we had to invest in that. And then what we're investing is in the cloud computing, but that's more operational, rather than a CapEx. It's an OpEx investment, because obviously, cloud is OpEx. But the big investment, in terms of money will be in the analytical phase. So at the moment, we, we're doing a lot of the analytics internally, but we're also looking to, as I said, we're partnering with universities, we're looking at PhD programmes, so that's, that's that part of the investment. But you know, all, all in all, all of this investment is actually not that much, you know, in terms of dollars and cents or pounds and pence, it's not much. The big investment, as I said, comes with change management mindset. We're getting people to really think differently, we these solutions are not very capital intensive, where there's certain AI models or machine learning models.
Adam
So we've talked about the manufacturing side of things. But what role does this project play in the supply chain side of Apollo's operations?
Hizmy
So on the supply chain side, so we were using, you know, our core ERP system is SAP, so we've got a SAP Supply Chain Management System. So we're implementing that across the group, across all of the distribution centres, the manufacturing plants, we're connecting those together. So where this technology comes in, what we're then also doing is we are moving that core ERP system to the cloud. So we're in the process of migrating SAP into the cloud. And the reason we want to do that is because these ERP systems work with what I call business rules, relatively static business rules. We believe as we connect our supply chain together, we need to really to extract value out of the supply chain, we need to really improve the accuracy of the parameters that drive supply chain, whether that is forecasting, whether that is safety stock levels, whether that is you know, if you make a particular size of a tyre in a 200 tyre batch or 1000 tyres at a time or 5000 tyres at a time, what we call the lot size optimization. That decision making, we're going to move that into our machine learning models, do that decision making outside the core ERP using machine learning models with data not just available in ERP, but also data that's available with customers, with machine sensors and data from specifically in the machines, feed that together and then feed that back into the core ERP that then runs those transactions? So that's our plan. That's one of the reasons why we're moving SAP and our advanced supply chain management systems in the cloud, into the cloud that will allow us to do that pretty much in real time and blend data from various data sources to provide the added input parameters for the decision making process.
Adam
Are you expecting that cloud migration to be a particularly major project?
Hizmy
Yeah, it is, it is a major project. For all corporates, when you move your main ERP from your own data centre to the cloud, it is a major project because the ERP pretty much, we've got one ERP, a single instance of that ERP that runs all our manufacturing, we've got 160-plus distribution centres around the world, we supply to nearly 12,000 dealers around the world. So that's a it's a very comprehensive, you know, very complex end to end supply chain. So yeah, when we move that, because every dollar of sales goes through the ERP system. So it's pretty complex. And it's it's a project that has been planned over a 9 to 10 month period.
Adam
Is that how long you're expecting the migration to take?
Hizmy
Yeah, we're hoping it will be done within nine to 10 months, because you've got to move the development environment first, then you will move the test environment and then eventually the big one, which is the production or the live environment. So all, all in all, we expect it to be around nine to 10 months.
Hugh
So how does all this tie into Apollo's wider strategy?
Hizmy
So in our in our widest, our goal is to pretty much double the size of the business by 2026. And we've set ourselves some real key financial targets as I explained to you previously, targets like return on capital employed. So to hit those targets, there are three key areas where digitization and the use of data, AI and machine learning will play a pivotal part; one is transforming our go to market, looking at new revenue streams and new service proposition to our customers and really use that to continue to grow profitably and our top line, okay, and increased penetration within exists, market share penetration increase within existing customers, new markets, new revenue models, etc. So that's one area. The other one is cost of goods sold, which is really extracting more from the factories that we discuss, sweating our assets, improving our margins, as well as delivering high quality products more consistently. And using the data. The third angle is the whole supply chain piece, which is how do we bring the supply chain together because our growth is going to come more and more in various markets. So connecting the supply chain, exporting goods from manufacturing locations to selling locations efficiently, effectively, with as less working capital as we need is another big area. And we talked about that on how data, machine learning can help really take our supply chain planning, supply chain execution to the next level. And the fourth one is what I call the back office efficiency. So how can we use data analytics and also things like robotic process automation to make our back office functions more efficient and drive greater efficiency out of that. So these are the four key pillars that data analytics, machine learning, AI technology's really underpinning.
Adam
Well, unfortunately, I'm afraid that's all we've got time for on this week's show. But we'd like to thank Apollo's Hizmy Hassen for joining us.
Hugh
You can find links to all the topics we've spoken about today in the show notes and even more on our website at itpro.co.uk
Adam
You can also follow us on social media as well as subscribe to our daily newsletter.
Hugh
Don't forget to subscribe to the IT Pro Podcast wherever you find podcasts. And if you're enjoying the show, leave us a rating and review.
Adam
We'll be back next week with more analysis from the world of IT but until then, goodbye.
Hugh
Bye.
Get the ITPro. daily newsletter
Receive our latest news, industry updates, featured resources and more. Sign up today to receive our FREE report on AI cyber crime & security - newly updated for 2023.
ITPro is a global business technology website providing the latest news, analysis, and business insight for IT decision-makers. Whether it's cyber security, cloud computing, IT infrastructure, or business strategy, we aim to equip leaders with the data they need to make informed IT investments.
For regular updates delivered to your inbox and social feeds, be sure to sign up to our daily newsletter and follow on us LinkedIn and Twitter.