Manchester Airport blames third-party IT system for check-in failure
Check-in system fault results in delays across a number of airlines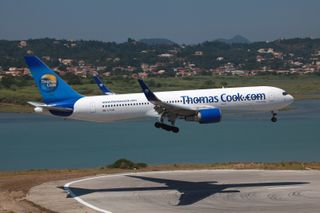 A technical failure at Manchester Airport, which left hundreds of passengers stranded for several hours this morning, has been blamed on an external IT system.
A total of 12 Thomas Cook flights were grounded when the check-in system was unable to register passengers, forcing staff to switch to a manual system and causing delays of around two hours.
A spokesperson for Thomas Cook explained to the BBC that the fault was due to an "issue with overnight maintenance". In a further statement to IT Pro, the company said this was caused by a fault in a "third party system", but did not elaborate further.
"This morning, a technical issue caused a number of airlines to have to check passengers in manually, which can take longer than normal," a spokeperson said in the statement. "The issue has now been resolved but there may continue to be some knock-on delays to flight departures. Passengers should liaise with their airlines about specific flights and live departure information can be found on the Manchester Airport website. We apologise to passengers for any inconvenience caused."
The fault also caused delays among other airlines, including Virgin Atlantic, SAS, Cathay and Singapore Airlines, the airline said. Although the systems appear to be back to normal, it's still unclear precisely what caused the fault.
Users took to Twitter to vent their anger over long wait times and a lack of communication from Thomas Cook.
The outage comes mere weeks after a power supply issue forced British Airways to cancel flights from Heathrow and Gatwick airports, affecting around 75,000 passengers. That outage occurred when an engineer mistakenly switched off the power supply to a BA datacentre.
In April British Airways also suffered delays to check-in when its IT system failed to upgrade correctly, preventing passengers from booking or checking-in online.
This article was originally published on 13/06/2017 at 12:33, but has since been updated.
A daily dose of IT news, reviews, features and insights, straight to your inbox!
A daily dose of IT news, reviews, features and insights, straight to your inbox!
Thank you for signing up to ITPro. You will receive a verification email shortly.
There was a problem. Please refresh the page and try again.