Hackers steal 130,000 sailors' details in US Navy breach
Cyber criminals target HPE contractor's laptop to steal details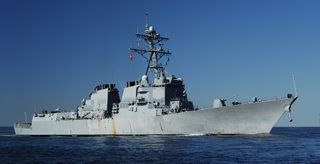 A US Navy cyber attack resulted in hackers getting details on 134,386 current and former sailors yesterday.
The hack on a laptop used by an HP Enterprise Services employee could have exposed the personal data of 134,386 current and former sailors.
The HPE employee was working on a US Navy contract when his device was hacked. The data breached included names and sensitive information, such as social security numbers.
HPE told the Navy about the incident on 27 October. In a statement sent to Reuters, Chief of Naval Personnel Vice Admiral Robert Burke said: "The Navy takes this incident extremely seriously- this is a matter of trust for our sailors.
"We are in the early stages of investigating and are working quickly to identify and take care of those affected by this breach."
HP Enterprise Services signed a $3.5 billion contract with the Navy in 2013 to develop its Next Generation Enterprise Network (NGEN), according to Forbes, which was designed to replace the Navy-Marine Corps Intranet.
HPE spun off the Enterprise Services division earlier this year, running it with outsourcer CSC as a separate company.
"At this stage of the investigation, there is no evidence to suggest misuse of the information that was compromised," the Navy told Reuters.
No further information about the attack has been released so far, but Burke added that the investigation of the hack and its consequences is still at an early stage.
The navy will tell affected individuals of the incident in the coming weeks.
Picture: Bigstock
A daily dose of IT news, reviews, features and insights, straight to your inbox!
A daily dose of IT news, reviews, features and insights, straight to your inbox!
Thank you for signing up to ITPro. You will receive a verification email shortly.
There was a problem. Please refresh the page and try again.