As the iPhone's reign ends, Apple needs a new 'next big thing'
Apple's revenues plunge 13 per cent as world reaches peak iPhone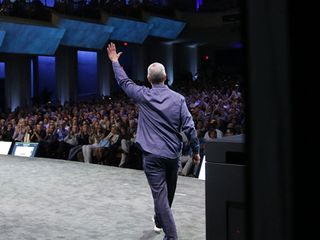 Sales of Apple's iPhone fell for the first time ever this quarter, after nine years of sustained growth.
The world's most valuable company also saw its revenues crash 13 per cent between January and March based on the same period last year, to record $50.5 billion.
The iPhone's 18 per cent year-on-year drop still saw Apple sell 51 million of the devices between January and March, collecting $33 billion in revenue, but appeared to confirm predictions of peak iPhone' a point where the device hits market saturation.
Apple's CEO, Tim Cook, said: "Our team executed extremely well in the face of strong macroeconomic headwinds."
But the results, which included falling sales of iPads, prompted analysts to urge the tech giant to return to its tradition of innovation.
Richard Holway, chairman of research firm TechMarketView, said: "The iPhone, iPad and Mac markets are all in maturity and it really is difficult to forecast a reversal in the current trend.
"What Apple needs is a Next Big Thing'. The Apple Watch has so far proved not to be it. The long promised revolution with Apple TV seems elusive. Maybe the Apple iCar (Apple's worst kept secret) is the long-awaited answer?"
But he also pointed out that given Apple still recorded $10.5 billion in profits media reports of doom and gloom are overstated.
The question is whether Apple can come up with another incredibly popular, innovative device like the iPhone.
Geoff Blaber, VP of Americas at research group CCS Insight, doubts it can.
"The iPhone will continue to dominate Apple's sales and profits for a long time to come," he said. "Investors are looking for the next big source of growth, but there is very unlikely to be another product as pervasive as the smartphone with the same volumes, margins and replacement characteristics."
He added: "Apple is a victim of its iPhone 6 success in 2015 resulting in unfavourable comparisons and fewer customer upgrades compared to 12 months ago. Apple's September product launch window assumes massive and unprecedented significance."
One bright spot amid Apple's latest quarterly results was its services division, comprising Apple Pay and AppleCare among others, which rose 16 per cent to record $5.9 billion year-on-year.
Cook said: "We are very happy with the continued strong growth in revenue from services, thanks to the incredible strength of the Apple ecosystem and our growing base of over one billion active devices."
A daily dose of IT news, reviews, features and insights, straight to your inbox!
A daily dose of IT news, reviews, features and insights, straight to your inbox!
Thank you for signing up to ITPro. You will receive a verification email shortly.
There was a problem. Please refresh the page and try again.