Advertisement Feature
Don't settle when it comes to creativity
Getting the best out of your creative design team means equipping them with the best software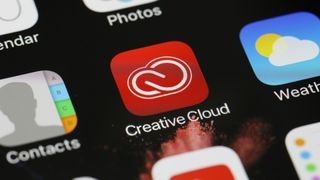 Every company, quite rightly, looks to optimise its costs, preventing overspending to run a more streamlined business. Yet, in the pursuit of the lowest running costs, there's a danger that a corner too far will be cut and a financial decision will be taken to buy cheaper creative software.
While this may look good on the balance sheet, initially, the impact of choosing second-best can be damaging in the long-term for any business. The old adage states that a bad workman always blames his tools, but it's as fair to say that a great workman can be hampered by poor tools. In other words, if you want to get the best out of your creative design team, you need to provide them with the best software. Undoubtedly, in the creative arena, the best software means Adobe Creative Cloud.
Staff retention
There are many good reasons to choose Adobe's software, but first, it's worth examining the human element. Each business is only as good as the staff that it can attract and retain. Part of employee satisfaction is providing them with the tools that they're happiest using, and that will do them the most good personally.
Creative Cloud contains the products the most experienced creative professionals will know how to use. For instance, any designer worth their salt will want to be working across Photoshop, Illustrator and InDesign, while a skilled video editor will know the ins and outs of Premiere Pro. By using this software, rather than a lesser-known brand, you can attract the best from a far wider pool of talent. Using other software, you'll find that you're limiting the staff, both permanent and freelance, that you can attract.
Individuals also see working for a company as an opportunity to improve their skills. For a person to develop and improve themselves, they want to use the best software, where the skills that they develop are transportable to other roles. As such, the best staff are likely to only want to work at a company that uses Adobe software, so that they can both develop their individual talents and work with the best collaboration tools Creative Cloud has to offer.
Meeting demand
Working with customers and other third parties is far easier using the leading software, as this is what most people expect. Using lesser-known software not only restricts the features that you can use, but is likely to require that you use a compatibility mode for saving files, which often has very mixed results.
And, if a customer sends you a file created with the latest version of Creative Cloud apps, there's a real danger that your business won't be able to open it. Even if the file can be opened, not all of its features may be compatible with lesser-known software. This kind of restriction simply isn't good enough for a modern business.
By not using Creative Cloud, your business could be limiting its options and the range of people it can work with. Before cutting costs on software, it's worth examining how much work you could potentially lose out on as a result.
A more flexible way of working
While Creative Cloud used to be a fairly expensive capital expense, Adobe's move to powerful subscription packages, changes the dynamic. By paying monthly per licence, subscription plans remove that initial upfront cost, add flexibility and give every business an operational cost directly attributable to the tax year. With this model, there's no reason to cite tight budgets for not giving your design staff the software that they want.
Subscription plans are flexible, letting you choose your subscription length, and more easily choosing the packages that you need: you can go from a single app all the way up to the full Creative Cloud offering, including Adobe Stock.
For businesses, Adobe's Value Incentive Plan (VIP) gives all organisations the tools and controls that they need to deliver and manage Creative Cloud apps.
Centralised management lets your business decide where applications are deployed, and provides a simple way to upgrade everyone to the latest products as soon as they're released. This level of control makes software management far easier than with lesser-known tools.
Importantly, the management burden reduces, as the management console tells you how many licences you have, how many are deployed and who's using them. Trying to manage licences manually for other software is a real headache, and can result in unused licences effectively costing companies money.
More importantly, the VIP service gives businesses complete flexibility. Licences can be easily re-assigned, letting your software become a moveable asset. For less money and smart management of licences, companies can move software to suit projects and working groups. And, this requires very little in the way of management overhead.
Of course, as staff numbers change, the VIP service lets you add licences easily. As all additional subscriptions prorate to the same anniversary date, billing is kept simple, too.
With some software, managing additional licences or re-assigning them can be a fairly substantial job and not one easily achieved.
For any software purchase, it's important to take into account any management costs that go with it, looking at the total cost of ownership (TCO), rather than just the basic price paid.
More secure
Security is a big worry for all companies, and using well-known software, such as Adobe Creative Cloud, can help meet targets. Downloading smaller, lesser-known products comes with the risk that there will be security holes and fewer patches and updates.
With Adobe Creative Cloud, you can rest assured that all the applications are constantly being updated, minimising your company's risk.
Flexibility and power beats 'low' cost
Adobe's VIP subscription service for Creative Cloud means that there's no need to settle for second best anymore. Its simple subscription costs make Creative Cloud affordable for any company, giving staff the tools that they want. More importantly, VIP gives companies the flexibility and simple management tools that modern businesses require.
Find out how Adobe Value Incentive Plan can deliver the best creative tools to your company.
Get the ITPro. daily newsletter
Receive our latest news, industry updates, featured resources and more. Sign up today to receive our FREE report on AI cyber crime & security - newly updated for 2023.
ITPro is a global business technology website providing the latest news, analysis, and business insight for IT decision-makers. Whether it's cyber security, cloud computing, IT infrastructure, or business strategy, we aim to equip leaders with the data they need to make informed IT investments.
For regular updates delivered to your inbox and social feeds, be sure to sign up to our daily newsletter and follow on us LinkedIn and Twitter.