Track anything online in real time
From polar bears to planes, trains and pandemics these tools help you track the world outside while you're stuck inside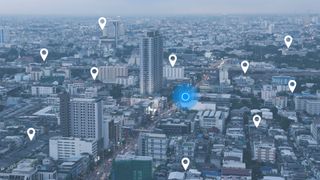 Although restrictions on movement are gradually easing in the UK, lockdown is still a claustrophobic experience for many. Confined largely to our houses and local areas, with holidays still currently off the table even within the UK, it's easy to feel like you've lost touch with the outside world.
Thanks to the marvels of the internet, however, it's possible to reconnect with what's going on in the wider world. Here are some tracking tools that can help break the monotony of lockdown.
Track the coronavirus pandemic
Scientists have been racing to keep track of the COVID-19 pandemic using self-reporting apps such as Covid Symptom Tracker and Track Together, as well as daily reports from Johns Hopkins University (JHU), the world's leading medical research institution, which uploads its daily COVID-19 reports here.
The JHU team's COVID-19 Map turns this raw data into interactive maps, graphs and curves. You can tweak the main map to show different backgrounds and layers (such as an OpenStreetMap layer showing confirmed cases in each country), and click to enlarge the graphs for viewing in a handful of formats.
For more visual detail, visit the 91-Divoc site, which plots the latest JHU data on graphs that you can tweak to show different types of curve (for example logarithmic, also known as exponential). You can see the impact on different countries, including the UK, by selecting from the 'Highlight:' drop-down menu.
You can also see a map of the latest self-reported data from the UK's COVID Symptom Tracker app. The data is anonymous but divided by region, so you can click the map to check your area.
Track the world's population
Few real-time data trackers are quite as unsettling as World Population Clock's live ticker. The number is so big (7.8 billion and counting fast) that rival sites can't agree on it, with World Population Review a few tens of millions behind. But the latter site breaks down the data into more detail, and maps it so you can click to explore individual cities and countries, such as the UK.
Data-mapping site Plumplot has created a population density map for England and Wales that lets you zoom right into your street, then use the drop-down menus to visualise various datasets such as house prices, crime stats, and more. Plumplot's maps aren't quite in real-time because they're aggregated from sources including the Census and the Office for National Statistics (ONS), but they still provide a fascinating insight into the nation's current population status.
Track the changing weather and climate
See weather systems on the move in real time by zooming and spinning the virtual globe at Earth. You can customise the display by opening the menu, then clicking an element. For example, click Ocean to see today's tidal currents at work.
If you'd like to zoom in for a closer look, use the Map option on OpenWeather. It's less impressive to look at than the Earth tool, but it does let you see all kinds of weather systems (wind speed, clouds, temperature and so on) in action anywhere in the world, or just where you live. It also provides live data both as charts and plain old numbers.
The Met Office's UK rainfall radar map is strangely engaging. Watch the big blue blob move across Ireland and the UK, or zoom in to see how heavily (or not) the rain is falling on your town. You can also see a rainfall playback from the past six hours, and monitor types of weather other than rain by clicking More.
To put the weather into long-term perspective, see the climate tickers at The World Counts. Among other things, these alarming real-time monitors track the average world temperature and how long until the world's oil runs dry (47 years and counting).
Chase the sun and moon
The full moon is due above our house on 7 May, but what about where you live? The Moon Phases calendar – just one of umpteen real-time monitors at the brilliant TimeandDate.com – detects your location automatically and reveals the moon's phase, altitude and position over the coming hours and days. Among the site's other live trackers are the Day and Night World Map and World Time Lookup, which reveals the current time, weather, and sun and moon phases for any location.
The free apps Sun Locator Lite (Android) and Lumos (iOS) let you track the sun and moon by the hour.
Track stars and satellites
Numerous augmented-reality (AR) apps bring the heavens into your locked-down living room, and the best is Night Sky (iOS). Focus on any flat surface – ceiling, wall, dining table – to see moons, planets, constellations and even the International Space Station (ISS) overlaid in their real-time positions.
A slightly less powerful Android app called SkyView Lite visualises the galaxy and ISS when you hold your device up to the sky.
To turn your browser into a heavenly radar, head for The Sky Live's Online Planetarium, an interactive real-time map of space that displays the position of planets, moons, asteroids and more. ISS Tracker reveals where the International Space Station is right now, as it zooms around the planet at 17,000mph. The ISS is also monitored by the deceptively simple site N2YO.com, which tracks the details and positions of satellites orbiting the Earth. On the day of writing, N2YO had tracked 20,626 objects. No fewer than 2,261 (a number that's continually updated) were "crossing our sky" at that moment, which is a lot more than we'd expected!
Track planes, trains and ships
The contrails have gone but there are still planes in the sky, according to web tool Flightradar24 – just not many. Hover over a plane icon to see its flight number, then click for more details, including destination, carrier and altitude. For $9.99 per year (approx. £8, after a seven-day trial), Flightradar24 adds goodies such as 3D views, real-time radar data and live alerts. If you do happen to see an actual plane in the sky, AR Plane Finder (Android and iOS) can reveal its flight details and destination.
Coming back down to earth, Raildar Radar plots tiny trains as they move around the UK network, using live data from UK train operators. In a similar vein but less comprehensive is the "vaguely live" Train Times, whose creator also makes a couple of London-based transport trackers: Live Underground map and Live London Buses, both of which are eerily quiet at the moment.
One of the most intriguing live maps is Vessel Finder, whose seas (and rivers) are sufficiently packed to suggest that ships are more active than planes and trains during lockdown. Pan and zoom around the map, then click a vessel to see more details and a photo. That said, you won't get much detail if you happen upon a military ship – many of which we found snaking through the rivers of South America and Russia.
Monitor migrating birds and wandering wildlife
The swallows and cuckoos were still enjoying warmer climes at the time
of writing, but they'll be back over Britain very soon. You can watch them get closer and closer on the live migration map at the Euro Bird Portal, although sadly it doesn't stretch to include the birds' African winter homes.
To monitor the creatures of the sea, turn to Ocearch. This opens on the Americas by default but lets you zoom out to track sharks, dolphins, alligators, turtles and more all around the globe. Given that all these animals are tagged and tracked, it's no surprise to find that the researchers have given them names, too – as you'll discover when you click each one.
The World Wildlife Fund's Species Tracker uses data from radio collars on animals such as female polar bears (the males' necks are too big, apparently) to keep track of them. Click a bear on the zoomable map, then 'See More', to explore the latest data – including photos of new cubs – from that area. The zoomable map also lets you monitor populations of jaguars, marine turtles and other endangered creatures.
The biggest wildlife-tracking site is Movebank, which links to hundreds of research projects from a global map. It's an academic resource, so it's slower and less easy to navigate than you'd hope, but you can search its database and click the dots to follow the links to relevant studies. You can even contribute to the research using the free Movebank app (Android and iOS).
Track your pet's wanderings
Where does your cat go when it exits the cat flap? And where has your dog wandered off to this time? Pet companies have taken a tip from wildlife scientists and devised lightweight GPS tracking devices that fit onto Kitty or Fido's collar, so you can monitor their whereabouts using linked apps.
Garmin's top-of-the-range Atemos 100 can track up to 20 dogs up to 10km away, but at £750 the system is prohibitively pricey. A more sensible £59 buys a Kippy Evo, a dinky 38g waterproof device that fits onto cats' and dogs' collars and includes an integrated SIM to locate your four-legged friend via a linked app. You can also use the app to 'geofence' risky areas, then receive an alert if your four-legged friend wanders into them. Tractive's £30 GPS collars for cats and dogs come with extra subscription costs (£3.33 per month), but add features such as location history, so you can log your pet's favourite spots.
Stay up to date with the latest news and analysis from the world of cloud computing with our twice-weekly newsletter
Jane Hoskyn has been a journalist for over 25 years, with bylines in Men's Health, the Mail on Sunday, BBC Radio and more. In between freelancing, her roles have included features editor for Computeractive and technology editor for Broadcast, and she was named IPC Media Commissioning Editor of the Year for her work at Web User. Today, she specialises in writing features about user experience (UX), security and accessibility in B2B and consumer tech. You can follow Jane's personal Twitter account at @janeskyn.
Thank you for signing up to Cloud Pro. You will receive a verification email shortly.
There was a problem. Please refresh the page and try again.