Technology in 2015: What are the key trends?
We take a look at what trends will continue in 2015 and what will be consigned to history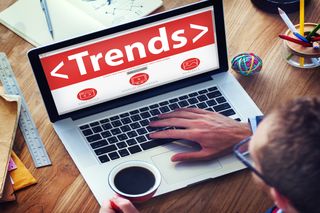 2014 was an interesting year in the tech world: SaaS companies saw a steady growth, Android watches started appearing, and the idea that just about any object could be connected to the internet captured the media's attention. So what happened in Q1 of 2015?
Not much that we hadn't already seen in 2014. That's probably an understatement, however, plenty of the hot topics of 2014 carried on over into 2015 and became even more visible. Here's a look back at some of the trends from Q1 and predictions for Q2.
Trends
IoT: The Internet of Things (IoT) is nothing new and has been gaining considerable media attention for sometime. One of the first IoT companies to get some buzz was smart-thermostat maker Nest. However, lots of companies showed off their IoT technology at trade shows such as Barcelona's Mobile World Congress.
Both small and large businesses are entering into the lucrative and growing market. IBM, for example, has announced it is investing $3 billion to launch an entirely new business unit devoted to IoT. However, there are serious security concerns regarding IoT generally because the more devices you have connected to your network, the more possible access points and vulnerabilities. Which leads us to...
The hacking hasn't slowed down: Perhaps this shouldn't be classified as a trend and more of things to come. 2014 was a year that lots of high-profile hacks occurred that absolutely dominated media coverage. Simply put: security doesn't appear to be much better so far in 2015 than it was in 2014. Health insurance providers, major companies and even the coding site Github was hit during Q1. At this point I'd recommend that your company has a serious talk about its security policy. Some things to consider are how you protect your users data, who has access to company accounts, or something as simple as implementing a password manager. Another potential security risk is employees using their personal devices for business...
BYOD: If your company hasn't implemented a Bring Your Own Device (BYOD) policy, they probably should now. A 2013 study by Gartner predicted that by 2017, half of employers will require their employees to bring their own devices. Those devices could include mobile phones, tablets, or laptops. In light of this, Apple, Google and Microsoft have started pushing their enterprise solutions with BYOD specifically in mind. One reason for this is the fact the big companies are banking on users' familiarity with the OS they use daily. One example, Android for Work, is a prime example of Google entering into the fray. It allows for an employee to separate their personal and business apps with very little difference in how they're used or appear.
Predictions
EMM: Expect to hear a lot more about Enterprise Mobility Management (EMM) - a system that lets administrators manage mobile devices - throughout the quarter. Blackberry showed off its EMM called BES12 at Mobile World Congress. Android for Work, for example, works in tandem with EMM providers. What's interesting is that there are multiple companies such as Google, Good Technology, and Samsung getting involved - or long established - in EMM. Therefore it's not a stretch to believe that there will be...
Even more integration: As mentioned above, companies across the software and hardware spectrum are teaming up. This especially makes sense in the ever-expanding SaaS world. An example of this would be traditional software vendor SAP SE, which has been making the transition to the cloud for some time and partnered up with Samsung. It's likely then that more companies are going to announce partnerships in Q2.
Prepare for even more acronyms and buzzwords: If this article is an indication of anything, jargon is going to continue to fly at us at a profound rate. BYOD, IoT, EMM, MDM and so on are examples of terms that you might have to explain several times to people who aren't familiar with the topic. As all of them are still emerging fields, it's understandable that nothing has emerged as catchy as, say, "selfie." However, until someone comes up with some sexy branding, we'll probably be bombarded by even more awkward terms.
Matt is a writer at GetApp covering security, BYOD, and IoT. Prior to working at GetApp, he spent five years working for various news organisations in the UK and US, before spending a year writing about mobile applications. His interests include cooking, the NBA, and rattling off trivial factoids.
A daily dose of IT news, reviews, features and insights, straight to your inbox!
A daily dose of IT news, reviews, features and insights, straight to your inbox!
Thank you for signing up to ITPro. You will receive a verification email shortly.
There was a problem. Please refresh the page and try again.