Does geography matter in a digital marketplace?
With Amazon attracting lots of tenders for its new headquarters, does geography matter so much for online companies?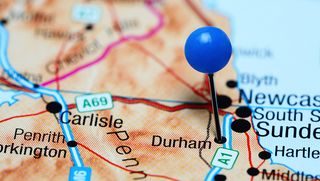 There's quite a prize awaiting the city that wins the fight to home Amazon's second physical headquarters. The budget for the building itself is said to be around the $5 billion mark just to get it up and running. Then the new HQ is expected to bring with it some 50,000 jobs, and hardly at entry-level wages. According to the latest reports, 238 cities and regions in North America have submitted proposals to the online giant to try and attract the firm in their direction.
It's unsurprising so many responded to Amazon's invitation to tender. Its first headquarters, in Seattle, is said by Amazon to have brought an "additional $38 billion to the city's economy". Even if you don't take Amazon's figures at face value, its presence will still bring a hefty amount of change to wherever it chooses to locate.
But why? For a business that trades online, why does this matter?
Well, the fact that the existing main headquarters houses some 40,000 people and is hitting capacity is an obvious answer. The headcount needed to keep Amazon's products and services going is substantive. But also, the firm continues to look to attract technology talent talent that's likely to gravitate towards a big city, perhaps one other than Seattle.
It's thus likely, once the tendering is done, that Amazon will eventually plump for a larger, more built-up area for its second major US base, because that's where it stands a better chance of recruiting. For all the tenders that are being submitted, the smart money's on somewhere built up, a major city perhaps, where people under 30 are likely to want to live. An out-of-town campus may hold more appeal for workers with families, but for new up-and-coming talent nearer the start of their careers, a New York-alike is likely to be a much bigger magnet.
And it's this that goes to the heart of the conundrum that Amazon and many tech giants are facing when they hit a certain size: geography matters more than people give it credit for. Just because 99.9% of its customers wouldn't know that Amazon's HQ is Seattle, doesn't mean it doesn't help underpin the services the company offers.
It's little secret, too, that Amazon is still growing, and needs physical space to be able to do that. Furthermore, once a company gets to a certain position, its demands for talent increase. When you're a market leader, you don't want to be overtaken. The core infrastructure grows, and the need to have human beings at the pump increases. In Amazon's case, it's a hefty physical infrastructure too, especially as it rolls out two hour delivery slots in certain areas.
But is geography that important to everyone? Probably not.
The other side of the argument is that for smaller, nimbler operations, the eradication of a geographical requirement is a boon, and a major cost saving. It's little secret that society is gradually becoming more freelance-driven and edging towards an agile working mechanic that sees armies of people working from home in assorted nightwear. For start-ups in particular, this is invaluable.
But even so, the office remains of value as a central hub to meet and talk to people, build up contacts, spot opportunities and get noticed. It's no coincidence that most contract workers started as PAYE somewhere and built their contacts book up that way.
In the digital world, without the need for physical storefronts, what and where the geographical office is and looks like is still, for the majority, arguably of less importance. But it still needs to be reachable, and whilst cloud working, for instance, has revolutionised mobile working, it hasn't eradicated the need for some kind of physical base, and a human being on the end of a phone. Does geography matter? Less than it once was (particularly as companies look to site locations in tax-advantageous locations), but it's still very much got a part to play, particularly as organisations look to grow and build. Outside of the prestige of having a glossy base, a communal workplace yields dividends that struggle to be measured on a spreadsheet.
As for Amazon, its contest is set to go into next year. The firm is to hammer out a shortlist and will be conducting the necessary site and area visits in 2018. A decision will then be made next year too, and the path to construction will begin in earnest. Other companies of such size wanting to attract the best talent they can may have to follow that lead. Everyone else? Barriers are lower than they were, but the leap from being a small to a bigger business might just be bigger than ever.
Get the ITPro. daily newsletter
Receive our latest news, industry updates, featured resources and more. Sign up today to receive our FREE report on AI cyber crime & security - newly updated for 2023.
Get the ITPro. daily newsletter
Receive our latest news, industry updates, featured resources and more. Sign up today to receive our FREE report on AI cyber crime & security - newly updated for 2023.
Thank you for signing up to ITPro.. You will receive a verification email shortly.
There was a problem. Please refresh the page and try again.