Whatever happened to the 3D printing revolution?
3D printers are quietly changing manufacturing, but not in the way many expected.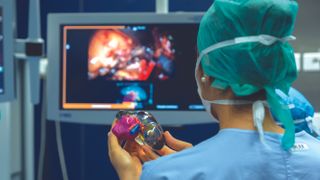 3D printers were supposed to be the future of manufacturing, with one in every home spitting out spare parts and bespoke widgets to improve our lives. While eager engineering aficionados may have one in the garage, the 3D revolution is yet to happen in the home.
Five years ago, analysts from Canalys crowed that the 3D printer market would top $20 billion by 2019, powered in part by consumers making "impulsive purchase decisions" of $500 home 3D printers. Now, some analysts don't even bother following the market, with analyst firm IDTechEx suggesting the 3D printing market is worth just shy of $10 billion globally. That reflects a steady growth rate of about 13% annually compared to the 44% Canalys predicted.
Ryan Schultz, vice president of vertical marketing at 3D giant Stratasys, believes that it isn't the technology that's disappointed; instead, people are lagging behind. Schultz used to work in the Internet of Things (IoT): "There, the hype is bigger than the reality. But in the 3D industry, the technology is bigger than the hype. The hype was big five years ago, but it's continued to improve off of people's radar. Now, the technology is far more impressive than it was five years ago, and people haven't woken up to it yet."
Indeed, there are plenty of industries that have shifted to 3D for prototyping and production, from aerospace to dental, thanks to a slow and steady evolution of materials available. "As the desktop 3D printer market has cooled, it seems as though 3D printing is less high growth than previously, but this is the opposite to what we're seeing on the industrial side," said Dr Bryony Core, senior technology analyst at IDTechEx. "There are continual material, hardware and software announcements which are enabling 3D printing to become more accessible than ever before."
While you may not have a 3D printer of your own, you've seen and used the results of the technology – whether you know it or not. "Model makers working for Lucasfilm used them to fabricate concept models of various spaceships present in recent Star Wars movies," said Rafał Tomasiak, CEO of British 3D printer supplier Zortrax. "Engineers working at NASA's Johnson Space Center in Houston used them to prototype tools for astronauts operating on the International Space Station and on NEEMO analog missions. That's just to show you what kind of versatility we have in mind here. One team was set to design fictional spaceships, the other was building the real ones, and both did that with the same machine."
Set aside memories of low-quality, single-colour plastics – here's how 3D printing is being used, how it's evolved recently, and how it may yet cause a revolution in manufacturing.
Material business
If you used a home 3D printer several years ago, you may assume the end result of 3D printing is flimsy, low-quality plastic in a single colour. However, the past few years have seen a leap forward in the materials available for additive manufacturing; it's just that such machines are usually found in professional models, rather than those made for home users. Now, a single machine can print in multiple colours in materials from metal to ceramic, carbon fibre to biomedically approved resins.
Tomasiak says development in materials and the technology to use them has been about refinement, making printers more capable, reliable, easier to use and safer – as well as letting them make a better final product.
"Today, commercially available 3D printers use the same working principle and tech they did back in 2016, and back in 1989 for that matter, and the changes have been rather iterative," said Tomasiak. "But three years ago those similarly working machines could not print with a huge range of innovative materials exhibiting unique properties. To make those materials work there has been an immense research and development effort invested into refining the printing temperatures, flow ratios, build platforms, firmware, software and so on."
Putting 3D to work
In certain industries, 3D printing isn't so much about manufacturing but prototyping – these machines are model makers, rather than producing finished products, working across industries from entertainment to aerospace, automotive to manufacturing.
"Zortrax printers are used for building carbon fibre motorbikes, prototyping car parts before they go into mass production, and for prototyping components at the arguably most successful F1 team in history," Tomasiak explained. "They work at Pipers Model Makers and other renowned architecture modelling studios, innovative startups and so on."
Some companies do use 3D printers for end products, however. Schultz has a good example from the British rail industry: Stratasys has teamed up with rolling stock operating company Angel Trains and train operator Chiltern Railways to create bespoke parts. "When you think of the sweet spot for 3D production, it's low volume, high value," Tomasiak said. "If there's a part that breaks and there isn't one in inventory, the train stops running."
So far, those replacement parts have been limited to in-carriage bits and pieces that need replacing, including four armrests and seven grab handles, but in theory any missing component can be redesigned and replaced on demand. "What companies like [train maker] Siemens are doing is they're creating a digital inventory and then printing the parts on demand," he said. That's particularly helpful for older stock where components are no longer made, he points out.
Medical demand
3D printing also makes sense for medical and dental uses: such parts must be made bespoke. And, now that more materials can be used with such printers – including biocompatible material used for medical products, as well as metals – it's possible for dentists to print patients' night guards, models for orthodontics or even temporary false teeth.
"Due to the introduction of specialised materials and highly precise printing technologies like the UV LCD used in our Inkspire 3D printer, our machines are also getting more and more widespread in fields like digital dentistry," Tomasiak said.
Indeed, if you've ever looked into straightening your teeth, you may have come across Invisalign, which makes clear braces for correcting your bite – those are 3D printed to suit each customer in resin using 3D Systems stereolithography machines.
And bespoke 3D-printed products can be truly life-changing, claims IDTechEx's Core, pointing to customised braces for patients with scoliosis made by UNYQ. "Patient comfort is crucial to ensure that they wear the device for 20+ hours a day, and a 3D-printed fit ensures that the optimal support is provided at the correct pressure points, with embedded sensors to feedback to the physician," she said. "The less bulky design of the brace is very important for teenage girls to feel less self-conscious when wearing the device."
Prototyping is also important for medicine – after all, if someone is going to carve open your heart, it would be nice for them to know exactly what it looks like. Schultz points to a new release from Stratasys, the J750 Digital Anatomy Printer, which does exactly that. Physicians and surgeons can replicate an organ – complete with flaws such as tumours – to study it before surgery. Previously, surgeons had to study on the real thing, requiring access to a cadaver, and that not only raises ethical concerns, but the test organ doesn't necessarily suffer the same health problems.
To address that, clinicians would order a replica of the organ to be operated on, but they were expensive and took a long time to produce. With 3D printing, that's no longer the case. "We can actually scan your heart and print it out," Schultz said. "It will look, feel, stitch and cut like a real human heart, and it will have your unique pathology, so a physician can train on it."
What's next
Tomasiak predicts a revolution in 3D over the next five years. Those iterative changes will continue to roll out, but there will also be serious disruption in the market – that said, he wasn't able to reveal exactly what his own company has planned.
"I believe in the next five years we're going to focus on printing with high-performance materials," Tomasiak said. "Such materials like PEEK (polyether ether ketone) have amazing mechanical and chemical properties. They can withstand high temperatures, high levels of radiation and are lighter and more durable than many metals. Some are also biocompatible and by modifying their exact composition you can fine-tune their mechanical properties. For example, PEEK can be made to match the mechanical properties of human bone, which is particularly important in fabricating implants."
Core agrees, pointing to the development of new composite materials, including carbon fibre reinforced polymers, that are strong and light. "New applications are being found in the automotive industry, which has been slower to adopt 3D printing than the aerospace or medical markets," she said. "In particular, applications include composite parts for customised high value cars and motorbikes, as well as in autosports, where weight is a critical feature."
For Stratasys' Schultz, the aim is to develop printers that can make anything and everything. "We are trying to develop a technology sandbox where the only thing that's limiting us is the creativity of our users," he said.
Novel materials and the printing technology to use them mean that 3D printing has plenty of room to grow in manufacturing, medical and beyond – the 3D printing revolution is still on the way, it would seem
Get the ITPro. daily newsletter
Receive our latest news, industry updates, featured resources and more. Sign up today to receive our FREE report on AI cyber crime & security - newly updated for 2023.