The future of AI in manufacturing
As one of the fields most readily accepting of new technology, manufacturing offers an example of how AI can be deployed successfully and at scale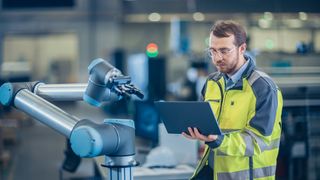 (Image credit: Shutterstock)
When it comes to artificial intelligence (AI) and machine learning (ML), few industries could boast as many machines manufacturing, offering the chance for artificial intelligence-driven automation and data capture to be trialled and deployed on the largest of scales.
The Industrial Internet of Things (IIoT) is already moving at pace, and combined with the rollout of 5G networks, will transform manufacturing's operations forever.
Right now AI is fuelling huge change for the manufacturing industry; everything from remotely monitoring machinery to spot problems before they occur to reducing waste in the supply chain to predicting the sort of products customers will want or need and ensuring they are ready for sale without delays.
Global food processing and packaging solutions giant Tetra Pak is already helping many of its customers in food and beverage manufacturing to implement AI into their operations.
Ian Hughes, Tetra Pak's director of service operations, tells IT Pro: "Factory operations are becoming increasingly digitised through the use of software tools, amassing a lot of information that needs to be processed, evaluated and understood.
"AI gives users the opportunity to sift through all this unconnected, unstructured data and make sense of it. By analysing specific data points such as capacity utilisation rates or electricity consumption, manufacturers can drive a leaner operation, increasing performance while lowering their costs and carbon footprint."
He adds: "AI is already helping manufacturers become more flexible in the production process. By using data insights from the sales funnel, factories can better predict customers' needs and therefore customise production in line with consumer trends. By achieving the right balance between the use of digital tools and human analysis, factories could minimise their losses such as time, resources, material, and adopt a zero -waste mindset.
"We're already using algorithms to help us find ways to reuse, refine and reengineer our customers' products that expand their life expectancy. I'm excited to see how manufacturers adopt AI to continue engaging with their product holistically and better support a circular economy."
No AI is an island
To tackle the issue where many companies have deployed AI in "islands" across the plant floor, but struggled to implement it at scale across their global operations, Siemens and Google Cloud announced in April that they will cooperate on AI-based solutions for manufacturing to optimise factory processes and improve shop floor productivity.
Axel Lorenz, VP of control, factory automation, at Siemens Digital Industries, tells IT Pro: "The potential for artificial intelligence to radically transform the plant floor is far from being exhausted. Many manufacturers are still stuck in AI 'pilot projects' today – we want to change that."
However, Mark Crowne, general manager of systems integrator Nexer Insight UK, suggests that while the financial burden of AI is coming down, there are other implementation barriers.
"In the last five years there has been a huge reduction in the complexity and cost of applying AI to manufacturing, thanks to the democratisation of machine learning by the hyper-scale cloud vendors," he says.
"We typically find our clients know what they want to achieve with the technologies in principle, but lack the capabilities in-house to quickly converge on a viable approach that will meet the need and be supportable in production – they often need outside help to get it done and build up their own capabilities."
However, Grant Caley, CTO, UK&I at NetApp, explains that once it's up and running, a major positive of AI for manufacturing is that by increasing the efficiency of the supply chain, capital can then be freed up for investments and R&D.
He says: "At the intersection of the Internet of Things and AI is the concept of smart manufacturing. This is an emerging field where cognitive techniques are leveraged to drive optimisations and increase use of computer vision for anomaly detection, process control for improved quality/reduced waste and predictive maintenance to maximise productivity of manufacturing equipment.
"Other examples include yield enhancement, testing and quality optimisation and inventory management. Ultimately, manufacturers that adopt an AI-first strategy will be able to derive actionable insights, grow and improve their business."
One major way AI helps here is through vision inspection. Sam Burgess, CEO of SamsonVT, adds: "By enabling next-generation condition monitoring and predictive maintenance, AI is reducing unplanned downtime, and cutting the cost of repairs and maintenance.
"Manufacturers can now monitor machines to gather data, such as pressure, vibrations and temperature, and use this information to train an AI-powered algorithm what 'normal' is. It is then possible to detect anomalies and alert engineers to problems.
"As these algorithms learn and become more sophisticated, they will be able to predict how long a machine part can last before it fails, based on current workloads. This is allowing manufacturers to plan maintenance and replace components at the optimum time. The US Department of Energy has found that this type of predictive maintenance can be up to 40% more cost effective compared to reactive maintenance, while GE has also found that it reduces unplanned downtime by 36%."
Manufacturing's future is getting even smarter
Looking ahead, the Manufacturing Made Smarter Challenge has the ambition to raise productivity for the industry by 30% by 2030. It's organised by the Made Smarter Technology Accelerator, run by Digital Catapult, and will see 14 startups attempt to address the UK's most prevalent manufacturing challenges.
Prototypes will be developed working towards minimum viable products, with support from industry leaders, and many of those in the challenge are harnessing AI.
Ascalia, for example, is working with Sainsbury's to find a solution to microbial control in ready to eat foods, using high-tech cameras and AI to ensure food safety from microbes and rot. Elsewhere, Singular Intelligence is working with the supermarket to use AI-based decision-making to develop a predictive shelf-life model for the supply chain, along with an automated, centralised optimal control system.
Other innovative examples include Innvotek working with Northumbrian Water for an unmanned module to tackle sewer blockages using AI, while two other start-ups – DIEM Innovations and Machine Intelligence – are aiming to help BAE Systems reduce wastage.
Juergen Maier, co-chair of Made Smarter, says: "While the COVID-19 pandemic has brought about extremely challenging conditions for the manufacturing sector, it also represents a chance for industry to take a step back to explore how we can innovate and apply advanced digital technologies to do things better.
"This programme has brought to the fore the world-class expertise in the UK technology sector and by pairing bright start-ups and scale-ups with large manufacturers, we hope to leverage those capabilities across a variety of disruptive emerging technologies to meet industry needs – from cutting costs to boosting productivity."
Get the ITPro. daily newsletter
Receive our latest news, industry updates, featured resources and more. Sign up today to receive our FREE report on AI cyber crime & security - newly updated for 2023.
Jonathan Weinberg is a freelance journalist and writer who specialises in technology and business, with a particular interest in the social and economic impact on the future of work and wider society. His passion is for telling stories that show how technology and digital improves our lives for the better, while keeping one eye on the emerging security and privacy dangers. A former national newspaper technology, gadgets and gaming editor for a decade, Jonathan has been bylined in national, consumer and trade publications across print and online, in the UK and the US.