US tech titans urge Trump to tackle skills gap
President also hears how AI could help modernise government IT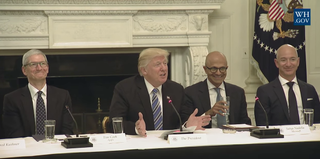 America's tech leaders spoke to President Donald Trump of the need to upskill US citizens to meet a growing demand for digital skills yesterday.
Meeting with his America Technology Roundtable yesterday, Trump sat next to Apple CEO Tim Cook, Microsoft chief Satya Nadella and Amazon boss Jeff Bezos as he outlined his aim to save $1 trillion over the next decade by upgrading government services.
"Our goal is to lead a sweeping transformation of the federal government's technology that will deliver dramatically better services for citizens, stronger protection from cyber attacks," he said.
"We're embracing big change, bold thinking, and outsider perspectives to transform government and make it the way it should be, and at far less cost."
Claiming the Trump administration "has already taken very historic steps to modernize critical IT systems", the president said government must catch up with the "technology revolution".
Nadella said: "Our best work as an industry and in collaboration with the government [is] to skill the United States for the jobs of the future. Technology will play a role both in the creation of the jobs and the skills."
"Coding should be a requirement in every public school," said Apple boss Cook. "We have a huge deficit in the skills that we need today versus the skills that are there."
Bezos added: "[We must] continue to work hard and figure out ways to retrain and upskill workers all over the US."
The tech entrepreneur also urged the US government to use machine learning and artificial intelligence "in every way and at every level" to drive down tech costs.
Forrester predicts that US spending on technology will fall 0.1% in 2017 and 0.6% in 2018 as Trump grapples with federal spending.
A report by the US Government Accountability Office in 2016 found that the government spends more than $80 billion on IT every year, but that "federal legacy IT investments are becoming increasingly obsolete".
A daily dose of IT news, reviews, features and insights, straight to your inbox!
A daily dose of IT news, reviews, features and insights, straight to your inbox!
Thank you for signing up to ITPro. You will receive a verification email shortly.
There was a problem. Please refresh the page and try again.