Cisco tackles videoconferencing
Over the years billions have been invested in videoconferencing. It was always the "next big thing", but only now is the technology delivering on its promises.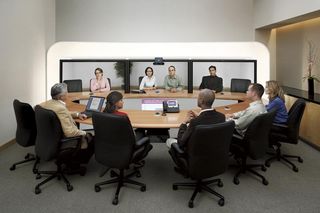 During the last 15 years billions upon billions of dollars have been invested in research and development relating to videoconferencing.
It was always the "next big thing" in converged IT and Telecoms and would reduce corporate travel bills massively. After 9/11 the videoconferencing industry went through a series of mergers hoping to cash in on a fear of flying but the need to still conduct meetings with remote offices and clients. This has resulted in a leaner industry with more chance of sustaining profitability.
Sadly, despite the successes videoconferencing has had it is stained by the fact the technology has failed more often than it succeeded. So why did Cisco spend two years of R&D time developing their own video-based solution called Telepresence?
The answer is that Cisco sees money. Not just money from customers but money internally. However, rather than try and build a faster, more reliable videoconferencing solution, Cisco has built something a little difference. They call the product Telepresence and it's more about a virtual meeting room than a videoconference. So what is it?
What is Telepresence?
Cisco Telepresence is a room-based solution for virtual meetings, similar to the Halo system that HP is aggressively promoting. It comes as a complete solution with screens, microphones, cameras, lighting, desks and a host of other components that are built into a bespoke room. The screens are 65 inch plasma displays running at high resolution. The microphones have their own noise cancelling codecs developed by Cisco and, we are told, even trap and eliminate the noise and interference of a mobile phone when it is trying to find a signal.
By using such large screens, the person at the far end appears to be actual size rather than scaled down to fit a monitor. The idea is that they look just as they would in a real meeting, were they sitting across the table from you.
The cameras are fixed, not the usual pan, tilt, zoom that you find in videoconferencing and this is important. It means that they have a fixed focal position that can be used to accurately reflect a picture and ensure that the experience is always the same. The back of the unit has its own lighting that is designed to give the cameras the ideal environment in which to work. Each camera is focused on one desk and two people.
Fitting conferencing to a business
There are two versions of the Telepresence system, the entry level 1000 with a single screen and two seats for $79,000 and the 3000 with three screen and six seats for $300,000. Those prices are per room so double it to provide a working point-to-point solution.
When running, Cisco claim that they need as little as 4Mbps per screen and up to 2Mbps for the audio and data traffic. To maintain a high quality image such as Telepresence provides over such modest bandwidth makes this quite remarkable.
In order to use Telepresence you also need Cisco Call Manager v5. This is because Cisco has done away with the plethora of remote controls that most videoconference suits possess and reduced the whole thing to a single button for call setup. Call Manager also allows you to use its scheduling facilities to manage your room.
Another missing element in this cost is the room environmental components. Here Cisco is again being a little careful with their costing. To soundproof a room removing the noise or air conditioning, external noises carried through roof spaces and through cable ducting can be expensive. You have to pay for that on top of the system costs.
We viewed and used the system at a Cisco office in which the company had not managed to complete the environmental factors. The system performed very well but sound from other rooms was noticeable.
Future expansion
The system is, at the moment, just a point to point solution. You can only talk to another Cisco Telepresence solution and the multi-point Telepresence solution won't be available until sometime later this year with Cisco refusing to even say which quarter it is expected to ship.
Underpinning Telepresence are key standards, H264 for video and SIP for the audio. Yet Cisco is refusing to allow other vendors to talk to Telepresence. Why? Cisco believes that no-one else can match the quality of what they are doing and that if they had designed the system to be interoperable, it would have delayed launch by at least 12-18 months.
Getting the system installed is also going to be a little bit of a challenge. Cisco has not yet created a new certification for Telepresence and has severely restricted the numbers of dealers it will train. Without a formal certification Cisco has removed one of the main reasons people get trained on Cisco equipment. There has also been a decision not to talk to the leading audio visual specialist suppliers. This is only going to be sold through the Cisco channels. Videoconferencing companies learned early on that you need a lot of skills to setup a room and Cisco, despite its early efforts, clearly hasn't taken the complexity seriously enough to talk to the experts in this market.
Given all of this, a company with 10 global offices setting up a single room in each office, could expect a bill of $3m. Meetings would be restricted due to the lack of multipoint and they would expect an additional bill for Cisco Call Manager v5 and for environment treatment of the room. This would easily talk the total to over $3.5m.
So why do this? It's all about the money and your green credentials. Not the money you spend with them but the money you save from travelling and reducing your corporate carbon footprint. Assuming that your staff travel economy class both regional and international, your average ticket is likely to be around $750. To save $3.5m you would need to eliminate 4,667 journeys. Even if you had 12 people (6 real, 6 remote/virtual) in each meeting you would need 388 meetings. In reality, you won't have full meetings and you will need substantially more meetings.
Cisco expects to save $100m by July 2007 on its travel budget and the Telepresence solution is expected to deliver most if not all of this. Customers who have seen the system are also looking to use it to cut their carbon emissions.
Get the ITPro. daily newsletter
Receive our latest news, industry updates, featured resources and more. Sign up today to receive our FREE report on AI cyber crime & security - newly updated for 2023.
Get the ITPro. daily newsletter
Receive our latest news, industry updates, featured resources and more. Sign up today to receive our FREE report on AI cyber crime & security - newly updated for 2023.
Thank you for signing up to ITPro.. You will receive a verification email shortly.
There was a problem. Please refresh the page and try again.