Dealing with e-waste
Old PCs never die, they just get sold on eBay or given to charity. IT PRO evaluates the options for companies wanting to get rid of their older tin.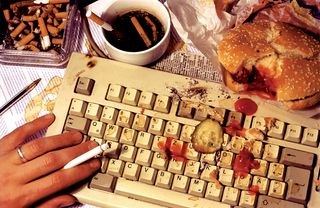 Few industries embrace obsolescence by design as much as the IT sector. The same fax machines, copiers and telephones may be semi-permanent fixtures in many companies, but workers will see at least a couple of PCs cross their desks before they leave.
Waste Electrical Equipment (WEE) legislation soon to be come into effect in the UK will require vendors to offer take-back schemes, but many of the larger ones are doing it already. HP recycled 84 million pounds of hardware in the EMEA region last year, for example.
Dell operates a take-back scheme too, but EMEA take-back and recycling manager Jean Cox-Kearns is a little more candid about the operation's success. "I'd be comfortable saying that take-back is still in single digits as a percentage of what's being sold," she admits. "There aren't many donations from smaller companies."
Larger firms are likely to be more organized about the disposal of equipment, just as they are about procurement. Smaller companies are likely to use their equipment for longer, shrugs Cox-Kearns. It begs the question: what's happening to over 90% of the PCs being sold each year when they reach end of life? And what can companies do to get rid of it effectively?
Much will depend on your goals. For some firms, corporate social responsibility will top the agenda. Others will just want to get rid of it as cheaply as possible, or even to make a fast buck. "What we're finding is that some companies are mandated to not spend money on this, and in fact to actually either make money on it or to make sure that it's taken for free," says Shauna McCaffrey, executive director of Renewed Computer Technology (RCT), a Canadian non-profit company that handles charitable donations and recycling as part of a wider federal PC reuse scheme. "We're spending a lot of time educating people in terms of please doing it properly even if you don't use us."
Motivation for disposing of e-waste
Most corporate takeback schemes today emphasise recycling, but according to Tim Jenkins, ICT officer at the Powys-based Centre for Alternative Technology, this may not be the best route after all.
"The whole green movement tried so hard to communicate the concept of recycling to people, but now we're trying to get across the idea that we probably made a mistake on that," says Jenkins. From an environmental perspective, recycling strategies for PCs that have been used by a single customer don't highlight the cost of consumption, he says. Manufacturing PCs is a high energy-intensive process, so frequent consumption of new ones is itself an environmental hazard. Instead of recycling, it's better to both extend your own refresh cycles and hand them down to other users, he says.
"That's considerably better than those machines going for recycling, where there will be some recovery of raw material but it will be fairly low grade," he says, adding that the energy consumption during the recycling process can be significant.
Depending on the brand, those companies wanting to take his advice can resell their old equipment back to the manufacturer. "If the equipment is quite new then we can buy it back from you and refurbish it and resell it, and if there's any residual value that goes back to the customer," says Kirstie McIntyre who is part of HP's UK environmental team. Dell will also refurbish and resell equipment.
Other options include selling PCs through a broker. Companies with different types of equipment could also consider selling it off second hand at auction. Drug discovery firm Inpharmatica, recently announced is forthcoming acquisition by Galapagos, another pharmaceutical firm - a deal that has bought the usual staff rationalisation. "We had 120 employees and 30Tb of disk storage space, but then we downsized," explains Robert Readman, who suddenly found himself IT manager for the company when the IT department was slashed from 30 employees to two.
The company found itself with a plethora of surplus IT equipment that was perfectly serviceable. Thanks to the number crunching work that it had been doing for pharmaceutical research, it had around 200 spare nodes from its compute farm. It continued a long-established tradition of selling surplus equipment via eBay.
"eBay is the most profitable way to do it," says Readman. "There was lots of talk of going to charities or to the local council, but there are a lot of conditions attached to the council. It would only take so much kit." Charities were often not able to collect the donated equipment.
Using an online auction enabled the company to stipulate certain things from the buyers. For example, they had to collect it from the company's premises, who purchased kit as seen. Often, the team would throw in other equipment such as KVM switches and cables that it wouldn't have been worth selling separately.
It was a quick and easy way to clear the office, says Readman, but selling surplus equipment won't bring huge returns. "We bought Sun kit which is really expensive when you buy it, but the resale value for some of our kit was not that much at all. We'd be lucky to get 200," he says. But the upside is that management will generally allow IT to keep the revenue. For a cash-strapped IT department, building up a kitty from surplus equipment sales can help to fund projects.
Readman advises potential auction sellers to bring in a trainee for the grunt work, however. The administrative overhead associate with managing eBay auctions could bog down experienced employees and rapidly eat into the profits.
Purging data from old systems
Companies selling the equipment themselves over eBay should be more careful than anyone about monitoring the data on the hard drives and erasing it. Instead of physically erasing files, most modern file systems only flag files as deleted in a file allocation table. Ideally, an IT department would use a dedicated tool to physically overwrite the hard drive multiple times and help to erase any residual magnetism.
The problem with most of these tools is that they can take hours to overwrite disks multiple times. The alternative is to use an expensive degausser, or to physically destroy the drive, which reduces its value. Readman's storage was in-house, and the company certified that the data on the hard drives was useless before he shipped the units out.
Computers for charity
The other option is a charitable donation. Charities like Computer Aid take old PCs and refurbish them for overseas users. The organisation, which has supplied over 70,000 PCs in 104 countries, charges non-government organisations (NGOs) 40 per unit to cover costs and has been particularly active in Kenya, where it works with organizations such as Nairobi-based Computers for Schools Kenya.
Computers for Schools Kenya distributes PCs to a variety of schools across Kenya, including schools in extremely deprived areas. One of the most troubled is Our Lady Fatima, a school carved out of the Korogocho slum, the third largest in Nairobi with 100,000 inhabitants. The school, nestled in a small field among the tin roofs and makeshift houses of the slum, was founded by the Catholic church and provides many of its poverty-stricken students with their only square meal of the day.
Like all Kenyan schools, it only receives government funding for teachers, but must procure its own equipment. Through CSFK, Computer Aid has provided the school with 25 PCs which give each student over an hour per week in IT training.
Students like 19 year-old, Vincent Amukumbi say that learning computers offers them a way out of the slum. "I would like to do computer sciences, and maybe after that, medicine," he says. "I think medicine goes hand in hand with technology."
Kenya is on the verge of an IT revolution, and while the government is currently only at the rhetoric stage, it is likely to follow other African countries as they continue to modernize and make IT a part of everyday business life. If people like Amukumbi can get the prerequisite skills, it could significantly impact their way of life. Most people living in the slum earn less than a dollar a day.
Dell has also started to channel PCs from its take-back initiative through to needy recipients, although it focuses purely on the UK, donating the systems to non-profit organizations and colleges. "To be honest, we're not getting enough equipment to satisfy the demand at a local level," says Cox-Kearns, estimating that the firm has received less than a thousand PCs tagged for donation. "We're not considering Africa yet, and anyway there are issues with the products that are arising in Africa."
In particular, she is worried about the lack of end-of-life care for systems sent to African countries. "There is a belief that sending kit to Africa is a way of dumping old equipment," she says. "There are no robust end of life solutions there."
Tony Roberts, chief executive of Computer Aid, argues that the economy in Africa can make use of very old equipment. Leave a PC on the side of the road, he says, and someone will find a use for it. And in the meantime, the computers are being put to good use.
Whichever desk they end up on, in spite of vendor efforts to operate good take-back schemes, perhaps the best way to deal with old computers is to try and prolong their life. Newer operating systems and applications force customers' hands, making them upgrade to newer equipment to accommodate bloated software products with unneeded features. That's necessary for software and hardware companies in a growth-predicted sector to maintain share prices. It may make for economic sustainability, but at what cost?
Get the ITPro. daily newsletter
Receive our latest news, industry updates, featured resources and more. Sign up today to receive our FREE report on AI cyber crime & security - newly updated for 2023.
Danny Bradbury has been a print journalist specialising in technology since 1989 and a freelance writer since 1994. He has written for national publications on both sides of the Atlantic and has won awards for his investigative cybersecurity journalism work and his arts and culture writing.
Danny writes about many different technology issues for audiences ranging from consumers through to software developers and CIOs. He also ghostwrites articles for many C-suite business executives in the technology sector and has worked as a presenter for multiple webinars and podcasts.