JD Sports outsources data centre
The retailer has signed a £2-million managed services deal to run migrate its back-office data and IT operations.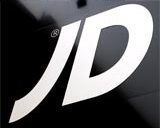 JD Sports has signed a five-year outsourcing agreement worth 2 million to hand over its data centre and back-office IT operations to a hosted provider.
The sports fashion retailer said the deal would upgrade, future-proof and secure its infrastructure. It will also support its compliance with the Payment Card Data Security Standard (PCI DSS), which includes the requirement to test all transactional applications as part of its card data security management regulations.
Harry Willoughby, JD Sports IT manager, said: "As a leading high street retailer it's imperative our IT operations support JD Sport's business development strategy. Our existing data centre infrastructure is no longer viable, and the potential for downtime too great a risk for the business."
He added: "With our PCI DSS compliance programme underway, the opportunity to achieve a better foundation for our IT systems and accelerate our governance strategy made for a very compelling business case."
The deal will see JD Sports complete the migration of its back-office applications including payroll, warehouse and stock management and 3 TB of data to the hosted environment of UK mid-market managed service provider Pasporte by May 2008.
The provider is using IBM's Softek replication tool to manage data transfers and synchronisation between its primary and secondary hosted data centres in real time, to maximise operational uptime.
And Pasporte will also implement a 24-hour disaster recovery programme to enable near real-time recovery, in addition to a managed wide area network (WAN) between the retailer's four warehouses and head office.
Willoughby said: "Mitigating risk is a core part of securing our business and, along with the disaster recovery programme, having a virtual IT team on hand means we're also able to accelerate our PCI DSS accreditation. This level of governance and security is critical if we're to safeguard the company and our customers and ensure we can demonstrate our credentials as a responsible retailer."
A successful pilot migration of JD Sport's applications was completed during the busy Christmas trading period in its 350 stores, according to Pasporte's migratory approach at peak transaction volumes. 


"Already, at this early stage, we're seeing the initial benefits in the rationalisation of our IT systems, meaning our IT team can start identifying new and innovative ways to support JD Sports' long-term business goals," added Willoughby.
A daily dose of IT news, reviews, features and insights, straight to your inbox!
A daily dose of IT news, reviews, features and insights, straight to your inbox!
Thank you for signing up to ITPro. You will receive a verification email shortly.
There was a problem. Please refresh the page and try again.