Top 10 mobile productivity applications
Mobile applications are flooding the market to make working on the move easier. We take a look at the top 10 apps for viewing, editing and creating documents on the move.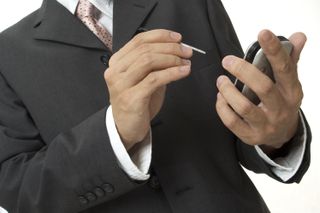 The world has gone application crazy, with major players such as BlackBerry and Android going head-to-head with the Apple App Store by introducing application stores where you can add more usability to your smartphone. When the Palm Pre is launched in the UK, there'll be an app store for that, and Windows is planning on launching its app store with Windows 6.5 for mobile.
There's a whole lot more to all of the major application stores than just free applications that are gimmicky many of them will help you operate your day-to-day job if you're out of the office for any reason.
We take a look at the best 10 applications for opening, viewing, editing, creating and sending documents while you're out and about.
Documents to Go on BlackBerry, iPhone, Windows Mobile, Symbian (From free to 32)
Documents To Go is the most popular document editing application on the market. It's available for all mobile platforms and includes Word To Go, Spreadsheet To Go and Slideshow To Go for viewing .doc, .xls, .ppt, .pdf, .htm, .txt, .jpg, .gif, .png, .tif and .bmp files, and can also edit those that are text-based.
If you're writing or editing a .doc file, there's the full range of options that you'll find on Microsoft Word including bold and italic options, underlining, bullet points, font colour and highlights.
However, Excel spreadsheets and PowerPoint presentations can't be edited or created, but that's no bad thing as attempting to create spreadsheets and presentations on a screen could prove a little hard on the eyes even with the 3.8-inch screen of the HTC Touch Pro 2.
Cortado Connect on BlackBerry (Free)
Cortado Connect is a document organisation and storage app that allows you to save up to 1GB worth of files free using Box.net's online storage.
You can open and view documents and organise files using cut, copy, paste, delete, rename and create functions.
The app allows you to manage files online and on your BlackBerry or device memory card, plus exchange items between the two storage devices.
Edit functions are pretty limited compared to other options, but Cortado Connect is a useful tool if you need to securely store documents to access on your BlackBerry and PC.
eOffice on BlackBerry ($29.95)
eOffice is a suite of applications including tools to edit Microsoft Word, Excel and PDF document. With eOffice you can also access files from your computer directly from your BlackBerry and send documents as attachments.
The application allows you to edit Microsoft Word documents including all formatting present on the original document and change fonts, font style, paragraph formatting plus create bulleted lists.
The Spreadsheet part allows you to create, view and edit Microsoft Excel-compatible full size spreadsheets right on your device. eOffice also features support for viewing PowerPoint, PDF, CSV, faxes and image files straight from an email attachment with a magnifier, plus you can use the application to access your Google Docs account.
Other features of this fully comprehensive productivity app include the ability to send faxes using BlackBerryFax, print files and email files from your computer using your phone.
A daily dose of IT news, reviews, features and insights, straight to your inbox!
A daily dose of IT news, reviews, features and insights, straight to your inbox!
Thank you for signing up to ITPro. You will receive a verification email shortly.
There was a problem. Please refresh the page and try again.