Datawind unveils new 3G PocketSurfer devices
Datawind launches two new PocketSurfer models in addition to an 'always-on' netbook dubbed the Ubisurfer.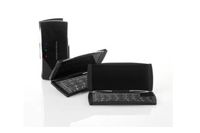 Datawind has taken the wraps off the next generation of its PocketSurfer web-browsing device, adding 3G technology to the mix.
In addition to faster net capabilities, the PocketSurfer 3 and PocketSurfer 3 Lite come bundled with a Linux operating system and basic work-focused applications such as word processing and spreadsheet applications.
An active matrix five-inch, 640x240 TFT screen, enhanced navigation, a backlit QWERTY keyboard, instant messaging and built-in GPS are also included in the PocketSurfer 3 and PocketSurfer 3 Lite, which will cost 199.99 and 159.99 respectively when they become available next month.
Datawind is also giving users more mobile web for their money too, by throwing in an extra 10 hours of surfing - taking the total to 30 hours a month - in addition to European roaming at five pence a minutes.
"There is a still strong consumer demand for a device that is truly portable, delivers the real web into the palm of your hand, is free for the average user and doesn't tie consumers into monthly contracts or fees," said Suneet S. Tuli, Datawind's chief executive, in a statement.
Click here to see what IT PRO's sister title PC Pro made of the PocketSurfer 2 when it was launched last year.
In separate news, the company also unveiled a netbook-style device in the form of the UbiSurfer, which it claims is the first of its kind to offer free UK web access.
The UbiSurfer is available from Maplin stores immediately at a cost of 159.99. For that price, users get a 700g device boasting an 800x480 resolution TFT wide screen, Wi-Fi, LAN and an embedded GPRS modem and SIM courtesy of Vodafone.
"Our main driver as a company is to offer free internet to everyone, everywhere," Tuli added. "With the UbiSurfer we are offering 30 hours a month of free usage and we mean free, no hidden costs, no wires and no contract and it's this that sets us apart from others in the market."
Web pages are served within five to seven seconds, which is faster than its netbook peers, according to Datawind. The UbiSurfer also features an Arm processor, several work and play-focused applications, a Linux operating system, 1GB of SSD and an SD/SDHC card reader.
Click here to read our buyer's guide to the top 10 netbooks.
A daily dose of IT news, reviews, features and insights, straight to your inbox!
Maggie has been a journalist since 1999. She started her career as an editorial assistant on then-weekly magazine Computing, before working her way up to senior reporter level. After several years on the magazine, she moved to 'the other side of the fence' to work as a copywriter for a marketing agency, writing case studies and working on ad and website copy for companies such as eBay, Dell, Microsoft and more. In 2006, just weeks before IT Pro was launched, Maggie joined Dennis Publishing as a reporter. Having worked her way up to editor of IT Pro, she was appointed group editor of Cloud Pro and IT Pro in April 2012. She became the editorial director and took responsibility for Channel Pro, in 2016. Her areas of particular interest, aside from cloud, include management and C-level issues, the business value of technology, green and environmental issues and careers to name but a few.
A daily dose of IT news, reviews, features and insights, straight to your inbox!
Thank you for signing up to ITPro. You will receive a verification email shortly.
There was a problem. Please refresh the page and try again.