Where will cloud computing take enterprise IT in 2011?
Cloud computing is a hot topic right now, but what does it actually mean for your business?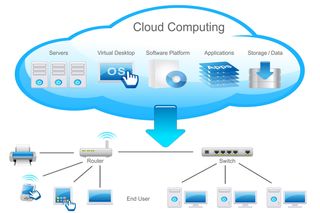 Cloud computing is one of the most important IT trends of the decade. But while it is currently at the peak of its hype, it is only just getting started and will continue to keep the industry on its toes.
Ovum predicts that a host of new trends will emerge this year that enterprises of all sizes need to be aware of so they can use cloud computing to best effect.
The next big growth area in cloud computing will be the rise of platform-as-a-service (PaaS) technology, which will step out from the shadow of infrastructure-as-a-service (IaaS). IaaS has become an important cloud success story in the past three years, spearheaded by Amazon and the uptake of virtualisation technology, which has given rise to an army of Amazon clones.
However, this year PaaS will make its mark, not just because of the efforts by Microsoft, Google and Salesforce.com but also because of the launch of new offerings. PaaS services were launched by VMware and Red Hat in late 2010 and IBM is expected to enter the fray in 2011. This will give rise to a strong PaaS ecosystem to rival IaaS.
The rise of a PaaS ecosystem will not be the only shift in this area. Indeed, PaaS will be reinvented this year. So far, its offerings have been different from that of IaaS. PaaS pioneers Google, Microsoft and Salesfore.com adopted the PaaS as fabric approach. The next wave of PaaS offerings will be IaaS-like, with a compute instance-based approach, rather than a compute fabric one.
While the debate goes on about the nature, scope and impact of cloud computing, attention has shifted from how to define it, to how to make the best of it. This pragmatic approach to cloud computing will be reflected by the rise of the hybrid cloud this year. The concept of a hybrid cloud sweeps aside the private versus public cloud debate that dominated, and to some extent still dominates, the cloud computing arena. New hybrid products and services will continue to emerge this year.
Meanwhile, there will be the increasing popularity of virtual private clouds (VPCs). SMEs will increasingly turn to VPCs this year. Large enterprises will also do this to a lesser extent, as they do not want to pay for bespoke private clouds for everything and where compliance is an issue, the public cloud is not always suitable.
To make best use of a VPC and integrate it properly with enterprise IT, organisations must be prepared to make additional investments.
At the same time private clouds will come into their own. Until now, relatively few large enterprises have started to create their own private clouds, but that is set to change. Companies wary of public cloud limitations and constraints will adopt public cloud technologies, designs and best practices in their own data centres. The aim will be to form data centres that equal the quality of service, speed and ease of procurement of public clouds, while extracting more value from existing resources.
Ovum's top tips for implementing the cloud in your organisation are:
Make sure you are ready for cloud computing
Adoption is a two-way street; make sure you are ready for the changes and challenges that cloud computing will bring.
Do not overload your cloud services
Successful adoption of cloud services will require acceptance of its limitations, astute selection of appropriate opportunities and the willingness to solve new problems that emerge.
Create your own recipes
Mix and match public and private cloud elements with traditional hosting and outsourcing services to create solutions that fit your short- and long-term requirements.
Keep control
Enterprises need to remain in control of the different choices available to them rather than leaving them to vendors and service providers, or learning about the consequences of their decisions when it is too late.
Think strategically
IT managers should approach cloud computing as part of wider efforts to focus less on the detail technology, such as server ability, network performance and application functionality, and more on strategic issues such as risk management and IT budgeting.
Start slowly on governance
Cloud governance best practices are in their infancy, so cast your net wide, learn from those that are ahead of you in implementation and co-ordinate with vendors to build up best practices and tools.
Laurent Lachal is a senior analyst at Ovum.
Get the ITPro. daily newsletter
Receive our latest news, industry updates, featured resources and more. Sign up today to receive our FREE report on AI cyber crime & security - newly updated for 2023.