Web 2.0 in the UK
The grass roots UK developer community has embraced Web 2.0 in an astonishing way. The technologies being developed in the UK stretch from social networking to social media, and everything in-between.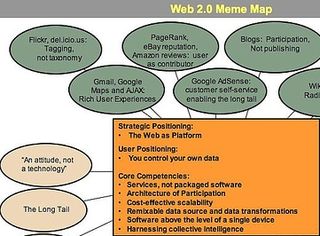 Call it social networking or social media - just not Web 2.0! But whatever label eventually ends up sticking to the move to make Internet activity a lot more user-directed, the message from the grass roots of the UK developer community is clear: we haven't had this much fun for ages.
"It's nice to see some real specifics coming through about this movement instead of just chat about general trends," says Glenn Jones, Creative Director of software development firm Madgex (www.madgex.com), one of the organisers and main sponsors of d.construct, a conference for people active in building and extending social networking sites. Brighton recently hosted the second annual d.construct, whose theme this year was the central importance of APIs (application programming interfaces) in such applications.
A range of speakers from companies as diverse as Amazon, Yahoo and a number of independent designers and consultants spoke on issues ranging from Amazon's Web Services efforts to 'folksonomy' (how users are creating their own taxonomies out there) to the challenge of designing accessible Web 2.0 apps. Listening intently - but also tapping away quietly on many a laptop - were some 350 attendees, way up from 2005's inaugural 100, another sign of vitality say the organisers, who claimed they sold out on the first day of tickets becoming available.
One of the things delegates were playing with on their keyboards was a Web 2.0 application developed for the conference itself by the folks at Madgex: Backnetwork, an online social networking tool for
conferences (http://www.glennjones.net/Post/818/dconstructmakesyou35morefriendly.htm). "Clearly the whole ethos of the conference was to help generate more user-based content so we put together a platform to gather some of the back-channel chatter. The site was soon full of postings, comments, photographs, all examples of how relationships started being built at d.construct," says Jones.
Speakers at the event kept citing stats underlying how quickly social networking is growing. "We now have 180,000 developers registered to use Amazon Web Services," noted Jeff Barr, Web Services Evangelist for the company. "Social networking is out on the real Web now, it's not just for the alpha nerds any more," adds Simon Wilson of Yahoo! UK. Along with co-presenter Paul Hammond Wilson outlined how the firm offers internal APIs to encourage staff to play creatively with mash ups which get shown off on a special Hack Day (and taken up further by the company if showing real potential.
A more fundamental issue was then raised by Jeremy Keith, Technical Director at Clearleft - the REST ((Representational State Transfer) versus SOAP (Simple Object Access Protocol) debate. This translates to whether the next generation of Web Services would be better served by using R technology or the older SOAP; it's a debate that hasn't been concluded yet but the vibe at d.construct was clearly in favour of REST, it seems. There was also a defence of Ajax versus Flex in Aral Balkan's very lively presentation, 'Mash My Flex Up' (well, why not).
There was also plenty of fun stuff along with the heavy-duty API technology discussions - sites that show the possibilities of what a more user-driven Web might be like. Check out the world's first 'artificial artifical intelligence' site, for instance, at www.mturk.com/mturk/welcome (the idea being a real person instead of a computer helps perform a simple task for you); or www.thesheepmarket.com, a site that, er, has 10,000 amateur drawings of sheep (it made sense at the time). Also check out the mash ups around online photo site Flickr, such as the 'Flickr toys' page at http://bighugelabs.com/flickr.
Which brings us back to the unease some people in the community feel about this Web 2.0 tag. "There's a lot of baggage with that term now," says Jones. "It's become a bit of a focus for VCs and it's in danger of getting hyped up too much. There is a lot of real value with some real sites coming through now so many of us think it's time to start using terms like social media or social networking that better express what the underlying message is better."
Andy Budd, Creative Director of Clearleft, a Brighton-based user experience agency and another major d.construct supporter, agrees. "When Tim O'Reilly came up with the term Web 2.0 around 18 months ago it was useful - at the time. But the name doesn't define what's really happening, which is not a whole new version of the Internet at all but a new set of applications built around more use of open data," he told ITPro.
If there is any one canonical Web 2.0 site it's probably de.Li.cious or Flickr; both certainly got regularly name checked at d.construct. The reasons are that they exemplify so well the idea of Web 2.0/social whatever we'll call it. As is starting to get better understood, more use of open data accessed by APIs is starting to allow developers to complement existing sites (e.g. Amazon trading partners who put new front ends on the underlying Amazon commercial engine with the online retail giant's help but who take a cut as middle man) or new ones using two or three data streams as a basis, e.g. www.chicagocrime.org, a clever 'mash up' that combines police and demographic data to produce a new way of looking at the world.
"Where the data comes from is key," says Budd. "The onus is increasingly on the owners of content to open the doors to let users do more with that data." A good place to start looking from the developer point of view is www.programmableweb.com, a useful central site that lists APIs already available to start working with.
All in all d.construct was a fine showcase of a sense of renewed energy in UK online development that both highlighted the technical reality of the approach but also the creativity and sense of enjoyment that seemed absent for a while there. "We want to use this conference as a way to build community - in a way we haven't seen probably since dot com," adds Budd. "It's low-scale, cheap and convenient this way."
d.construct 2007 is already being planned and is likely to develop another theme - the user experience. "This year we were quite techie with APIs and mash-ups and that obviously is very important. But what 'Web 2.0' ultimately is about is applications that work for people that fit easily into their lives and are useful. That suggests better user design and the best user experience is what social media is going to be all about moving forward."
"As a movement this is all starting to coalesce very well," concludes Madgex's Jones. "The technology is now being developed to help us build sites that will engage users."
http://2006.dconstruct.org/schedule/ Presentations from the conference
http://2006.dconstruct.org/podcast/ Podcasts from d.construct 2006
A daily dose of IT news, reviews, features and insights, straight to your inbox!
A daily dose of IT news, reviews, features and insights, straight to your inbox!
Thank you for signing up to ITPro. You will receive a verification email shortly.
There was a problem. Please refresh the page and try again.