Android smartphones found with pre-installed malware
Enterprise devices arrived 'already infected with adnets and ransomware'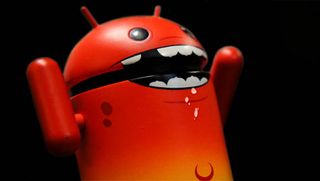 Certain devices from some of the largest Android smartphone manufacturers have been discovered carrying severe malware infections that were manually implanted at some point during their supply chain process, according to an investigation.
Although malware is something normally associated with users accidently downloading malicious files, it appears compromising apps were added to specific devices during their build, and were not part of the official ROM.
Thiry-eight smartphones manufactured by Samsung, Lenovo, LG, Asus, Vivo, Oppo, ZTE and Xiaomi were identified as being affected.
The Android devices, belonging to an unnamed telecommunications company and a multinational technology company, were spotted carrying the malicious apps, which were added at an unknown point during the supply chain, according to research by Check Point Mobile Threat Prevention.
Researchers identified six instances of malware infection that were deliberately added by a "malicious actor" to the device's ROM using escalated system privileges, meaning the apps could only be removed by a device re-flash, a complex process of restoring it to factory settings.
"As a general rule, users should avoid risky websites and download apps only from the official and trusted app stores. However, following these guidelines is not enough to ensure their security," said cyber analyst Oren Koriat, speaking in a Check Point Mobile Research blog.
The pre-installed malware was mostly designed to steal information, but included a mobile ransomware called Slocker, which uses an algorithm to encrypt every file on a device and then demand a ransom in exchange for a decrypt key.
A malicious adnet was also discovered in six mobile devices, specifically a malware called Loki that uses multiple layers of functions to achieve its goal. The malware displays illegitimate ads to users as a means of generating revenue, while stealing device data in the process.
"Pre-installed malware compromise the security even of the most careful users. A user who receives a device already containing malware will not be able to notice any change in the device's activity which often occur once a malware is installed," added Koriat. "To protect themselves from regular and pre-installed malware, users should implement advanced security measures capable of identifying and blocking any abnormality in the device's behavior."
Below is a full list of the devices discovered with pre-installed malicious apps. IT Pro has contacted all the vendors for comment.
Swipe to scroll horizontally
| | |
| --- | --- |
| Malware | Device |
| com.fone.player1 | Galaxy Note 2, LG G4 |
| com.lu.compass | Galaxy S7, S4 |
| com.kandian.hdtogoapp | Galaxy Note 4, Galaxy Note 8 |
| com.sds.android.ttpod | Galaxy Note 2, Xiaomi Mi 4i |
| com.baycode.mop | Galaxy A5 |
| com.kandian.hdtogoapp | Galaxy S4 |
| com.iflytek.ringdiyclient | ZTE x500 |
| com.android.deketv | Galaxy A5 |
| com.changba | Galaxy S4, Galaxy Note 3, Galaxy Note Edge, Galaxy Note 4 |
| com.example.loader | Galaxy Tab 2 |
| com.armorforandroid.security | Galaxy Tab 2 |
| com.android.ys.services | Oppo N3, Vivo X6 plus |
| com.mobogenie.daemon | Galaxy S4 |
| com.google.googlesearch | Asus Zenfone 2, Lenovo S90 |
| com.skymobi.mopoplay.appstore | LenovoS90 |
| com.example.loader | Oppo R7 plus |
| com.yongfu.wenjianjiaguanli | Xiaomi Redmi |
| air.fyzb3 | Galaxy Note 4 |
| com.ddev.downloader.v2 | Galaxy Note 5 |
| com.mojang.minecraftpe | Galaxy Note Edge |
| com.androidhelper.sdk | Lenovo A850 |
A daily dose of IT news, reviews, features and insights, straight to your inbox!
A daily dose of IT news, reviews, features and insights, straight to your inbox!
Thank you for signing up to ITPro. You will receive a verification email shortly.
There was a problem. Please refresh the page and try again.