Making the case for screenless content
From podcasts to audiobooks and spoken content, your business needs an audio strategy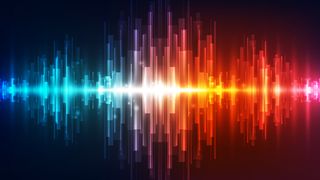 (Image credit: Shutterstock)
This article originally appeared in March's edition of IT Pro 20/20, available here. To sign up to receive each new issue in your inbox, click here.
Screenless devices have seen massive expansion over the last three years. According to Strategy Analytics, 20% of UK households now have a smart speaker. In the US, which currently leads the world in smart speaker adoption, the figure is currently 30%, with Loup Ventures predicting that number will rise to 75% by 2025.
While we live in a time where visual content seems to be king, audio remains an important part of the consumer landscape. Radio consumption has continued to be buoyant, and with a renaissance in audiobook purchasing coupled with the rise of podcasts, screenless content is set to become an essential business channel over the next decade.
In a late-2019 report, the Interactive Advertising Bureau (IAB) stated: "Audio is an emotive modality: sound influences emotion. This is why music is a central cultural marker. It's also why a speech can inspire millions to action. The ability for brands, therefore, to lean into audio as a method to tell meaningful, personal stories stands as a primary benefit of this channel."
Businesses, then, need to adjust how they use content to reach their audiences. With increasing screen demands on consumers, many are escaping into audio as not just respite from screen time, but to obtain new experiences and education. Brands need to understand how sound is now an essential component of their communications.
Steve Austins, co-founder of the podcasting company Bengo Media, tells IT Pro: "Audio has survived because it's a simple, effective and convenient form of communication, and it's personal too. Over the last two decades, I've seen first-hand how important radio presenters can be to people – and how personally they take it when you make changes! A presenter is in a listener's life day in, day out. Often, they spend more time with them than they do with their own friends and family."
Audio is the new video
The ease of access to audio content is one of the key drivers behind the massive expansion of this content. Smartphones now have a raft of apps that connect with the leading audio content providers. Wireless earphones have also made accessing audio content convenient and smart speakers are now an essential part of everyday life.
Podcasts have also become incredibly popular: In 2019, over seven million people in the UK listened to a podcast each week according to Ofcom, an increase of nearly a quarter (24%) on the previous year.
"Podcasts are transforming the ways people listen to audio content, just as on-demand video is changing how people watch television. It's fantastic to see how UK radio broadcasters, as well as newspapers and other media companies, are embracing podcasting and offering more choice about what we listen to than we've ever had before," commented Ian Macrae, Ofcom's director of market intelligence, at the time.
The interesting thing about podcasts from a business perspective is their current low level of competition. There are now approaching a million podcasts in the marketplace. Compare this to 80 million Facebook business pages and it's clear how podcasting can potentially be more effective for brand communication.
What's more, over 60% of podcast listeners will listen to the podcast to the end. Ads and promotions placed in a podcast are listened to, unlike ads in video, which are often skipped. According to research from the BBC, brand mentions in the podcast deliver on average 16% higher engagement and 12% higher memory encoding than the surrounding content.
Speaking to IT Pro, Alex Orosciuc, tech lead at JBi Digital, says: "There is much that today's generation of audio content makers can learn from radio. Those who are making audio content, like podcasts, are standing on the shoulders of giants, and the medium has well and truly exploded in recent years. At the rate at which the landscape is changing, however, it could be argued that radio can learn from podcasts and other, newer forms of audio content as well."
Podcasts are, though, just one type of audio content all businesses can explore: Audiobooks have exploded over the last few years driven mainly to the range of great apps that are available on smartphones. Deloitte predicts 2020 will see audiobook sales increase by 30%, generating £115 million.
Other forms of new audio content are also being produced. The New Yorker regularly creates audio versions of its features, for example, and blogging platforms like Medium also encourage their writers to record an audio version of their work. Businesses, meanwhile, are beginning to develop spoken-word versions of reports and whitepapers.
"I think the most significant factor around audio content is that there is no trend to what content is being consumed," says Mark Kendrick, founder of Ventoux Digital. "Unlike mainstream media, the podcast has found success in reverting from broadcasting to 'nichecasting.' Take a look at the top 100 podcasts in Apple Podcasts, and you'll note that there is a real mix from crime to football to news to comedians to businesses. You get to see that there is an audience for everything, so make something which you are passionate about, and it finds like-minded people."
Screenless strategies
Developing an audio strategy for your company is now essential, but there are obstacles to success that organisations may not have had to consider in the past.
Bengo Media's Steve Austins advises: "Creators need to remember that audio is an intimate medium. You are talking to one person, not many people. Also, be clear and descriptive – people can't see you or what you are describing, so you need to create a vivid picture with your words.
"Sound quality is also really important. Bad audio can result in a very unpleasant listening experience, with erratic sound levels and distracting background noise becoming hugely irritating. This is especially the case for headphone listeners."
Marek Wrobel, head of media futures at Havas Media Group, highlights another major hurdle. "One of the main challenges for advertisers is making screenless content actionable, as, with no screen, listeners can't simply click on a banner and land on a website," he says. "Historically, some brands have used discount codes which can be then applied in the purchase journey and therefore made it possible to measure the impact of the audio content."
"However, this solution can only work for certain use-cases," he continues. "Audio platforms have started experimenting with interactive ad formats. One such format is 'shake-to-action', which asks the listener to shake their phone while listening to open a website that they can browse after they finish listening. Spotify has worked with Unilever on voice-controlled audio ads – the idea is that when a user hears an ad, they can say "play now" and be taken to a piece of relevant content."
The future of your business communications will have a growing audio component. The IAB concludes: "A world where consumer touchpoints are increasingly screenless is rapidly approaching, and brands must represent themselves without visuals. This requires a shift toward audio-first creative or at least equal amounts of audio and visual. In the same way, brands have spent the last century, creating recognition with visual branding, the immediate point of access for marketers is to be creating the same recognition sonically."
Advertisers have for decades been honing their skills to attract our visual attention to their messages. However, humans react faster and with more emotion to sound than to visual content. Radio has shown its longevity and its abilities to connect with an audience. Audio in the broader business context is mostly unexplored. Make 2020 the year your business becomes a sonic communicator.
Get the ITPro. daily newsletter
Receive our latest news, industry updates, featured resources and more. Sign up today to receive our FREE report on AI cyber crime & security - newly updated for 2023.
David Howell is a freelance writer, journalist, broadcaster and content creator helping enterprises communicate.
Focussing on business and technology, he has a particular interest in how enterprises are using technology to connect with their customers using AI, VR and mobile innovation.
His work over the past 30 years has appeared in the national press and a diverse range of business and technology publications. You can follow David on LinkedIn.