The business case for Amazon's Alexa
Amazon's voice assistant isn't just a toy for the home, it's making serious play for the office too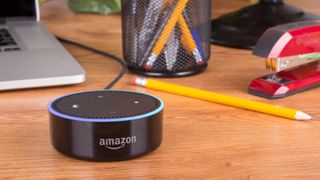 (Image credit: Shutterstock)
Alexa may have wormed her way into our homes in a way few people would have predicted five years ago, but will she soon become a work colleague too?
Quietly, almost under the radar, Amazon is rolling out Alexa for Business - an enterprise-grade management system for Alexa devices. Amazon doesn't only see Alexa sitting in the corner of your living room or on your bedside table; Amazon wants her managing your meeting rooms, switching the slides during a presentation, or even being used to switch the television channel from your hospital bed.
Amazon Alexa is already big business. Now Amazon wants it to become big in business. Will she slip into offices, factories and fleet vehicles as effortlessly as she's become omnipresent in our homes? It's already happening, but there are also signs that employees are starting to resent their new workmate.
Building the business case
Are those Echo devices we've grown so attached to in the home mere stalking horses for a bigger - and potentially more lucrative - incursion into our office space? If you watch the promo videos for Alexa for Business, you certainly get that impression.
Amazon's demo video shows how employees move seamlessly from chatting to their Echo Show on the kitchen unit to barking commands to the one on their desk. It starts with basic diktats, such as checking appointments and booking meetings, and gradually ramps to more sophisticated tasks. An Echo speaker in a meeting room helps sort out a double-booking issue; a presenter asks Alexa to "bring up the last quarter sales report" and it instantly appears on the meeting room screen; an Echo Dot mounted over the photocopier allows an employee to report the device is out of paper.
In much the same way an IT department might use the Microsoft Deployment Toolkit to provision Windows 10 PCs across the company, companies can use Alexa for Business to deploy and manage the Alexa-enabled kit. Employees can link their personal Alexa accounts to their Alexa for Business account, letting them check their work calendar on their home devices, for instance, or join a conference call if they're working from home. Alexa for Business also supports shared devices that can be placed in areas such as meeting rooms and reception desks. These devices aren't associated with any one user account and refuse to install personal skills, so there's no breach of privacy.
Indeed, an Amazon spokesperson was keen to stress key differences in the privacy settings of consumer and business-grade Alexa. "AWS [Amazon Web Services] is vigilant about our customers' privacy and unlike with a personal Alexa-enabled device, where a user can review their voice recordings in the Alexa companion app, Alexa for Business organisations cannot access any voice recordings or text transcripts of what a user said," the spokesperson tells us. "In addition, the organisation doesn't see Alexa's responses to users' queries."
Alexa for Business can be used for shared devices in areas such as meeting rooms - handy for presentations
Amazon is building a whole business ecosystem around Alexa, including support for third-party devices and integrations. Want to check you've got an item in stock or approve an expenses claim? You can do so using the skill for ERP system Acumatica, for example.
"Alexa is an incredibly important strategic platform for Amazon," explains Nick McQuire, vice president of enterprise research at CCS Insight. "In the last 12-18 months, AWS has pushed into AI services and solutions for businesses. They're a big believer that voice is the next interface for consumers and enterprises."
Desk jobs
While talking to Alexa at your desk may make some feel a tad self-conscious, others are more interested in its ability to connect remote teams. Simon Hudson is director of innovation at digital solutions firm Cloud2 and confesses to "having a bit of a love affair with the Alexa devices, probably because it's like being on the bridge of the Starship Enterprise".
Although Alexa for Business has not yet launched in the UK, Cloud2 has begun putting Alexa devices on employees' desks to improve communications between the half of the company's staff that are based at the firm's headquarters in Bradford and the other half who are "spread thinly over Yorkshire". Currently, staff tend to use Skype or Microsoft Teams for voice communication, "but even that feels a little bit artificial," says Hudson. "We've got to grab a machine, put a headset on. It's not everything it could be. I want to walk around the office having conversations with my colleagues without being tied down to a PC."
Hudson has also "been looking at the technologies already built into the Echo for doing announcements... telling people stuff they need to know. Instead of sending out an email saying we've just won this project, you'll say 'Alexa, broadcast...'" and have that message relayed via the Echo speaker on employees' desks.
CCS Insight's McQuire says the majority of voice assistant rollouts in business are dealing with quite basic tasks. The research firm surveyed 700 employees across the US and Europe and found that 30% of employees used voice assistants for work-related tasks. "It's very rudimentary tasks that are highly repetitive - things like checking a calendar, scheduling meetings," he says.
Beyond knowledge workers
While early adoption of voice assistants tends to centre around traditional office jobs, it's Alexa's scope to reach the people in businesses who are often overlooked that excites Simon Hudson.
"There are a lot of frontline workers who have no identity at all on the IT systems, or if they do have an identity, they simply don't touch a device very often," says Hudson. "Some of the conversations I've had with clients over the past couple of years is how do they provide access to company comms and company information to those people. What if we could put Alexa-type devices in breakout rooms, canteens, that kind of place that will allow people to directly query those type of devices to get appropriate information?"
As voice systems develop and begin to deliver more sophisticated features, such as the ability to determine who's speaking and the ability to transcribe users' responses, so too will their usefulness within businesses. "There's a real need for organisations to be able to push out HR info," explains Hudson. "How do I book my leave? What do I do if someone is bullying me? [Those type of questions] can initially be answered with general advice, the kind of things you'd find in the staff handbook. But both Microsoft and Amazon are very close to going into production with their voice identification service.
"It [the voice system] will be able to say 'I know it's Simon' and can infer there's no one else in the room because there's no other chatter. It will be able to ask 'do you want a confidential conversation about this?' And if the person says 'yes', will be able to talk about things that are a bit more private."
However, with less than a fifth of British homes owning a dedicated voice assistant, companies will need to tread carefully when installing this tech in the workplace, McQuire believes. "There's quite a bit of change management and education needed in companies when rolling out these technologies," he says. "Really early adopters will use it, will know what questions to ask and know the limitations because they use it at home. For a certain constituency of employees, it's a challenge. You can't just stick Alexa into a meeting room and say, 'fill your boots'."
Employers must also overcome the suspicion that the device has been installed partly - or purely - to keep an eye on them while the boss's back is turned. "'Is it always listening?' is one of the fears employees have about such devices," says McQuire. "One piece of feedback from early adopters is that employees unplug them quite often."
An Amazon spokesperson claimed employers can allay staff fears over workplace snooping. "An organisation can mitigate personal employee concern by reiterating that they have no access to the information it receives about how they use a personal device, outside of when they interact with corporate skills."
Bedside manner
Perhaps the most intriguing enterprise applications for Alexa don't concern an office environment at all. The Cedar-Sinai hospital in Los Angeles, for example, has created 100 "smart hospital rooms", each one fitted with an Amazon Echo Dot-like device.
Patients at LA's Ceder-Sinai hospital can use Alexa to request more painkillers - or simply to change the TV channel
Alexa caters for a range of patient needs. Patients can ask Alexa for more painkillers and the message is automatically relayed to an on-duty clinician. If they simply need the toilet, the message is routed to a caregiver, and if the message isn't responded to promptly it's sent further up the chain of command.
Alexa can also help keep the patient entertained. Patients can use voice commands to change the channel on their television, to listen to music, or to stay in touch with the outside world by delivering news bulletins on demand. Even these rudimentary tasks can ease the burden on the hospital's staff. "Whereas previously nurses were frequently asked to help with the in-room television, Alexa does that job for us, allowing nurses to focus on providing the highest level of patient care," says Golda Morales, assistant nurse manager of general surgery at the hospital.
What's more, because Alexa is - of course - entirely hands-free, there's no risk of infections being spread as there is with handling touchscreen televisions or remote controls. The companionship of the friendly voice assistant can have a positive effect on patients' mental wellbeing, too. "Patients young and old are now used to voice-activated devices in their homes," says the hospital's executive director of medical and surgical services, Peachy Hain. "Since it's familiar to them, it helps enhance their hospital experience. In the hospital, patients have little to distract them from pain or loneliness."
Many car manufacturers are now adding Alexa support, which will allow drivers to log tasks hands-free
Simon Hudson says his company is working on ways to make Alexa even more useful in the medical industry. "We do a lot of work with the NHS," he explains. "One of the visions we have is to ensure clinicians have access to augmented intelligence. There can be a device that gives them prompts or advice as they're treating patients. We have visions of a device that listens to the conversations that go on and uses input from those conversations to make discreet recommendations via a screen to the clinician. Prompting people for things they may not have remembered is an interesting model."
Vehicle fleet management is another area where Alexa has the potential to be a valuable workmate. Almost every new vehicle that was on show at CES 2019 offered Alexa support, potentially making it easier for drivers to perform logging tasks without having to take their hands off the wheel or use a separate device. They can, for instance, report their arrival at a destination, confirm mileage or report that a package has been delivered via their employers' skills.
Fleet managers can also use Alexa back in the office to keep tabs on drivers. Logistics specialist Express Dedicated LLC has an Alexa skill that allows the fleet manager to ask for the current location of a particular vehicle and have the voice assistant read back its whereabouts. Other potential applications include querying whether a driver has returned to the yard, the repair status of a vehicle or even its current fuel level.
CCS Insight's McQuire says that Alexa becoming commonplace in in-car systems could well "be an inroad into the wider fleet management environment" for Amazon. "The more Alexa is adopted across consumer scenarios, the better place it will be in the enterprise."
Get the ITPro. daily newsletter
Receive our latest news, industry updates, featured resources and more. Sign up today to receive our FREE report on AI cyber crime & security - newly updated for 2023.
Barry Collins is an experienced IT journalist who specialises in Windows, Mac, broadband and more. He's a former editor of PC Pro magazine, and has contributed to many national newspapers, magazines and websites in a career that has spanned over 20 years. You may have seen Barry as a tech pundit on television and radio, including BBC Newsnight, the Chris Evans Show and ITN News at Ten.