Advertisement Feature
Leadership in IT: What are the secrets to success?
Exploring the key traits and skills a modern leader needs to thrive in IT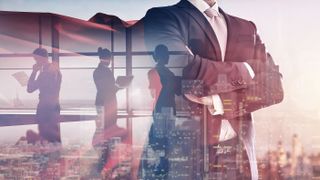 In an industry driven by rapidly evolving technology, it's understandable that the requirements of an IT manager will shift over time. Sound technical knowledge is essential, of course, but there's also an increasing need to embrace skills such as communication, collaboration and decision making.
There's no one particular personality type that's ideally suited to a leadership role. Look at two of the tech world's most celebrated visionaries: Steve Jobs and Bill Gates. Both men with contrasting temperaments, yet both are examples of business leaders who inspired staff and helped build two of the most successful companies of all time. Put simply, there is no one-size-fits-all solution to leadership success in most cases it involves development of many different traits over time. So what does a modern IT leader need to thrive? Let's explore some of the skills and ideas that could help pave the wave to success.
Communication is key
It may seem obvious, but communication really is crucial when it comes to leadership. It's not so much about delegation and telling staff what to do, more finding a way to maximise each direct report's skills for the benefit of the business. If a manager can't communicate effectively with their team, then employees may lose sight of what's expected of them and business strategy will drift.
It's not just their own staff IT leaders must be able to communicate with, there's now an increasing need for them to be heard at every level of business. Dr Nick Patterson, Deakin University's Course Director for the online Master of IT Leadership, explained that today's IT leaders need to be much better collaborators than their predecessors.
"The role of an IT leader has evolved into something which is much more of a team effort, rather than the manager making every critical decision on their own," Patterson said. "They have a team of managers or take valued input from their team members, a much more collaborative effort."
George Kauye, Technology Digital and Marketing at recruitment firm Michael Page, reiterated this, stressing the importance of IT managers turning advanced technical information into something understandable within the wider business.
"They've actually got their own seat at the table now," Kauye told Deakin. "They need the ability to advocate their ideas to a broader group of key stakeholders who are very unlikely to have the same technical literacy that they do."
Avoid micromanaging
Micromanagement is defined as a management style whereby a manager will oversee staff with excessive control or attention to detail. Though this may be driven by a desire to get things right, it can have an adverse effect on employees and harm a manager's own productivity. Though micromanagement may have a positive short-term benefit, long-term it's likely to stifle development, lower morale, create conflict and ultimately lead to high staff turnover.
What can be done to avoid becoming a micromanager? A report from Deakin University identifies several approaches IT managers can take to prevent this from happening. These range from creating a roadmap for delegation (identify tasks your team can do without you and ones only you can do) to developing conflict resolution skills and coaching employees instead of dictating to them. Ultimately, IT managers must focus on continuous learning and improving their own leadership skills in order to stave off the urge to micromanage.
Be decisive and flexible
Decisiveness and confidence will always be respected by employees, showing that a business can move forward quickly and with purpose. Following your gut instinct is one thing, but it's also vital to know when plans are heading off track. Good leaders can identify this and make a course correction when required. Abandoning a plan doesn't have to be a sign of weakness instead it's showing flexibility to change direction should circumstances dictate.
Look outside the IT industry
Whatever industry you work in, there's always a risk of getting trapped in that lane and failing to see the bigger picture. By stepping back and looking at leadership in a wider context, it's possible to find traits and methods that could be brought over to IT.
The world of sport, for example, is full of instances of innovative and groundbreaking leaders. Take Dave Brailsford, hired in 2003 as the performance director of British cycling. Brailsford broke down every single element that fed into riding a bike and looked to improve all of them by just 1%. This marginal gains' philosophy turned British Cycling from also-rans one Olympic gold medal since 1908 and zero Tour de France victories into world beaters. These incremental improvements led to 14 medals, eight of them gold, at the 2008 Summer Olympics, and six Tour de France victories between 2012 and 2018.
Brailsford's success may have fallen far outside of IT, but these principles have been applied to sectors such as healthcare and aviation with positive results.
Develop your existing leadership skills
Recent industry research and insight has suggested that there is a lack of IT professionals with soft skills such as communication, collaboration and leadership and that gap will only widen unless schools, businesses and institutions make a commitment to develop these abilities.
Learning doesn't stop when you leave school or complete higher education. With technology constantly evolving and reshaping the workplace, there's a need for staff to be lifelong learners, no matter their seniority. But how do IT professionals embrace that kind of personal development? The answer could lie in an online degree such as the
"With a great leader who is skilled, IT teams will build their skills, be more productive, confident, happy and will not crack under pressure. With a bad IT leader, your organisational goals and those of your team will not be achieved to maximum efficiency."
With courses such as the Master of IT Leadership, managers now have the chance to consolidate existing technical knowledge and build on leadership skills to enhance their careers.
Discover more about Deakin University's Master of IT Leadership degree and find out how to enrol here.
Get the ITPro. daily newsletter
Receive our latest news, industry updates, featured resources and more. Sign up today to receive our FREE report on AI cyber crime & security - newly updated for 2023.
ITPro is a global business technology website providing the latest news, analysis, and business insight for IT decision-makers. Whether it's cyber security, cloud computing, IT infrastructure, or business strategy, we aim to equip leaders with the data they need to make informed IT investments.
For regular updates delivered to your inbox and social feeds, be sure to sign up to our daily newsletter and follow on us LinkedIn and Twitter.
Get the ITPro. daily newsletter
Receive our latest news, industry updates, featured resources and more. Sign up today to receive our FREE report on AI cyber crime & security - newly updated for 2023.
Thank you for signing up to ITPro.. You will receive a verification email shortly.
There was a problem. Please refresh the page and try again.