Small tech firms bullied out of business
Disputed printer cartridge patents and a ban on Google Ads are driving out small tech firms, Stewart Mitchell discovers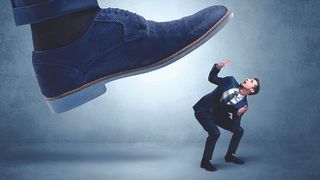 Small British tech firms are going to the wall because of strong-arm tactics from big brands, a PC Pro investigation has revealed.
Small companies selling printer ink have been barred from Amazon over disputed patent infringement claims, while changes to Google Ads rules have seen some computer repair professionals suffer a massive drop in earnings.
Using patents that critics claim "aren't worth the paper they are printed on", Epson has caused a furore in the industry that has forced some sellers out of business.
Epson is using reporting tools to identify Amazon listings it believes infringe Epson's intellectual property. Amazon reportedly takes the products down with few questions asked and repeat "offenders" have their accounts closed down.
"We had our Amazon account pack up three weeks ago because of repeated notices from Epson," explained Adrian Meakin, owner of The Ink Squid, which had been running for more than a decade. "We've lost 40% of our turnover we can't carry on, so it's worked.
"In effect, Epson has found a way to remove all listings without even going to court," Meakin added. "They can mass-report listings and they have been demolishing, email by email, sellers all over the country. There are people going out of business left, right and centre."
Other sellers we spoke to confirmed the impact of the actions and said other printer manufacturers were using similar tactics, with eBay equally quick to remove listings reported by the manufacturers.Amazon claims that it has no choice but to remove the listings. "Amazon respects intellectual property rights and requires its selling partners to do the same when listing items," the company said in a statement. "Any selling partner that violates our policies will be held accountable."
Amazon wouldn't provide details of how many notifications were required to spark an account closure, nor provide any details of an appeals process, although it told us sellers could appeal suspensions.
However, experts believe that Amazon and other marketplaces are too quick to side with the rights holders. "The platforms are absolutely covering themselves," said Amy Shepherd, a legal and policy officer at the Open Rights Group, which has been campaigning for a fairer printer ink market.
"The way the E-Commerce Directive works, as soon as the platforms are given notice that something on their platform is unlawful, they are legally responsible for the content, so as soon as Epson provides them with a notice that says 'this listing violates our patent', they become responsible for the violation."
Patently unclear
At the heart of this dispute the latest in a long-running battle between printer manufacturers and the compatible cartridge industry that threatens profit margins is a patent that Epson applies to cartridges rather than the printers themselves.
"It comes down to the validity or otherwise of the patents that Epson or Canon are using essentially what they have done is patent the printer, but also aspects of the cartridge as well," said Neil Sharpley, intellectual property lead for the Federation of Small Businesses.
"I've spoken to a patent barrister about these patents and he's looked at some of them, and what he said is that the patents do not amount to an innovative step," he said. "If push came to shove, in an expensive case you could probably knock them down and prove they are invalid."
The problem for small businesses, however, is that to contest a patent through the courts could cost 400,000, which most firms don't have.
Epson is unapologetic about its tactics, asserting that it needs to protect its research and development investment. "Epson spends 1.4 million on research and development daily, filing about 4,000 new patents each year," the company said. "We do everything we can to protect this investment in innovation and our intellectual property."
However, the Open Rights Group and The Ink Squid question the patent being used, which essentially refers to the contacts between the cartridge and printers. "The patent they refer to supposedly reduces the chance of a short-circuit if liquid gets on the cartridge chip before it is installed, but that's absolute nonsense," said Meakin. "They have created a solution to a problem that just doesn't exist."
"The real reason for the patent is to try and stop competitors selling third-party cartridges," Meakin claims. "They are perfectly happy with people buying the printers, many of whom will do so with the expectation of being able to use compatibles but then they try and stop alternative products being sold."
Epson is doing nothing illegal, but critics claim that awarding patents with such little obvious value highlights how companies abuse the patent system to protect profits. "These [compatibles] companies are operating legitimately and they disagree that the patent is being infringed, partly because they argue that the patent isn't worth the paper it's written on," said Shepherd. "The patent system is slightly broken if this type of patent gets through because it is effectively a patent on a plug."
Epson said that it purchases samples of the cartridges for which it sought listing take-downs to verify intellectual property abuse and that it was natural to pursue listings on the platforms where they were displayed. "Our patent-enforcement activities are based on extensive purchasing and study of the products to confirm any infringement. In the case of a confirmed patent infringement on eBay or Amazon, we present our case to the infringers and give them the opportunity to present counter arguments, only resorting to further action if common ground cannot be reached," Epson said.
"In some instances, this further action involves using the online marketplace's own rights-enforcement mechanism; in others, it may involve litigation," the company added.
However, according to consumer rights experts, Epson and other manufacturers rarely take action in court when they can simply use the vendor's notification processes and avoid costly court action.
"In all of this, Epson and other printer companies are using the procedure to hide behind Amazon and eBay's certified seller programs and just use the platforms as a shield to enforce their patent," said the Open Right Group's Shepherd. "They never have to defend the patent because they're never bringing judicial proceedings.
"It allows them absolute protection for their patent without ever having to defend its legitimacy in an open judicial forum. Businesses are closing down because of this."
Get the ITPro. daily newsletter
Receive our latest news, industry updates, featured resources and more. Sign up today to receive our FREE report on AI cyber crime & security - newly updated for 2023.
Get the ITPro. daily newsletter
Receive our latest news, industry updates, featured resources and more. Sign up today to receive our FREE report on AI cyber crime & security - newly updated for 2023.
Thank you for signing up to ITPro.. You will receive a verification email shortly.
There was a problem. Please refresh the page and try again.