The lost year: How 2020 tech graduates and apprentices are coping with the coronavirus pandemic
From closed offices to cancelled grad schemes, the new kids on the IT block might not feel as welcome as their predecessors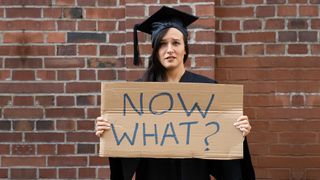 With final-year STEM students finishing up their degrees and submitting their final papers, this part of the year should be a happy time in their lives. However, the current coronavirus pandemic has created more difficulties for new tech graduates than just not being able to freely enjoy the early summer sun.
According to job search engine Adzuna, IT vacancies in the UK have fallen 51% since late February. Although there are still around 50,000 IT job opportunities in the UK (down from 101,000), the tech sector is not quite the land of opportunity that it once was.
"I'm fortunate to have a signed contract to start work in August," says Gabriela, who has just finished her Computer Science degree at a London university. She explains that most students in her field have their jobs sorted after their second year at university, once they favourably complete their internship.
"The only difference [during the lockdown] is that now I will be able to work from home. However, most of the students from my year have had their contracts terminated. Telecommunications companies such as Sky, Virgin, and Vodafone have cancelled their grad schemes, basically leaving students with nowhere to apply to."
The pandemic has also, unofficially, shifted the focus from tech abilities to customer service.
"By the end of the third [final] year, we were told that we should emphasise our customer service skills in our CVs, because the market has verified that automated problem-solving in places such as airline help centres or 112 emergency services is not working. There is still a greater demand for people who will pick up the phone in a call centre, than for software engineers. In general, you're spending 30k on education while it turns out that you may be useful in a job with almost zero qualifications" she says.
Gabriela describes the current economic effects of the lockdown as being minimal for the biggest corporations ("For them, young people are just cheap labour."), while medium- and small-sized businesses have "got rid of young people immediately".
2020: The new 2008?
Not everyone is turning their backs on young people, however. Web-infrastructure and cyber security company Cloudflare has announced that in the face of dwindling job and internship opportunities under the COVID-19 pandemic, it would be doubling the intake of its 2020 summer internship class.
On the company's blog, Cloudflare CEO Matthew Prince announced that the internships will continue, lockdown or not. He also touched upon his personal experience of being in a very similar situation when he was a Harvard Business School student at the time of the 2007–08 financial crisis.
"Michelle [Zatlyn, Cloudflare co-founder] and I were in school when the global financial crisis hit in 2008. Michelle had spent that summer at an internship at Google. That was the one year Google decided to extend no full-time offers to summer interns. So, in the spring of 2009, we were both still trying to figure out what we were going to do after school."
Prince added that he and Zatlyn "remember the stress of that time very clearly".
"When we realized we could play a small part in ensuring some students who had lost the internships they thought they had could still have a rewarding experience, we knew it was the right decision," he said.
Alternatives to universities
The current shortage of prospects for fresh university graduates might shift the global perspective on the role of universities.
According to WhiteHat co-founder and CEO, Euan Blair, "the reason lots of people were choosing to go to university wasn't really for the learning".
"It was for this social experience of being part of a community of students (...), meeting others, and interacting. Now, when that goes, university suddenly becomes a lot less appealing," he tells IT Pro.
According to Blair, who co-founded WhiteHat with Sophie Adelman, apprenticeships are an "outstanding alternative to university". Indeed, his organisation specialises in matching non-graduate talent to employers for apprenticeships and also provides their training. In the face of the lockdown, the startup has taken all its apprenticeships online, creating virtual classrooms for coaches and apprentices to conduct sessions.
RELATED RESOURCE
The IT Pro Podcast: Can tech survive Coronavirus?
COVID-19 is sweeping the globe, but how much will it affect the tech industry?
"The way we do them, [they] are not just about work and training. They're also about community. And we've transitioned everything – our community, our learning – fully online, very quickly."
The shift to online seems to have paid off. Blair notes that March 2020 was "the busiest month ever of enrollments on apprenticeships".
Lifelong learning
Apprenticeships are not only for youngsters, though. Blair says that reskilling is for everybody, especially in a time when there is not much else to do. Despite widespread belief, education does not end when one finishes an apprenticeship or degree in their early twenties. With the job market offering not much but tumbleweed, at least until later this year, many could use this time for upskilling.
"An existing employee can do apprenticeships, apprenticeships aren't just the people at the start of their career," he says. "The government has been paying people effectively to stay at home on furlough, and not do work. I wrote a piece for The Times where I actually mentioned: instead, it would be much better off to pay them to go and learn new skills, particularly in digital tracking data."
"Education should not stop at an academic environment," he adds. "Some of the best learning happens in a practical, problem-solving, applied-learning environment, especially in fields like tech."
Gabriela regrets that she was not made aware of that choice before starting her degree in Computer Science.
"I only found out about this two months ago, when I was at Goldman [Sachs] and met people who are finishing the same studies as me while also working for the last two years. The bank chose which courses would be the most important for them. I think that's a great option and it diminishes the class gap between people who cannot afford to go to university," she says.
"Generally, in the tech sector, a diploma is only useful for getting a job interview. No one looks at it after that.
Get the ITPro. daily newsletter
Receive our latest news, industry updates, featured resources and more. Sign up today to receive our FREE report on AI cyber crime & security - newly updated for 2023.
Having only graduated from City University in 2019, Sabina has already demonstrated her abilities as a keen writer and effective journalist. Currently a content writer for Drapers, Sabina spent a number of years writing for ITPro, specialising in networking and telecommunications, as well as charting the efforts of technology companies to improve their inclusion and diversity strategies, a topic close to her heart.
Sabina has also held a number of editorial roles at Harper's Bazaar, Cube Collective, and HighClouds.