UK gov facing skills crisis as it struggles to fill vacant dev roles
The DVSA and MHCLG have the most acute crises, while DCMS employs no software developers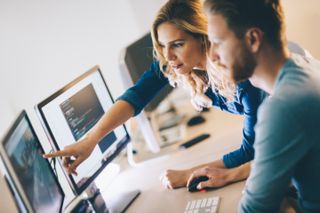 (Image credit: Shutterstock)
The UK government has been thrust into a software skills crisis with more than a quarter of development positions, 28%, unfilled across various key departments.
The number of software developers employed across a dozen central government departments amounted to 808, while there were 317 unfilled vacancies, according to Freedom of Information (FOI) data obtained by Acquia.
The data was collated from departments including the Cabinet Office, the Department for Digital, Culture, Media & Sport (DCMS) and the Treasury, among others, and the information was accurate as of September 2020.
The Driving and Vehicle Standards Agency (DVSA) and Ministry for Housing, Communities and Local Government (MHCLG) appeared to be suffering from the most acute issues, with five of ten and four of six positions unfilled. These teams appear to be fairly small, however.
The Department for Education (DfE) strives to have a more sizeable team of 59, although 44% of these positions are unfilled. The Driving Vehicle Licensing Agency (DVLA) plays host to the largest team of 172 developers alongside 12 vacancies. The Department for Transport (DfT), meanwhile, boasted a full team of 13 software developers.
The other central government departments that responded to the FOI requests included the Department for International Trade (DIT), Department for Work and Pensions (DWP), and UK Export Finance.
The FOIs also probed these departments' attitudes towards open source software, bearing in mind Downing Street's Technology Code of Practice, which encourages the adoption of open source principles.
Many government departments, however, have yet to embrace this philosophy, with the DWP, for example, only using open source code to build between 3.5% and 3.7% of its applications. The DIT and DVSA, by contrast, have harnessed open source to build 60% and 75% of its applications respectively. The Cabinet Office and DfT, however, have almost entirely embraced open source with 90% of services built using open source.
Similarly, DfT makes 99% of its proprietary code open for other departments to use, which is true for 50% of the Cabinet Office's software. Only a third of MHCLG's software is made open, while the DVLA is the most closed off with just 1% of its code made accessible.
Intriguingly, DCMS employs no software developers whatsoever and doesn't develop any of its own apps or services.
Elsewhere, Acquia found that DIT spent nearly as much on software development between 2019 and 2020 (£10.5 million) as seven other departments combined, which may be attributed to Brexit preparations.
The figures emerge on the same day another report found that two-thirds of UK businesses 65%, see a shortfall in digital skills as one of the most significant challenges facing their them in 2021. This is according to findings by the FDM Group.
The data also showed that 77% of decision-makers already have plans to increase digital skills training budgets this year to support remote working, with 70% planning to offer existing workers reskilling or refresher IT courses.
More than two-thirds (68%) also agreed they will increase their IT headcount in 2021 to support continued remote working.
A daily dose of IT news, reviews, features and insights, straight to your inbox!
Keumars Afifi-Sabet is the Features Editor for ITPro, CloudPro and ChannelPro. He oversees the commissioning and publication of in-depth and long-form features across all three sites, including opinion articles and case studies. He also occasionally contributes his thoughts to the IT Pro Podcast, and writes content for the Business Briefing. Keumars joined IT Pro as a staff writer in April 2018. He specialises in the public sector but writes across a breadth of core topics including cyber security and cloud computing.
A daily dose of IT news, reviews, features and insights, straight to your inbox!
Thank you for signing up to ITPro. You will receive a verification email shortly.
There was a problem. Please refresh the page and try again.