Advertisement Feature
The true cost of disaster recovery
Downtime can be hugely detrimental to a business – and you don't want to be caught out if the worst happens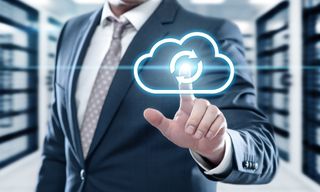 Any organisation that relies on data and an IT infrastructure needs to do its utmost to protect itself should disaster strike. Nobody wants to think about the unthinkable, but a systems failure or black swan event could be catastrophic if mitigation plans aren't in place. Many businesses were forced to wrestle with complex operational issues when the COVID-19 pandemic sent the world into lockdown in early 2020, while the risks of cyber attacks and data breaches are growing each day as hackers find more sophisticated ways to break through security.
Even the biggest companies in the world can feel the brunt. An October 2021 Facebook outage, which also took down Instagram, WhatsApp, Messenger and Oculus, reportedly cost the social media giant around $100 million in lost revenue and wiped $40 billion from its market value within hours.
Where businesses are concerned, it's very much a case of hoping for the best and planning for the worst. There are myriad issues that could arise from a full-blown IT disaster. Productivity and workforce disruption will be inevitable, while the reputational damage could lead to loss of customers and partners. This is where disaster recovery enters the picture. Think of it as an insurance policy for your company, a cost that has no immediate tangible benefit but one that's vital should you experience a network outage or see the failure of a customer-facing application.
Counting the cost
Though the cost of a disaster recovery plan can vary, it's usually driven by a business first defining acceptable costs and losses should the worst happen. For example, how much time does your business need to recover before severe continuity issues occur (recovery time objective, or RTO) and what is the maximum acceptable amount of data loss after a data-loss incident (recovery point objective, or RPO)?
Putting an exact price on all of this can be tricky, but in general the larger the business, the more it's likely to spend on disaster recovery. One study found that businesses with a daily downtime cost exceeding $10,000 spend in excess of $10,000 on disaster recovery. The same study revealed that 41% of those surveyed said their organisation's annual disaster recovery budget was north of $100,000.
With nearly every modern business reliant on data, one key area in disaster recovery is having a coherent and fully tested backup and restore plan. Without this you won't know how long it will take to get your systems back online and return to business as usual. It's also crucial that stakeholders across the business are fully aware of the process and know their responsibilities. Plus, as we enter the age of the distributed workforce, it's important to be able access any systems remotely.
But it's also important to bear in mind that backup software vendors tend to charge extra for additional licenses as you add CPU sockets, PCs and servers to your business. This means that costs can ramp up dramatically as your organisation grows. Fortunately, companies like Synology can offer alternative, license-free solutions that don't put an extra sting in the tail of disaster recovery.
Synology's solution
Synology's Active Backup for Business is one such solution that will allow businesses to implement a backup and restore regime. It can provide backups for both physical and virtual environments to keep your data and services always available. Active Backup for Business also secures files, virtual machines and entire systems, then rapidly restores them when required.
With compatible Synology NAS devices, Active Backup for Business is free of licensing, so you can back up as many endpoints as you like, at whatever frequency you need without incurring extra costs. This includes Windows endpoints, VMware and Hyper-V virtual machines, and file servers, which you can add to your network as needed with no extra cost per endpoint. What's more, you can set up automated backup and rapid restore to minimise disruption in the event of a data breach or network disruption.
Synology allows you to create unlimited backups and to test and stress test your disaster recovery setup without the extra costs that you would incur from many other license-based platforms. This puts you in the position to refine your setup, so that when the unexpected does happen, you know what to expect from your disaster recovery plan and that it can be relied upon.
By protecting your digital assets with a solution like Active Backup for Business, you'll ensure that you'll be in a position to retrieve your organisation's data quickly and resume operations. Backup and restore should form an important part of a wider disaster recovery plan, but it's also important to remember things like the loss of productivity caused by servers or applications going down.
Not every business has a budget that can stretch to complex off-site backups or failover systems, but it's still crucial to have some kind of disaster recovery plan in place, no matter the size of your company. Disaster recovery doesn't always have to be associated with spiralling costs, and services like Synology's Active Backup for Business show that you don't have to pay through the nose for peace of mind.
Of course, disaster recovery won't prevent disaster from striking, but it will go some way to minimising and mitigating the effects. Critically, it will ensure that your business will get back on its feet as quickly as possible with the least amount of disruption to your staff, partners and customers. Every IT leader should think about disaster recovery, and know that there are solutions out there to fit businesses of every size.
Get the ITPro. daily newsletter
Receive our latest news, industry updates, featured resources and more. Sign up today to receive our FREE report on AI cyber crime & security - newly updated for 2023.
ITPro is a global business technology website providing the latest news, analysis, and business insight for IT decision-makers. Whether it's cyber security, cloud computing, IT infrastructure, or business strategy, we aim to equip leaders with the data they need to make informed IT investments.
For regular updates delivered to your inbox and social feeds, be sure to sign up to our daily newsletter and follow on us LinkedIn and Twitter.